ANALYSIS
By Matt Scott
"Not in my lifetime."
That was Sir Alex Ferguson's reaction when asked if Manchester United would ever be underdogs to Manchester City three years ago, just as the Arab revolution was kick-starting at Eastlands.
Just three years later, City have done the double over the Red Devils and beaten them to the title in the most incredible of final days in the Premier League.
Down the M62, another battle between blue and red has waged with Everton coming out on top of Liverpool for the first time since 2005.
And away from the North West, Fulham have been quietly going about their business in effective and impressive fashion.
So it is on to the champions as
Goal.com's
review of 2011-12 rolls on...
Season Overview:
It is uncanny. Every season, Everton seem to start slowly but by the end of the campaign David Moyes has dragged the Toffees into the upper half of the table. A lack of goals looked to be killing any chances of a top-10 finish for Moyes' side this season until the January arrival of Nikica Jelavic.
The Croatian moved to Goodison Park to escape the financial meltdown at Rangers and has taken to Premier League life superbly, becoming top scorer at the club with 11 goals from 16 matches, with Jelavic's penchant for a first-time finish making him an unpredictable and deadly prospect for defences next season.
Despite Moyes' protestations otherwise, finishing above Liverpool will have been particularly sweet, but the Scot may regret a negative team selection as he slipped to a customary Anfield defeat in the league and a similarly poor showing in an FA Cup semi-final with their rivals from across Stanley Park.
7/10Flop of the Year:
Royston Drenthe - The Dutchman arrived on loan from Real Madrid with undoubted talent in his feet but a reputation for trouble, both becoming evident over the course of the season. Drenthe is clearly an excellent footballer but all-too-often inconsistency massively lets him down. His exclusion from the Toffees' squad for disciplinary matters will not help his chances of finding a new club in the summer when his Bernabeu deal expires.
Star of the Year:
Marouane Fellaini - Jelavic's dynamic arrival may have fired the Toffees up the table but the Belgian midfielder's consistency throughout the campaign has been vital to Everton's efforts in both attack and defence.
Often deployed in a holding role in midfield, where he combines excellent positioning, dominating tackling and thoughtful passing, a switch to an advanced role at Old Trafford reaped huge benefits with a goal and assist as Manchester United's title bid faded in a rollercoaster 4-4 draw.
Potential Signings:
Steven Pienaar, Nick Powell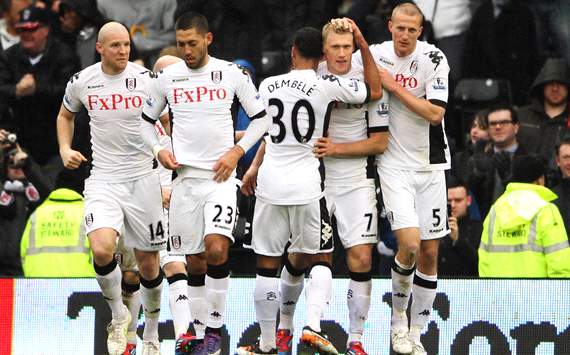 Season Overview:
Probably the Premier League's nicest club, Fulham are always a massive credit to the league season after season. Indeed, them topping the fair-play league meant their campaign started in June with Europa League qualifiers - they were six games into their season when facing Aston Villa on the Premier League's opening day.
Perhaps as a result of this fatigue, the Cottagers failed to record a league win until October although a 6-0 victory over QPR sufficed when it finally arrived. Fulham struggled throughout 2011 but after the turn of the year, and Europa League elimination, things picked up for Martin Jol's side and, spurred on by the goals of Clint Dempsey, mid-table safety was swiftly achieved, finishing up just below the quarrelling Merseysiders in ninth.
6/10Flop of the Year:
Bryan Ruiz - He may be remembered for an incredible scooped finish as he opened his Premier League account against Everton before another chip against Bolton, but the Costa Rican failed to contribute much else in a quiet season after arriving from FC Twente. His £10.6 million price-tag may have hindered rather than helped his performances but Jol will be looking for a marked improvement as the former Eredivisie top-scorer aims to be a bit more Van Nistelrooy than Afonso Alves.
Star of the Year:
Clint Dempsey - A magnificent season for the American was topped off nicely with his 50th Premier League goal in the Cottagers' final game of the season. Top scorer for Martin Jol's side with 23 goals in all competitions, the 29-year-old is likely to interest some of the league's biggest sides and his work-rate, pace and finishing would improve the vast majority of top-flight line-ups.
Dempsey has often re-affirmed his loyalty to Craven Cottage but with Arsene Wenger thought to be a keen admirer, would the American be able to turn down the bright lights of the Champions league?
Potential Signings:
Pavel Pogrebnyak, Luciano Narsingh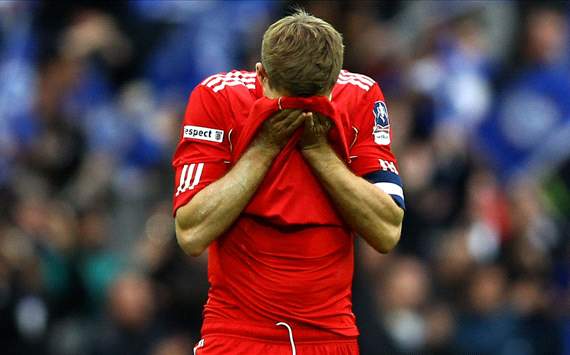 Season Overview:
Not a total disaster, but not far from it. Liverpool won the League Cup thanks to penalty-shootout nerves of steel against Cardiff and with it a return to European competition, but a lowest league placing in decades and defeat in an FA Cup final, that saw the Reds take an hour to get going, leave a hugely bitter taste in the mouth.
Luis Suarez's racism row overshadowed his often-mesmerisingly good performances and Kenny Dalglish's staunch defence of the Uruguayan looked massively out of touch. Over-priced signings not working out, the man responsible for bringing them in disposed of, the season has ended with Dalglish's own future the subject of intense speculation.
4/10Flop of the Year:
Stewart Downing - The winger swept the board at Aston Villa's end of season awards in 2011, and a £20m move to Anfield looked inspired, surely Downing would be the man to provide the ammunition for Andy Carroll to thrive upon?
It has turned out disastrously for the former Middlesbrough man. No goals, not even a single assist. Downing's season was encapsulated in a single moment as he missed a penalty in the Reds' recent 4-1 league win over Chelsea.
Star of the Year:
Martin Skrtel - One thing Liverpool have rarely been guilty of is slack defending with the mountainous Slovakian at the heart of the Reds' effective back line. Didier Drogba had to wait until the one moment he got away from Skrtel to score his customary FA Cup final goal, and the Slovakian proved useful at the other end of the pitch, levelling the League Cup final with a second-half effort.
Potential Signings:
Mohamed Diame, Rasmus Elm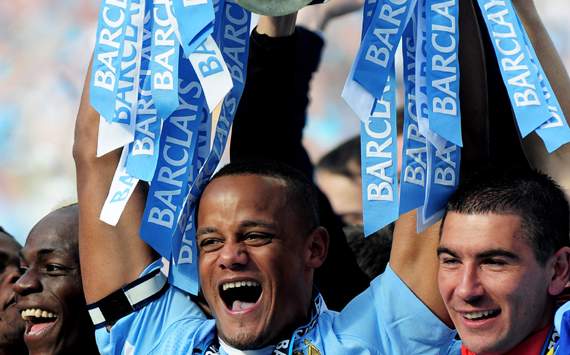 Season Overview:
May 13, Etihad Stadium, the 95th of 95 minutes - quite simply, stunning. Manchester City's 2012 Premier League title win will go down in the annals as one of the game's all-time greatest moments.
As City looked to be crippled by 'Cityism', once again snatching shame from the jaws of glory, Edin Dzeko nodded in and Sergio Aguero kept his cool to lash past Paddy Kenny and bring a top-flight title to the blue half of Manchester for the first time in 44 years.
Thousands of words could be written about those five minutes alone but City's season as a whole is just as spectacular. Steam-rolling almost all before them before striding into Old Trafford on October 23; an impossible, mind-boggling 6-1 victory followed that ultimately resulted in the goal difference advantage that saw City win the title.
Carlos Tevez's petulance and Mario Balotelli's endless antics could not detract from a magical season in the league for Roberto Mancini and with Sheikh Mansour's trillions set to boost the squad yet again, this season's Champions League disappointment may be remedied this time next year.
9/10Flop of the Year:
Samir Nasri - After being signed from under the nose of United in a £24m deal, Nasri was hailed as a signing that heralded in the era of City being genuine champions elect. Instead the Frenchman endured a tough season, often shoved out wide to accommodate more consistent performers.
The former Arsenal man tended to find his best form when the whole team was on song, netting in big wins over Blackburn and Norwich. Goals in tight games did come later on against Tottenham and crucially against Chelsea, and while many may have performed or behaved to a lesser standard, the average nature of Nasri's season where the spectacular was expected singles him out as one of City's dimmer stars.
Star of the Year:
Vincent Kompany - A more-than honourable mention is directed towards Yaya Toure and especially Sergio Aguero after 23 Premier League goals in his debut season and THAT one against QPR, but City's captain-fantastic has been the heartbeat, spirit and epitome of Manchester City this season.
Taking the captain's armband in the summer after Tevez had sulked once too many, the Belgian has led by example, his pace, poise and power summing up City in a perfectly-performing nutshell. That Roberto Mancini's side struggled most in January and March when Kompany was either suspended or injured speaks volumes for his importance.
Surely all but those of a Red Devil persuasion would have been moved by Kompany's thumping header and emotional outpouring in celebration as City sealed victory in April's Manchester derby.
Potential Signings:
Eden Hazard, Robin van Persie, anyone else their title rivals show an interest in.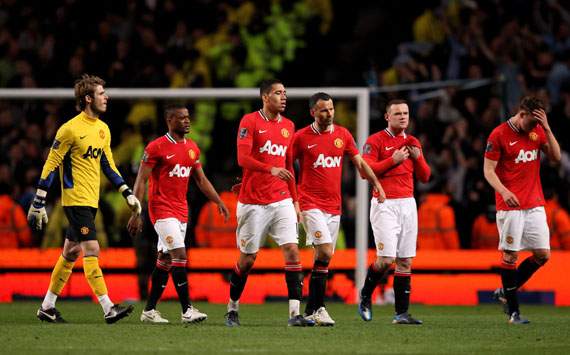 Season Overview:
Trophyless for the first time since 2005, it should be noted just how well United did to match City stride-for-stride this season and pointed out the incredulity of the Red Devils being the ones to have thrown the title away. But throw away the title they did, with defeat to Wigan and a draw at home to Everton before City completed the 476th plot twist of the season at Eastlands.
This United squad is not one of vintage and additions will be needed to ensure they can go toe-to-toe with City again next season. Hurt badly by injury to Nemanja Vidic and Darren Fletcher's illness, Shinji Kagawa has been mooted as a possible addition to the creativity-starved United midfield that forced Paul Scholes back onto the pitch.
7/10Flop of the Year:
Patrice Evra - United's impressive league standing given their relatively inferior-looking squad to City's makes singling one player out tricky. Javier Hernandez has not dazzled as he did the season before but has found his chances limited behind Danny Welbeck (who he has matched for goals).
It is therefore the incumbent of the captain's armband who has been most disappointing, but only perhaps because Evra was once so excellent. The Frenchman has time catching up with him, and his once electric pace is beginning to lessen. A particularly nervy display at Old Trafford against Athletic Bilbao signals that his best years may be behind him.
Star of the Year:
Wayne Rooney - Head and shoulders above his team-mates. United are far from a one-man team but Rooney is the best player at Old Trafford by a mile.
The Red Devils' No. 10 has dragged his side along at times this season, with a new-found maturity and temperament (for his club, at least) resulting in a startling consistency that has seen only Robin van Persie score more than him.
Danny Welbeck will need to become a regularly high-performing foil for Rooney next season, or one needs to be brought in, as well as the addition of goals from midfield - Rooney aside, only Javier Hernandez reached double figures in the Premier League this season.
Potential Signings:
Gylfi Sigurdsson, Shinji Kagawa, Robert Lewandowski
Follow Matt Scott on