Having seen their owners hike club debts to stratospheric levels since arriving at Old Trafford in 2005, Sir Alex Ferguson's side now needs heavy reinvestment over the summer
COMMENT
By Daniel Harris
Hell, bloody football. It would be really nice to leave things at that – it has not been a great day – but unfortunately, the merciless pillaging of the brand formerly known as
Manchester United
Football Club demands more thorough lamentation.
Since the Glazers took legal possession in 2005, the privilege of their presence has cost it a soul-defiling £480 million - by way of comparison, dividends paid during the plc years totalled £59m. They have put in not a penny of their own money and have expropriated profit to pay down their debt and its interest, as well as handsomely rewarding themselves for such fine stewardship. In the same period, ticket prices have increased by roughly 40%.
It is all brought into even harsher focus by events at Manchester City. To get this aspect of unpleasantness out of the way early, let me state now that they have been the best team in the country this season, however little that says, and are deservedly champions.
United fans have steeled themselves for this moment: any club with that amount of money thrown at it will eventually win stuff, illustrated by the equally crude success – as distinct from glory - of Blackburn and Chelsea. Or in other words, it has nothing whatsoever to do with the club itself, which to me simply is not sport, and gives their achievement a welcome caveat of meaninglessness.
That is not to say I do not love the intensified competition – verily I do - and losing the title to them in any circumstance still stings like a swarm of Muhammad Ali-sized killer bees.
Of course, United have also spent plenty; but never an entire squadsworth plenty, and crucially, only using money that is self-generated, the reward for decades of dedicated support and electrifying football.
Even so, I still feel a certain discomfort at the use of financial muscle to relieve others clubs of their best players, and, now that you ask, am absolutely in favour of financial fair play, though the form proposed by Uefa will do little beyond preserving the existing hegemony: a salary cap, transfer fee cap and cap on the number of signings per transfer window would do the trick.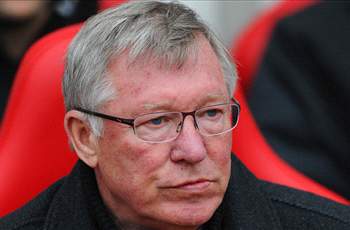 Major surgery is not required, but major players are; should they not arrive, expect to see the Premier League trophy dripping baby blue ribbons again this time next year
Existing for the principal purpose of making money for a band of leeching parasites, United remaining competitive is almost entirely due to the genius of Sir Alex Ferguson, particularly in these post-Ronaldo days.
Like a balding man arranging his remaining hair to cover the growing gaps, his deployment of resources has created the illusion of a thick thatch, and you can only shudder at how well the club might have done were it allowed to spend what it makes.
By way of illustration, imagine United and City swapped managers; see the destination of the title going down to the last day then? Fammi un limone.
And now, the time has come where Sir Alex's powers may no longer be enough to deliver trophies, scabby pate shining ever more brightly.
Though his team threw away the championship this season, the three derbies proved beyond reasonable doubt that City are the superior team: even in the Cup game that United won, the first goal followed an opening eight minutes in which they could barely sneak a touch of the ball, and despite playing with 10 men, City almost salvaged a draw.
And Ferguson knows it too. The omission of the in-form Welbeck from the most recent encounter, along with the inclusion of Park – a man deemed not good enough to begin a single game in the four previous months – was an embarrassing acknowledgement of fear and inferiority.
On the other hand, United have arguably the stronger squad, the options available to the manager allowing him to compensate for quality with variety. But this will not sustain for much longer. Scholes, Giggs and Ferdinand, though all still good and useful, are hectares past their best, and, in particular, the first XI is as desperate for two midfielders as I am not to have to write this piece.
However this is not solely a Glazer-induced problem. Ridiculously, the only midfielder United have signed since selling Ronaldo is Paul Scholes, and they have needed one since well before then – but Ferguson has, for reasons known only to himself, prioritised less vital areas.
And that is not the only area in which he is culpable. In the months preceding the takeover, he preached staunch opposition to such eventuality, then, as soon as he needed to actually do something, did nothing.
If he had asserted a refusal to work for the Glazers, it is almost inconceivable that the banks would have leant them the necessary money, but instead, we have been forced to watch him tarnish his legacy by publicly pandering to the club's "brilliant" "owners". What a vomitous to-do.
So it will be that City strengthen again in the close season, both first team and squad, the principal worry that if the Glazers do not release the necessary funds, Sir Alex will do one – he will certainly know that without significant investment, things can only get worse. As sick with addiction as the rest of us, the hope is that he simply will not be able to; otherwise, United are in serious trouble.
Only Jose Mourinho could be relied upon to extract a similar level of performance from the current collection, and though seduced by the cachet, he is unlikely to accept the club's budgetary constraints. Any other candidate would be an enormous risk.
That being the case, this is United's most critical summer in a generation. If all goes well, then there is a very good side in the making: De Gea, Jones, Smalling and Welbeck are potential stars and will be better next season, Rooney is nearing his peak, Nani, Valencia and Young are excellent wide options, Hernandez will have a break, and Vidic will be back.
Major surgery is not required, but major players are; should they not arrive, expect to see the Premier League trophy dripping baby blue ribbons again this time next year. Hell, bloody football.
Daniel Harris is the author of On The Road, a journey through a season, and co-editor of The FCF website. You can follow him on Twitter here.