By
Rob Stewart
A season that will go down in history as one of the most fascinating that modern English football has ever seen has been punctuated with incredible moments.
One of the more noticeable aspects to the past 10 months has been the increase in goals in high-pressure games among the top sides.
Despite often being drab affairs, we started off with Manchester City thrashing Tottenham 5-1 at White Hart Lane, moving on to Old Trafford where Manchester United sunk Arsenal 8-2. If you then add in the Gunners' 5-3 triumph at Stamford Bridge and their comeback from two goals down to beat north London rivals Tottenham 5-2, you start to see what we mean.
But, the news that Fabrice Muamba had made a miraculous recovery from his on-field cardiac arrest was more important than any games and proves that this campaign has had more than its fair share of unforgettable events.
The football writers have had their say and the players have too, but now it is Goal.com's turn to profile the outstanding candidates for Moment of the Season in our end-of-term awards as the campaign hurtles towards a dramatic climax.
| | |
| --- | --- |
| | Henry scores on his comeback |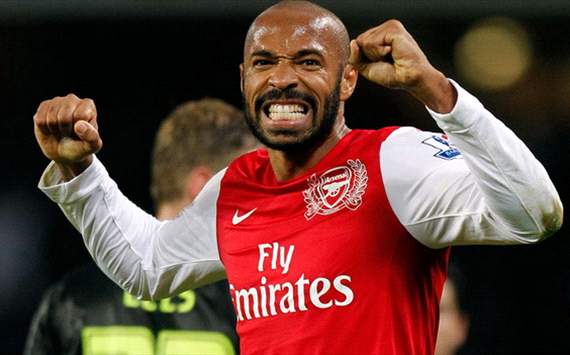 EXPERT VIEW

For sheer magic, romance and other-worldliness, the comeback kid's 227th goal in red-and-white takes some beating as the greatest moment in the six-year history of Emirates Stadium.

Henry did more than rejuvenate a dying early-round FA Cup tie with a vintage finish that he trademarked during his glorious first spell at Arsenal. He provided one of the fairytales of the season, and lifted a club suffering a poor campaign. To this correspondent's ears, the noise seemed more deafening and spontaneous than anything heard before or since at Emirates.

Wayne Veysey, Chief Correspondent
They say that the old ones are the best and comeback king Thierry Henry certainly proved that old adage is true when the 34-year-old returned to his old Arsenal stamping ground in his first appearance of a loan spell from MLS side New York Red Bulls.
The Frenchman had been brought back into the fold by manager Arsene Wenger in a bid to invigorate Arsenal's erratic attack. The returning hero wasted little time in showing his younger colleagues just how it should be done as the prodigal son set about cementing his love affair with Gooners.
The FA Cup third-round tie against Leeds was heading towards a goalless stalemate and a replay at Elland Road, when Arsenal's No.12 entered the fray. He had been on the pitch just 10 minutes when he demonstrated his enduring class and unerring finishing ability, rolling back the years and scoring the game's solitary goal in front of a disbelieving Emirates audience.
It was a trademark goal from the bearded Henry who collected a fine Alex Song through-ball before calmly guiding it beyond Andy Lonergan to record his 227th goal in Gunners colours. No wonder injured team-mate Jack Wilshere hailed it as the 'Return of the King.'
| | |
| --- | --- |
| | |
EXPERT VIEW

In sports journalism it is common to write of miracle comebacks and stunning back-from-the-dead recoveries. When this happens in real life, the loyalties and tribalism of the game itself do not seem so important.



Football was united in despair when Fabrice Muamba lay in a hospital bed fighting for his life after spending 78 minutes without breathing, following his White Hart Lane collapse.

As news filtered through 48 hours later that he had begun to move his body to give genuine hope that he would make a full recovery, it provided the most uplifting story of this, or any other, season

WV
By his own admission, Fabrice Muamba's recovery from the cardiac arrest he suffered during an FA Cup tie at Tottenham was "more than a miracle".
It is certainly hard to disagree with that assertion because the former Arsenal player's sudden collapse at White Hart Lane left everyone fearing the worst and, according to his doctors he was "dead for 78 minutes".
But, together they enabled him to survive against all the odds.
It is fair to say that Muamba cheated death thanks to those who rushed to his aid at the ground and all the medical experts who looked after him at the London Chest Hospital.
Muamba's recovery was underlined by the fact that the 24-year-old all-action midfielder was able to leave hospital less than a month after the traumatic events in the abandoned Spurs-Bolton game.
He made an emotional appearance at the Reebok Stadium when Bolton met Spurs again earlier this month and now, incredibly, Muamba is even talking about playing again next season.
| | |
| --- | --- |
| | Manchester United 1-6 Manchester City |
EXPERT VIEW

In a season of remarkable scorelines in top-table bouts, none was more dramatic and memorable than this derby day statement of intent.


As the goals rained in during added time, it felt, not only that Manchester United's crown was being tugged off by their biggest enemy but, that a blue moon was rising over the Premier League.

For Manchester City fans it was a day they will always remember where they were and what they were doing. The rest of us just sat and admired an astounding performance and complete humiliation of the champions in their own backyard.

WV
This was the day that everything that could go wrong for Manchester United did go wrong and to make matters worse it was against their local and main title rivals in their own back yard.
Both sides went into the game undefeated and so it was little surprise that things were so tight at half-time with Premier League pacesetters City just ahead thanks to a Mario Balotelli goal.
But then, after Jonny Evans was sent off in the 47th minute, United capitulated in much the same way as Arsenal had done not long before in an 8-2 defeat at Old Trafford.
Balotelli doubled the lead on the hour before Sergio Aguero, a double from Edin Dzeko and David Silva piled on the agony as United threw caution to the wind.
All in all, it represented the worst defeat for a United side at Old Trafford since City ran out 5-0 winners in February 1955 and was the first time United had been hit for six on their own turf since Huddersfield won 6-0 and Newcastle ran out 7-4 winners in 1930.
| | |
| --- | --- |
| | The Sir Alex Ferguson Stand |
EXPERT VIEW

Was there a glimmer of a tear in the eye of the grizzled godfather of British football when workmen peeled away a cover on top of the north stand to uncover in big red letters 'Sir Alex Ferguson Stand'? Maybe not. It was hard to tell under the spectacles he now wears on match days.

But it was a fitting monument to 25 years of extraordinary achievement. The Manchester United big cheeses also pulled off the rare trick of catching him on the hop, which seemed to delight and annoy the old taskmaster in equal measure.

Sir Alex's human side is usually well hidden from the public domain but there was a glimpse of it on this November afternoon. It felt natural and profound.

WV
You would expect Sir Alex Ferguson to be the last person to be kept in the dark about anything at Old Trafford, but the illustrious manager knew nothing of the club's decision to name the North Stand as the Sir Alex Ferguson Stand.
A hush-hush operation took place under the cover of darkness to make sure that his 25th anniversary as United manager was celebrated in style when his team faced Sunderland at the Theatre of Dreams - his 1,409th game in charge.
Fans rose to applaud Sir Alex when club chief executive David Gill revealed the move ahead of the game and then the banner covering words ' Sir Alex Ferguson Stand' was pulled off before the Scot paid homage to the club which he declared was the "best in the world".
Only eight people on the club's payroll – including Gill - knew about the plans to give Sir Alex the biggest surprise of his life and contractors who put up the new lettering were also sworn to secrecy.
The look on his face when he realised what had been done behind his back showed what a success the whole operation had been and his team put the proverbial icing on the cake of a momentous occasion with a 1-0 win.
Follow Rob Stewart on



Follow Wayne Veysey on