ANALYSIS
By John Stammers
The 2011-12
Premier League
title race is going right down to the wire with both Manchester giants heading into the final day of the season on 86 points, but
Roberto Mancini
's men eight goals to the better.
Ahead of the nail-biting finale
Goal.com
takes a round-by-round, or month-by-month, look back over the battle so far. In the red corner we have Manchester United, and in the blue corner, Manchester City.
Ding, ding, ding.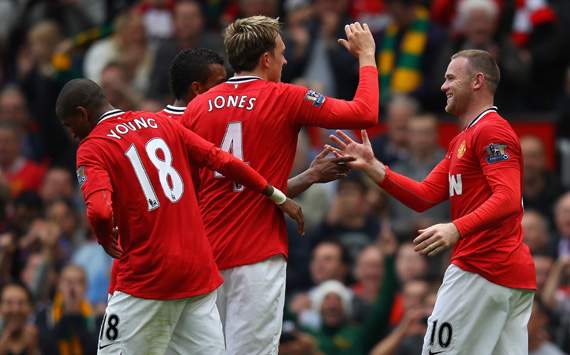 Before the league even started, United had the upper hand, coming from two goals down to win the Community Shield against City in a dramatic clash at Wembley.
When their campaigns did kick-off though, both sides started in winning ways. City taught new boys Swansea a lesson on the opening weekend while United needed a late own goal to make up for David De Gea's howler against West Brom.
From then on it was a case of who could score the most. Edin Dzeko scored four against Tottenham as City briefly went top, however a Wayne Rooney hat-trick helped United demolish Arsenal 8-2 at Old Trafford to jump back to the summit on goal difference. A very even opening period ended with Sir Alex's men at the top, but only just.
| | | |
| --- | --- | --- |
| JUDGE 1: BARRY REDHAT.. | JUDGE 2: BENNY DOGLEASH. | JUDGE 3: MONSIEUR WINGER |
| | | |
VERDICT: MANCHESTER UNITED'S ROUND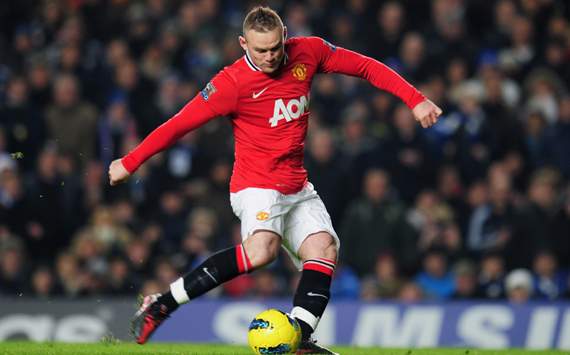 The goals continued to flow into September with Sergio Aguero netting three against Wigan in a 3-0 win as City jumped above their rivals. But again, United answered the challenge and thrashed Bolton 5-0, with Rooney keeping pace with the impressive Eastlands attack as he bagged another hat-trick.

The first points were also dropped the following week as City drew at Craven Cottage after throwing away a 2-0 lead. United took full advantage with victory over Chelsea, despite Rooney missing a penalty.

However, United then dropped their first points too, drawing away at Stoke. City levelled things up after beating Everton, a certain Mario Balotelli getting on the score sheet. The month again ended with United just edging the round, ahead on goal difference.
| | | |
| --- | --- | --- |
| JUDGE 1: BARRY REDHAT.. | JUDGE 2: BENNY DOGLEASH. | JUDGE 3: MONSIEUR WINGER |
| | | |
VERDICT: MANCHESTER UNITED'S ROUND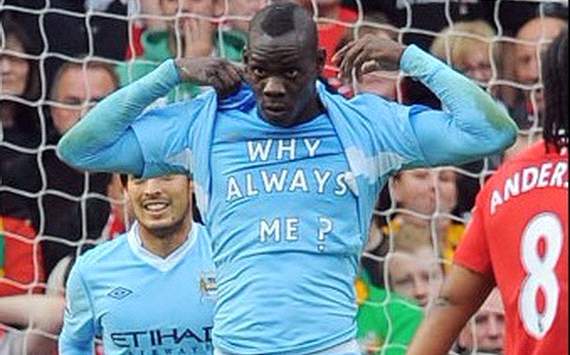 City faced unwanted distractions as former United man Carlos Tevez caused a stir by allegedly refusing to warm up against Bayern Munich in the Champions League. However, they produced the goods on the field by beating Blackburn away from home. United responded by beating Norwich to stay on top.

Mancini's side then kicked into gear and overtook their bitter rivals. While away on international duty, Rooney saw red against Montenegro, which led his manager to drop him for the game with Liverpool. This proved costly as the Red Devils only just managed to snatch a point via a late Javier Hernandez equaliser. City pulled away with a comfortable victory over Aston Villa.

Then, on October 23, we witnessed a crucial 90 minutes in the story of the season. City ran riot at Old Trafford, hitting the home side for six in an extraordinary game that will live long in the memories of both sides for many years to come.
Mario Balotelli had made headlines in the week after setting off fireworks in his bathroom, but a composed opening goal - and legendary ' Why Always Me' T-shirt - made sure the Italian made the next day's newspapers for all the right reasons.
Both teams won their last fixtures of the month as City ended the round on a high, and five points clear, having landed the first clean jab to the Red Devils' midriff with their 6-1 Old Trafford win.
| | | |
| --- | --- | --- |
| JUDGE 1: BARRY REDHAT.. | JUDGE 2: BENNY DOGLEASH. | JUDGE 3: MONSIEUR WINGER |
| | | |
VERDICT: MANCHESTER CITY'S ROUND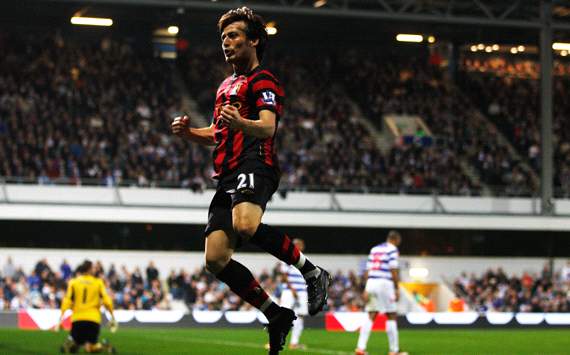 City kept up their unbeaten run with a narrow victory away at QPR, with David Silva notching once more as the Spaniard's fine form continued. United threatened to fall behind, needing an own goal from former defender Wes Brown to see off Sunderland and then struggling to defeat previously unbeaten at home, Swansea City at the Liberty Stadium.

The wins, and goals, kept coming for City as they hit three past Newcastle. However, Balotelli's bad streak became evident as two yellows in the space of 18 minutes led to the forward being sent off in the 1-1 draw with Liverpool. Mancini's men held their lead though as United drew with Newcastle. At the end of the round, the blue half of the city were still flying high, with a five point advantage.
| | | |
| --- | --- | --- |
| JUDGE 1: BARRY REDHAT.. | JUDGE 2: BENNY DOGLEASH. | JUDGE 3: MONSIEUR WINGER |
| | | |
VERDICT: MANCHESTER CITY'S ROUND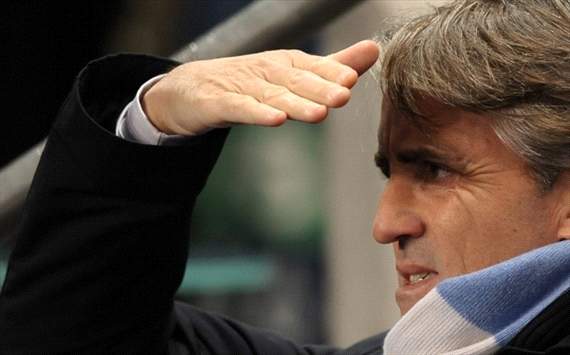 Two goals from Balotelli and Aguero fired City to victory over Norwich as the challengers continued to impress. The reigning champions kept plugging away though with yet another 1-0 victory, away at Aston Villa. Then, both sides suffered in Europe as they crashed out of the Champions League in the group stages.

City were condemned to their first league loss of the season at Stamford Bridge, which helped Sir Alex's men close the gap to two points after cruising to a 4-1 win over Wolves, thanks to two goals each for Rooney and Nani.

The Red Devils dealt with the gruelling Christmas period very well, recording victories over QPR (2-0), Fulham (5-0), and Wigan (5-0). City suffered a slight dip, after beating Arsenal and Stoke, recording a draw against West Brom on Boxing Day.

United failed to greet the New Year in style though, after a painful 3-2 loss at home to Blackburn, on the manager's 70th birthday. To make matters worse, De Gea put in another unconvincing performance. The defeat was a missed opportunity to strike a blow with City's guard down, however the Red Devils did end the round back level on points with their rivals.
| | | |
| --- | --- | --- |
| JUDGE 1: BARRY REDHAT.. | JUDGE 2: BENNY DOGLEASH. | JUDGE 3: MONSIEUR WINGER |
| | | |
VERDICT: MANCHESTER UNITED'S ROUND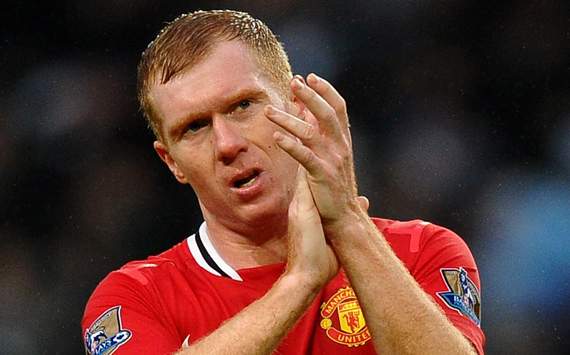 City wasted a golden opportunity to punish United when they were vulnerable, losing their game in hand 1-0 away at Sunderland, with Ji Dong-won's last-gasp, and possibly offside, goal. They bounced back with a 3-0 victory over Liverpool, United suffering defeat by the same scoreline at Newcastle.

The sixth round also saw the return of a heavyweight. Paul Scholes was stunningly brought back into the United ranks to help boost the midfield, following an injury crisis.
He made his first appearance in the FA Cup win over City, a game which key man Yaya Toure missed after he left for the Africa Cup of Nations. However, in the following round, United's keeper worries were highlighted once more as De Gea put in a below-par performance and the Red Devils were knocked out by Liverpool.

Scholes' return rejuvenated United as they managed three more victories in the month, against Bolton (3-0), in which he scored, Arsenal (2-1) and Stoke (2-0). City were without the Toure brothers and it proved costly. After beating Wigan (1-0) and Tottenham (3-2), they lost 1-0 to Everton, allowing United to peg back their lead once more. At the end of the round, City had taken a big swing and a miss, but still stood on top, just.
| | | |
| --- | --- | --- |
| JUDGE 1: BARRY REDHAT.. | JUDGE 2: BENNY DOGLEASH. | JUDGE 3: MONSIEUR WINGER |
| | | |
VERDICT: MANCHESTER CITY'S ROUND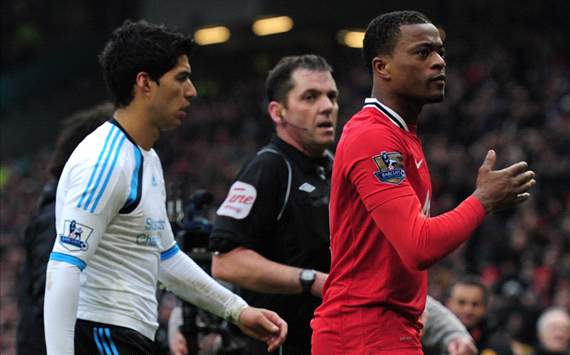 Into the seventh round and Mancini's men continued to land body blows to the Red Devils. They flew into the month, beating Fulham 3-0, as United drew 3-3 in an entertaining game with Chelsea at Stamford Bridge. A positive for Sir Alex was a much improved performance from the previously shaky De Gea.

Then, United beat Liverpool at Old Trafford in a game overshadowed by the Luis Suarez-Patrice Evra affair, which became an unwanted distraction for some time. Meanwhile, the challengers kept ticking over with a win at Villa Park, and were boosted by the return of the Toures.
Both sides then won their final games of the round, with De Gea, a changed man since the FA Cup shambles against Liverpool, producing a match-winning display against Norwich. However it was ultimately another round to the Blue corner, with City two points clear.
| | | |
| --- | --- | --- |
| JUDGE 1: BARRY REDHAT.. | JUDGE 2: BENNY DOGLEASH. | JUDGE 3: MONSIEUR WINGER |
| | | |
VERDICT: MANCHESTER CITY'S ROUND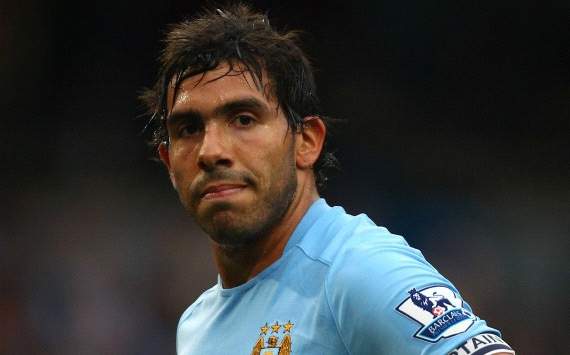 After both contenders won their first games of the round, United finally landed a clear strike in a bid to beat down the challengers. City suffered a 1-0 loss against high-flying Swansea, allowing Sir Alex's men to move into pole position for the first time since early October with a 2-0 win over West Brom. They pushed on with dominant performances in the wins over Wolves and Fulham, the returning Scholes proving to be a revelation since being brought back.

Across the City, with Silva and Dzeko suffering prolonged slumps in form, Mancini called upon a former Red to come back into the side after a controversial period away. Tevez was welcomed back by the fans, despite spending most of the season playing golf in Argentina, and repaid them by inspiring his side to victory over Chelsea.
However, Mancini's men ended the round with two disappointing draws against Stoke and then Sunderland, leaving United two points clear.
| | | |
| --- | --- | --- |
| JUDGE 1: BARRY REDHAT.. | JUDGE 2: BENNY DOGLEASH. | JUDGE 3: MONSIEUR WINGER |
| | | |
VERDICT: MANCHESTER UNITED'S ROUND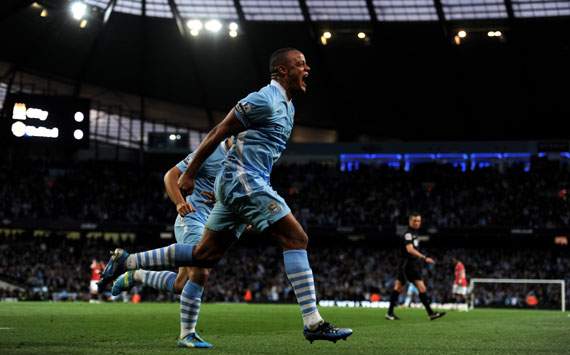 United built on their progress in March for the first part of April, recording 2-0 wins over Blackburn and QPR, while Sir Alex's old mate Arsene Wenger did him a favour as Arsenal beat City to put the Red Devils in line to see out the bout.

A slight blip for United in the shape of a complacent defeat to Wigan, while Tevez was getting amongst the goals in City's win over West Brom, was smoothed over with a 4-0 victory at home to Aston Villa. Meanwhile, City showed no signs of letting up, ending on the right ride of an ominous 6-1 scoreline against Norwich.

The Premier League holders then allowed the trophy to slip back out of their grasp as they threw away a 4-2 lead over Everton, Steven Pienaar's late equaliser giving Mancini's side a way back in following their comfortable win over Wolves.

Then, D-Day. On April 30, the noisy neighbours hit new decibel levels as they dished out what could prove to be the ultimate derby day K.O. The two contenders came face-to-face at the Etihad Stadium in a scrap that both sides knew could decide the title.
City seized the opportunity and captain fantastic Vincent Kompany took advantage of Chris Smalling's lapse in concentration to head home the winner. A result that, just three weeks after the Blues trailed by eight, put the sides level on points with City holding the superior goal difference.
| | | |
| --- | --- | --- |
| JUDGE 1: BARRY REDHAT.. | JUDGE 2: BENNY DOGLEASH. | JUDGE 3: MONSIEUR WINGER |
| | | |
VERDICT: MANCHESTER CITY'S ROUND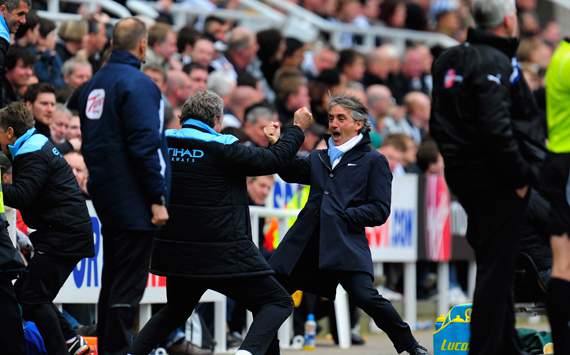 In the penultimate set of matches City defeated Newcastle 2-0 to make sure winning the trophy is in their own hands. United inflicted the same scoreline on Swansea, however the minimal celebrations of the players, who knew the earlier score, said it all.

United go into their final game against Sunderland needing City to slip up, at the Etihad, where they have won all but one game this season, to the side with the worst away record in the league - QPR. Mancini's men have United dazed and stumbling, all they need to do now is keep their heads and deliver the killer blow.
| | | |
| --- | --- | --- |
| JUDGE 1: BARRY REDHAT.. | JUDGE 2: BENNY DOGLEASH. | JUDGE 3: MONSIEUR WINGER |
| | | |
VERDICT: MANCHESTER CITY'S ROUND