COMMENT

By
Wayne Veysey
| Chief Correspondent
The reaction of Roman Abramovich said it all.
As Fernando Torres wheeled away to celebrate his hat-trick goal, the Chelsea owner's face broke into a broad grin and he high-fived his mates in the executive box from where he was watching the rout unfold.
The Russian never talks in public but this spontaneous gesture spoke volumes for his feelings about the redemption of the club's record signing.
The other Chelsea goals were marked by the stock Abramovich reaction to a goal from the team he created with his largesse – a beaming smile followed by warm applause.
Like the 41,000-odd other souls at Stamford Bridge, the billionaire knew the extra significance of Chelsea's fifth strike of the game.
TORRES BACK TO HIS BEST?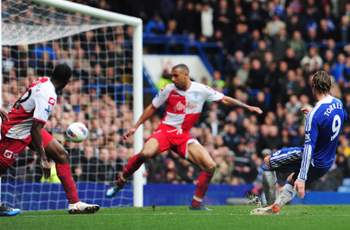 TOTAL SHOTS
SHOTS ON TARGET
GOALS
ASSISTS
8
4
3
0
PLAYER RATING

9.0

Form is temporary, class is permanent. Brought a joyful reaction from Roman Abramovich when he dispatched his hat-trick goal with the same certainty he had plundered his two first-half strikes. The commitment and energy has been there in abundance for a few months but the poise has now emphatically returned.
It proved that the cloud that has hovered over Torres for 14 months at the club has finally given way to a ray of light and the promise of brighter times ahead.
Each of the Spaniard's three strikes was dispatched with complete conviction and certainty.
Roberto Di Matteo's side were already 2-0 up and playing with ferocious intensity before Torres slipped into gear and moved into space to collect Salomon Kalou's deliciously struck first-time pass in the 19th minute and then effortlessly round Paddy Kenny before angling his shot into the net.
It was a run he might not even have made a few weeks ago as the endless search for his mojo continued.
The finish – not too dissimilar to the cathartic Camp Nou winner that brought Gary Neville to a semi-orgasmic climax on air - would perhaps have been out of his range at that time.
Six minutes later, a revitalised Torres had his second. After Nedum Onuoha and Kenny made a complete hash of a fairly routine clearance, the number nine gleefully latched on to a loose ball and lashed it into the net with his left foot.
With his confidence soaring and Chelsea fashioning opportunities seemingly at will, Torres looked like grabbing his first hat-trick since 2009 at any moment. The outpouring of relief finally came in the 64th minute when Juan Mata, his hardly any less outstanding countryman, put him through on goal with an inch-perfect pass.
The rank-and-file held their breath. So did those in a top-tier executive box. Torres opened up his body and side-footed it into the corner with the precision of a surgeon completing a life-saving operation.
The Bridge rose as one to acclaim a player whose suffering in a blue shirt has been so public at times that it has made for painful viewing.
To the credit of a support who were let down by some shameful taunting of Anton Ferdinand, they never gave up hope that Torres would eventually come good. Even in the dark days when he scuffed sitters and his first touch doubled up for a pass, the faithful sang his name and remained upbeat.
By rediscovering the target with four goals in five days, the born-again Spaniard has finally given them something to really sing about.
"Fernando Torres, he scores when he wants," chorused the home fans without any trace of irony following his opener. They responded in similar fashion to his second and third goals.
For the second time in a week, the bashful, media-shy figure of the last year-and-a-half was happy to talk about his experience afterwards.
Asked about his return to form, Torres said: "I felt very good, was playing well but I couldn't score. Now I feel I'm not playing as well but I'm scoring."
More convincingly, he added: "I am very happy. I knew if I worked hard the goals would come. It's the same for the team, we are playing more as a team now."
Not only have the goals renewed his confidence and injected a shot into the arm of Torres' Chelsea career but showed what a difference he could make to his club's double dream.
As they sparkled in the deluge, the players were not merely playing for the top-four league finish that has been the very least of Chelsea's objectives during the Abramovich era.
They are fighting for starting spots in the FA Cup final next Saturday and the Champions League final two weekends later.
Didier Drogba's brilliance in the two legs against Barcelona and the 5-1 thrashing of Tottenham make him an almost automatic centre-forward pick for Wembley and Munich.
But Torres has shown Di Matteo that he can be more than an impact sub on those two marquee occasions.
With his pace, movement and energy, he can also double up as a right-flank creator in either a 4-3-3 or the 4-2-3-1 formation that the team used against Rangers. With Ramires absent for the Champions League final, Torres has emerged as a high-grade option for a wide role.
For now, he can bask in a week in which he has proved that form is temporary and class is permanent. A certain oligarch will vouch for that.
Follow Wayne Veysey on