PROFILE
By George Ankers
Southampton
confirmed their long-awaited return to the
Premier League
after seven years away with a euphoric
4-0
rout of
Coventry City
at St Mary's.
The result ensured that Nigel Adkins has not only steered the south-coast club through an entire campaign without dropping out of the top two, but also a second successive promotion, having been runners-up in League One just last season.
It has been a long and testing journey since their last spell in the top flight
, but how did the Saints earn their Championship success this season, and how might they get on with the big boys in 2012-13?
Goal.com
gives you the lowdown ...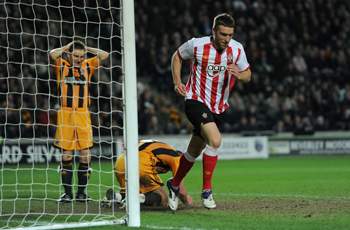 Rickie Lambert was something of a late starter in his professional career, only really beginning to be taken serious notice of at League One level when he joined the Saints upon their relegation to the third tier in the summer of 2009. Since then, he has been the totemic spearhead at the heart of their push to the Premier League.
Now looking an absolute steal at £1 million, the 30-year-old has plundered 88 goals from 158 games in the red-and-white shirt and become the undisputed idol of the St Mary's crowd.
Given their ages, builds and recent career progressions, comparisons with Norwich City's Grant Holt are inevitable - but, whisper it, Lambert may be even better. His hold-up play leading the line has been peerless over the past three seasons, with the strength to keep the ball from defenders and both the vision and ability to make the crucial pass when his team-mates catch up. His flick-ons from headers are uncannily accurate every time.
He is not only a wall off which Southampton bounce the ball for others, though, as his statistics suggest. Lambert is also a natural finisher, deadly from the penalty spot with the occasional sublime free kick up his sleeve as well. Make no mistake: he will score goals in the Premier League.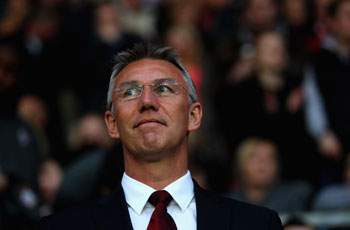 The most upbeat man in English football? You'd be hard-pressed to find a better candidate. Nigel Adkins' relentless optimism has mirrored supporters' sentiments as they have scarcely been able to believe the miraculous progress that he has overseen.
You may have read a few years ago in the "and finally ..." section about a lower-league club that had appointed their physio as their new manager. That was Adkins. Elevated from the medical team at Scunthorpe in 2006, he marshalled the Iron to promotion from League One before repeating the feat immediately after they came back down. "Who needs Mourinho, we've got our physio," went the chants.
He arrived at St Mary's at the start of 2010-11 in place of Alan Pardew and set about doing what he does best by navigating out of the third tier once again, but this time he has gone one step further.
As well as his clear ability to motivate - with that infectious happiness clearly translating to the players - Adkins has proved himself to be adept in the transfer market as well. His January swoop to reunite with former Scunthorpe charge Billy Sharp added the extra firepower that proved crucial in the Saints' final fixtures.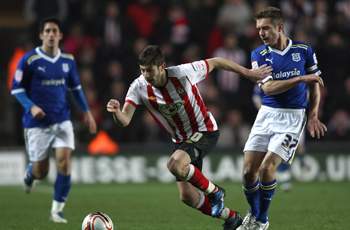 Southampton are not quite Swansea City, but there is plenty of pleasure to be taken from the aesthetics of their play. Adkins' men play an aggressive game and create plenty of chances - they are the Championship's top scorers this season.
Lambert is the key, the focal point around which the attack pivots, with his intelligent movement and flick-ons bringing the likes of Adam Lallana (pictured right) and Sharp into play. Lallana is also how he receives a great deal of his possession, the academy graduate being far and away the team's greatest creative spark cutting in from the left wing.
With his tendency to drift centrally and the frequent omission of an out-and-out right winger, Saints' full-backs have license to get forward, the swashbuckling but occasionally defensively-lacking left-back Danny Fox a particular threat from deep.
Whichever combination of central midfielders are fielded, they are usually content to stay further back to allow the front four to combine, but all of the regulars in the middle have the capability to now and then burst forward and strike when Lambert creates space.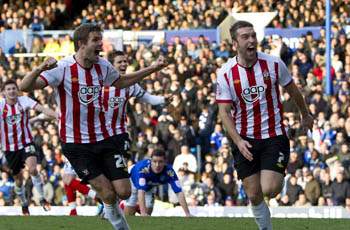 It has been a steady campaign waged by the red-and-white army, never once leaving the top two ever since beating Leeds 3-1 on opening day.
For a long time they were the outright leaders, Lambert's 27 league goals marking him out as the division's top striker, and morale-boosting early-season wins over promotion favourites Birmingham (4-1 in September) and West Ham (1-0 in October) ensured that confidence never dropped.
There were, however, just the right amount of timely blips to keep the chasing pack interested, and Reading soon emerged as bigger rivals than the Hammers for top spot.
A coincidental failure to perform in matches broadcast live on television culminated in the Royals' smash-and-grab 3-1 victory at St Mary's on April 13, wrenching the initiative away from the Saints, who then fluffed their chance to seal promotion a week later by losing at Middlesbrough - despite a Sharp goal within the first minute.
West Ham, though, could not close the gap sufficiently and, needing a win on the final day, already-relegated Coventry proved no more than sacrificial lambs.
WHAT THEY NEED TO STAY UP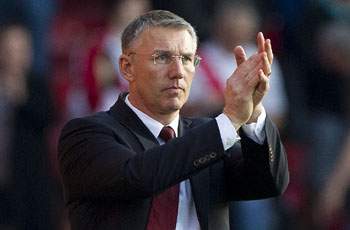 Norwich are surely the blueprint for Southampton to follow in 2012-13. The Canaries themselves made the double-promotion jump to the Premier League a year before the Saints and have thrived through hard work and just enough genuine quality despite not importing "proven top-flight experience".
Adkins has had some money to spend in each window that he has so far overseen and that is sure to continue in preparation for a concerted survival bid. There could yet be further developments on this front
if a mystery consortium known to be interested in buying the club gets its way
.
As for specific targets, Southampton's first priority should most likely be at the back. Kelvin Davis has been heroic in goal for several years but could be a little more exposed aerially in the top flight - at the very least, capable backup is required, if not an out-and-out replacement.
Jose Fonte and Jos Hooiveld have worked well together at centre-back but the latter, in particular, is somewhat over-reliant on physicality and may be beaten frequently for pace by Premier League forwards. At the other end of the pitch, more creativity to add a counterpoint to Lallana is a must, with a quality addition on the right flank certain to be targeted.
Options to ease the burden on Lambert must be explored, as well. Though Sharp has excelled since joining the Saints and the promising Tadanari Lee has brought with him huge interest from his native Japan as well as glimpses of class, the occasions on which the key forward has been injured have seen Southampton struggle more for ideas.
Follow George Ankers on