By Oliver Platt

Jose Mourinho won six trophies in three seasons to become the most successful manager in Chelsea's history but if there has been one negative element to the legacy he left at Stamford Bridge, it is the enormous level of expectation placed on those who have succeeded him since.
Only Carlo Ancelotti has delivered one of the two trophies - the Premier League title, with the other being the Champions League crown - that Roman Abramovich truly craves and the following season's dip into second place saw the former AC Milan boss relieved of his duties.
Another Italian, Roberto Di Matteo, has proved the unlikely architect of a European run that could, against all odds, end with glory in the competition many believe Mourinho would have conquered had he been afforded another season in London.
Di Matteo's Chelsea find themselves on the verge of the Champions League final following a 1-0 victory over Barcelona in the first leg of the semi-final on Wednesday.
Whereas his predecessor, Andre Villas-Boas, looked to stamp his own authority on the Blues' squad, Di Matteo has embraced the remains of the Mourinho regime in order to guide Chelsea to an end of season run that seemed all but impossible just weeks ago.
Goal.com examines the traits shared by the two managers that have, past and present, captured the attention of the Bridge...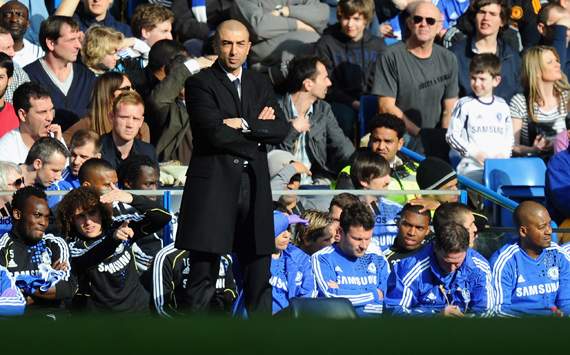 Di Matteo's ambitions will stretch well beyond what he has achieved in less than four years as a manager but Wednesday's match against Barcelona capped what can already be lauded as a remarkable rise to the top.
The Italian may have a long way to go before he can be counted among the likes of Pep Guardiola as one of Europe's elite bosses, but he did not look out of place on the Stamford Bridge touchline as he stood alongside the Barcelona mastermind.
Cutting his teeth at League One level with MK Dons, Di Matteo immediately looked the part during a period in which the likes of Mourinho had begun to inspire a change to the traditionally practical attire donned by managers in the dugout.
Most bosses in the third tier opted to stick with their tracksuits but Di Matteo's modern image caught the eye of managerless West Brom, who he guided into the Premier League at the first time of asking.
"He's cool," Baggies midfielder Steven Reid admitted. "He looks the part on the touchline as well. He's cool, calm and he's immaculately turned out. The Italians have a bit of style and he brings that into the changing room."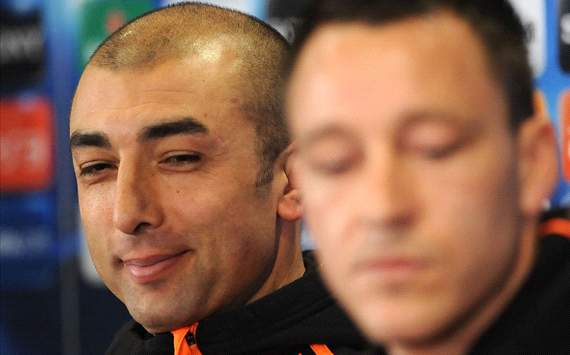 We are probably not likely to hear Di Matteo label himself as the 'Special One' any time soon and nor does the 41-year-old seem intent on attempting press conference metaphors based around the quality of different classes of eggs.
But while the content of Di Matteo's speech may differ to Mourinho's, the manner in which it is delivered bears much resemblance to the Portuguese.
Both Di Matteo and Mourinho speak excellent English but opt not to use much of it. They are brief, clear and entirely confident in the answers they give in the often heated and emotional immediate aftermath of a game.
Di Matteo has recognised that he has not taken the Stamford Bridge hotseat with the profile and reputation of Mourinho, Ancelotti, Guus Hiddink or Luiz Felipe Scolari and has adopted a more modest approach as a result.
He rejected the opportunity to revel in his own success after the Barcelona match and instead elected to heap more praise on the much-maligned 'old guard' as well as newcomers such as Gary Cahill. Both parties' loyalty to Di Matteo will have grown.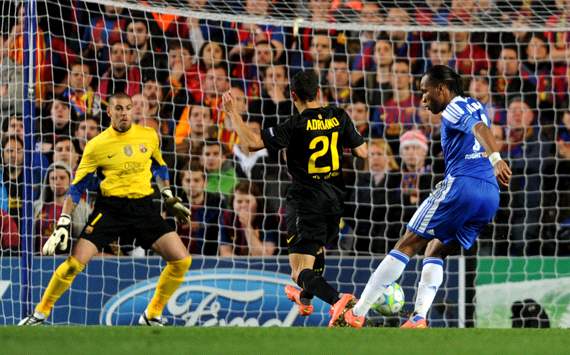 Villas-Boas embraced the Mourinho 4-3-3 at Porto and, as a result, seemed a perfect fit when he took over at Chelsea last summer.
Formations, however, are neutral and mean nothing when a team's general style of play and individuals' prescribed roles are not taken into account.
In an attempt to build a new Chelsea side capable of reaching the heights of Mourinho's two-time champions, Villas-Boas tried to emphasise mastery of possession and an aggressively positioned defence that a squad largely built by Mourinho could not adjust to.
Di Matteo has reverted to Mourinho's more direct, counterattacking style of play and while they rode their luck not to concede against Barcelona, the Blues' goal was a textbook quick break up the field.
Didier Drogba, restored as centre forward for most of Di Matteo's most important matches, has looked back to his best and the Chelsea defence has offered more resistance from a deeper starting position.
"They've gone back to the type of Chelsea that was more successful," Cesc Fabregas opined before the first leg. "Playing on the counter, trying to hit the target man, sitting back and using that No.9 as a reference point. They are a very, very dangerous team."
LISTENING TO BIG-NAME PLAYERS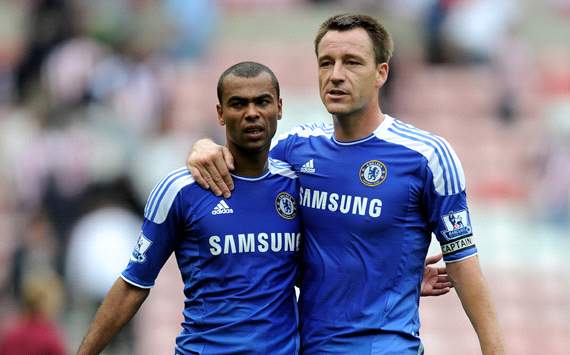 While the likes of Ramires and Gary Cahill have also impressed, there has been no doubting the contribution of Chelsea's most experienced players to their current run of form.
Both John Terry and Ashley Cole were outstanding in defence against Barcelona, while Frank Lampard operated in a restricted defensive midfield role without a hint of the frustration and disillusionment he had occasionally displayed under Villas-Boas.
Drogba, despite the stunningly long periods of time he spent lying on the turf for no apparent reason, was on his feet when it mattered to grab the winning goal and worked hard throughout the evening in order to lead the attack.
Villas-Boas' failed attempts to replace the likes of Lampard and Drogba with younger models may prove valid in the long run but for now Di Matteo has been sensible to rely on the remainder of Mourinho's 'untouchables'.
Michael Ballack's form was not always at the level of others who made that list but Mourinho recognised the value of his vast experience against the finest opposition the Champions League had to offer.
Di Matteo, competing in Europe's premier competition as a manager for the first time, has similarly utilised the know-how of the old guard.
Two managers, two unlikely victories in the last 16 of the Champions League.
Mourinho celebrated Costinha's last-gasp winning goal by rampaging down the Old Trafford touchline when Porto progressed to the quarter-final of the 2004 competition at the expense of Manchester United.
Di Matteo was able to keep his emotions in check until the final whistle before entering the field of play to congratulate his players by leaping on many of them following their 4-1 second leg victory over Napoli.
Fernando Torres had played nearly an hour as a substitute when Di Matteo clattered the unsuspecting striker with a hug before moving on to a more willing recipient in Lampard.
Mourinho's sideline antics have occasionally landed him in hot water with the footballing authorities but his clear passion for the cause only serves to further endear him to supporters.
It was difficult not to smile as a former Stamford Bridge midfield idol embraced his successor having achieved a result that has triggered the rebirth of the Blues' trophy hopes this season.
Follow Oliver Platt on