The nominations for the
Premier League
20 Seasons awards have been announced, with top-flight stars of past and present represented.
The awards have been set up to celebrate the 20th year since the start of the Premier League with some of the best players, managers and moments all up for debate.
The awards will be chosen by a combination of panel and public votes and can be followed from the league's official website. The first award to be decided will be the goal of the 20 seasons on May 3, with players' award following on May 18 and the best manager named on May 19.
There are 11 categories in total and former Manchester United favourite Eric Cantona is nominated in five.
The Red Devils also have the most nominees of any club with a staggering 49, while Arsenal are second on 29 and Newcastle United third with 21.
Despite the huge influx of foreign talent into the top flight, England is still the most represented nation with 54 home-grown players put forward. France is the next highest-represented country with 19 nominations.
Below we look at the nominees and awards that are up for grabs next month:
Best player of the 20 seasons

Nominees:
Dennis Bergkamp, Eric Cantona, Ryan Giggs, Paul Scholes, Thierry Henry, Roy Keane, Cristiano Ronaldo, Gianfranco Zola, Patrick Vieira, Alan Shearer.


Possibly the most prestigious award will see the best player of the Premier League era crowned.
For their dominance throughout much of the Premeir League's existence, players who have made their name at Arsenal and Manchester United are most common.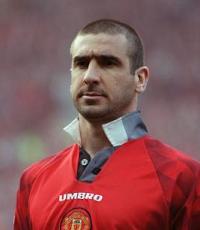 Alan Shearer is the all-time top goalscorer since 1992's revolution and his 260 goals could make him a strong contender for the title. Likewise, the remarkable feats of Ryan Giggs, who has played and scored in every Premier League season, make him a strong possibility.
Eric Cantona featured in just five Premier League campaigns, fewer than any other player on the list, but his totemic contribution in four years at Old Trafford, including a last-minute FA Cup winner against Liverpool, validate his presence.
Patrick Vieira, Thierry Henry and Dennis Bergkamp are the Gunners' nominations and were all key figures of the north Londoners' unbeaten season in 2003-04, with Vieira the captain, Bergkamp the creator-in-chief and Henry the simply unstoppable goal machine.
Cristiano Ronaldo's career trajectory has only continued to rise since leaving English shores but the Portuguese star made his name in England and his goal return of 2007-08, 31 from 34 games, has yet to be bettered in a single season since.
Best manager of the 20 seasons

Nominees:
Sir Alex Ferguson, Arsene Wenger, Jose Mourinho, David Moyes, Harry Redknapp.


It's possibly unlikely that too many votes will go further than the Manchester United boss who is a likely candidate to be the greatest manager of all time.
Sir Alex has been at the Old Trafford helm so long that a stand is now named after him, and with 498 wins from his 768 Premier League matches in charge, it is not hard to see why.
The Red Devils have simply dominated the Premier League era and the 70-year-old Scot has overseen this dominance, constantly revolutionising squad after squad that sees the latest threat and swats it aside.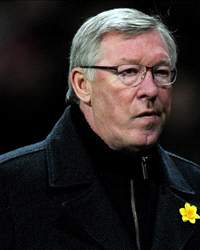 Many have gone toe-to-toe with Sir Alex and looked to knock him off the perch that the Scot himself dislodged Liverpool from, with none being more successful than Arsene Wenger.
The Frenchman arrived at Arsenal 16 years ago to derisions of "Arsene Who?" and, while the former Monaco boss brought plenty of success to Highbury, although not yet to the Emirates Stadium, his main impact has been felt across all of English football.
A host of former Arsenal stars have waxed lyrical about the change of training, diet and tactics that Wenger brought with him when he arrived from Japan in 1996 with every club sitting up, taking note and ultimately mimicking Wenger's ways.
Success on the pitch has also arrived under Wenger with the Gunners winning three league titles under the Frenchman, who has been crowned Manager of the Year three times also.
Another exotic foreigner who rocked up and changed the face of English football was Jose Mario dos Santos Mourinho Felix, or, as he very quickly became known, 'The Special One'.
Mourinho came, saw and conquered, delivering Chelsea's first league title in half a century racking up a record number of points (95), wins (29) and conceding a record low amount of goals (15).
One of the few managers to ever seem to get the better of Sir Alex, he lost just 10 Premier League games in his spell at Stamford Bridge and is rumoured to be the man in line to take over at Old Trafford when Ferguson retires.
David Moyes is also given a nod after a decade at Everton that has seen him take the Toffees into the Champions League and remain competitive as ever in the top flight despite perennial financial issues, while Harry Redknapp is the only man to have managed more than one top flight club given a nomination.
Best goal of the 20 seasons

Nominations:
Matt Le Tissier v Newcastle United (1993-94), Matt Le Tissier v Blackburn Rovers (1994-95), Tony Yeboah v Liverpool (1995-96), David Beckham v Wimbledon (1996-97), Eric Cantona v Sunderland (1996-97), Paolo Di Canio v Wimbledon (1999-2000), Thierry Henry v Manchester United (2000-01), Dennis Bergkamp v Newcastle United (2001-02), Alan Shearer v Everton (2002-03), Wayne Rooney v Manchester City (2010-11)
.
A mouth-watering top 10 if there ever was one.
Eight of the 10 strikes nominated for the greatest of the Premier League era were scored in the first half of the 20-year spell with Southampton legend Matt Le Tissier the only man to feature twice after his flicking bonanza against Newcastle and then a screamer against Blackburn scored a year later.
Long-range howitzers like Alan Shearer's and Tony Yeboah's volleys sit alongside the technical excellence and finesse of Dennis Bergkamp's legendary turn-and-finish at St James' Park and the swagger of Eric Cantona's chip against Sunderland, followed up by a nonchalant, Gallic, collar-up celebration.
David Beckham's effort from his own half is put up for the award as well as Thierry Henry's swivelling volley scored at Highbury against Manchester United.
The most recent goal is Red Devils forward Wayne Rooney's incredible overhead kick against Manchester City from 2011 and Paolo Di Canio's famous scissor kick goal rounds off the top 10.
Neil Sullivan is the only goalkeeper to have been beaten by two of the 10 strikes nominated (Beckham and Di Canio).
Best match of the 20 seasons

Nominations:
Liverpool 4-3 Newcastle United (1995-96), Newcastle United 5-0 Manchester United (1996-97), Tottenham Hotspur 3-5 Manchester United (2001-02), Portsmouth 7-4 Reading (2007-08), Arsenal 4-4 Tottenham Hotspur (2008-09), Liverpool 4-4 Arsenal (2008-09), Manchester United 4-3 Manchester City (2009-10), Newcastle United 4-4 Arsenal (2010-11), Manchester United 8-2 Arsenal (2011-12), Manchester United 1-6 Manchester City (2011-12)
.
Goals were required to earn a nomination here, with at least five in each game and a staggering 72 across the 10 matches.
The original and, to many, still the best is given a nod as Liverpool's stunning victory over Newcastle, Stan Collymore's last-minute goal and Kevin Keegan's post-match rant are up.
Brave comebacks are featured, Manchester United winning 5-3 at White Hart Lane after being 3-0 down at half-time and Newcastle United's memorable 4-4 against Arsenal are up for a vote.
Two of the Red Devils' clashes with neighbours Manchester City are featured, Michael Owen's last-minute goal gave United a thrilling 4-3 win in 2009 but City's 6-1 demolition of the Old Trafford side earlier this season sticks fresh in the memory.
For a sheer amount of goals, Portsmouth's 7-4 win over Reading could win it and holds the record as the highest-scoring match of the Premier League era.
Best forward of the 20 seasons

Nominations:
Dennis Bergkamp, Gianfranco Zola, Eric Cantona, Andrew Cole, Ruud van Nistelrooy, Robbie Fowler, Thierry Henry, Wayne Rooney, Alan Shearer, Ian Wright.
In the nominations for the best team of the last 20 years, the battle for the top strikers could be the most intriguing.
The Premier League's highest goalscorer of all time could be a safe bet, with the 260 goals that Alan Shearer scored for Southampton, Blackburn and Newcastle completely unmatched by his peers.
The closest to Shearer is one of the men who preceded him as a legendary No.9 on Tyneside, Andrew Cole. 'Cole the Goal' has 187 Premier League goals to his name, and his five league titles won while at Manchester United are more than anyone else on the list.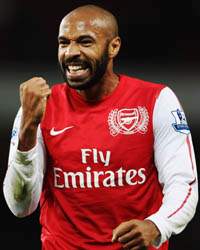 Two men in the list never won a league title, Gianfranco Zola had left Chelsea by the time Jose Mourinho arrived and Robbie Fowler, despite his prolific scoring rate, could not fire Liverpool or Leeds to a title despite coming close with both clubs.
The craft of Dennis Bergkamp who scored more than his fair share but laid on just as many, if not more for Ian Wright and then Thierry Henry, who both also feature, is noted as is the similarly well-rounded talents of Eric Cantona.
Ruud van Nistelrooy made exactly 150 appearances for Manchester United and his haul of 95 goals, translating to roughly two goals every three games, is simply astonishing.
The only player currently plying his trade in the Premier League to be featured is arguably the finest currently playing in the top flight. Wayne Rooney is just over half way to catching Shearer's record on 141 league goals and, at the age of just 26, could well reach that mark in the future.
Team of the 20 seasons:
Blackburn Rovers (1994-95), Manchester United (1998-99), Arsenal (2003-04), Chelsea (2004-05), Manchester United (2007-08).


Best season of the 20 seasons:
1994-95, 1995-96, 1997-98, 1998-99, 2004-05, 2007-08.

Most memorable quote of the 20 seasons: Eric Cantona ("When the seagulls follow the trawler"), Alan Hansen ("You'll win nothing with kids"), Kevin Keegan ("I would love it if we beat them"), Sir Alex Ferguson ("Squeaky-bum time"), Jose Mourinho ("I am the special one").

Fantasy Team of the 20 seasons: 4-4-2 formation with 10 players nominated for each position.


Save of the 20 seasons:
Peter Schmeichel – Liverpool v Man Utd (1992-93) Peter Schmeichel – Newcastle v Man Utd (1997-98) Jussi Jaaskelainen – Man Utd v Bolton (2001-02) Shay Given – Sunderland v Newcastle (2001-02) Tomasz Kuszczak – Wigan v West Brom (2005-06) Carlo Cudicini – Tottenham v Chelsea (2007-08) Brad Friedel – Blackburn v Man Utd (2007-08) Joe Hart – Liverpool v Man City (2007-08) Tomasz Kuszczak – Birmingham v Man Utd (2007-08) Craig Gordon – Sunderland v Bolton (2010-11).


Goal celebration of the 20 seasons:
Sir Alex Ferguson & Brian Kidd – Man Utd v Sheff Wed (1992-93), Jurgen Klinsmann – Sheff Wed v Tottenham (1994-95), Lee Sharpe – Man Utd v Arsenal (1994-95), Eric Cantona – Man Utd v Sunderland (1996-97) Temuri Ketsbaia – Newcastle v Bolton (1997-98), Ian Wright & Neil Ruddock – West Ham v Southampton (1998-99), Steven Gerrard – Man Utd v Liverpool (2008-09), Jimmy Bullard – Man City v Hull (2009-10), Lomana Lua Lua – Newcastle – Multiple occasions, Alan Shearer – Newcastle – Multiple occasions.