The Manchester United striker believes that he did not play well despite netting twice as the Red Devils recorded a comfortable 4-0 win at Old Trafford on Sunday
Manchester United
striker
Wayne Rooney
has expressed disappointment with his performance during his side's
4-0
win over
Aston Villa
on Sunday, despite netting twice.
The Liverpool-born forward shared Red Devils boss Sir Alex Ferguson's view that he was too "casual" in the comfortable Premier League victory.
"It was nice to score two goals but I didn't think my performance was good enough," Rooney told reporters.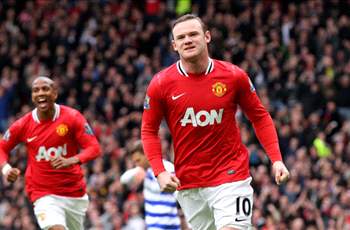 "It was nice to score two goals but the rest of my play wasn't great. I will be working hard to put it right"

"The rest of my play wasn't great. I am disappointed with that and I will be working hard to put it right."
Sunday's double brought Rooney's goal tally to 31 for the season and the striker finds himself only three away from beating his personal best of two seasons ago.
The 26-year-old is also just one short of notching his 179th goal for the club, which would take him level with United legend George Best.
But, whilst the former Everton man admits that matching Best's record is an additional incentive, he insists that ensuring that the Red Devils maintain their lead at the top of the league is more important.
"It would be great to equal that record and hopefully surpass it," said Rooney.
"I would be proud of that achievement but I can't really look at it just at the minute.
"If it happens then great but it's the points that are important at this time of the year and if I can score the goals that get those points then I'll be pleased."
After United were surprisingly beaten by Wigan, rivals Manchester City have stepped up the chase for the title, scoring 10 times in their last two matches - and Rooney is aware that his side must win their next match, against Everton, to see off their challengers.
"A month or six weeks ago, if somebody had told me that we would be five points clear at this stage of the season I would have been delighted," he added.
"Next week against Everton is another massive game for us.
"We need to get three points there to make it an interesting night against Manchester City."