COMMENT
By
Rob Stewart

The end is nigh for three Premier League teams and it will be a case of good riddance when the relegation skirmish is concluded.
The battle to avoid relegation from the Premier League is getting more and more tense and the strain is clearly getting to those teams fighting to avoid the drop into the Championship.
While doomed Wolves showed why they are as good as down by failing to grab a top-flight lifeline in a drab goalless draw at Sunderland, Blackburn Rovers and Queens Park Rangers showed they are not much better as they were beaten at Swansea and West Bromwich Albion, respectively.
It was was a massive missed opportunity for sides at the bottom, particularly Blackburn and QPR; both failed miserably and their lamentable form pretty much sums up the situation at the foot of the table, where a couple of teams will survive by default.
Inactive Bolton, without a game until next weekend, and Wigan, who face Arsenal on Monday night, watched on as their rivals struggled and their own travails were put into perspective by Swansea's handsome 3-0 victory over Blackburn.
Brendan Rodgers' side and Norwich City have both demonstrated how you can successfully make the transition from Championship to Premier League, following their promotion last season behind QPR.
Here, Goal.com looks at why Rangers are one of the one of the leading candidates to drop out of the Premier League and why few will lament their absence or that of Wigan, Blackburn or Bolton.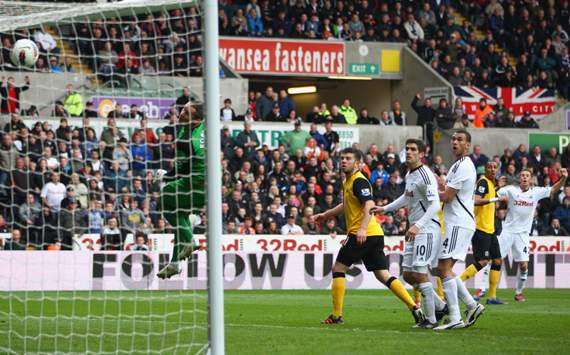 Why they deserve to go down
The lack of leadership off the field has been mirrored by a lack of leadership on it. The club's Indian owners, Venky's, might deserve credit for sticking with Steve Kean but their failure to communicate more openly with the club's supporters is jarring.
Venky's have treated their fans with contempt by their lack of communication through these trying times at Ewood Park ever since Sam Allardyce was sacked last season, and that is bound to percolate down to the players.
Since buying the club from the late Jack Walker's family, the new owners from Pune have failed to put their money where their mouth is and the departure of skipper Christopher Samba was a clear indication of their lack of ambition for the former Premier League champions.
Why they might stay up
If they do survive, Steve Kean's side could very well become the first team to stay up by proving their own fans wrong. If Kean can urgently foster a 'no one likes us, we don't care' attitude amongst his players then they might escape.
Despite Kean's credibility being undermined by events on and off the field, his players still appear to be with the former Fulham coach. Rovers fans would surely not know whether to laugh or cry if Kean and his charges prove them wrong, and with the players at his disposal there is a chance that they might stay up.
Not only do they have Aiyegbeni Yakubu scoring goals in a struggling team but they also have some of the best up-and-coming players in England and if they can keep their team up this season then anything is possible.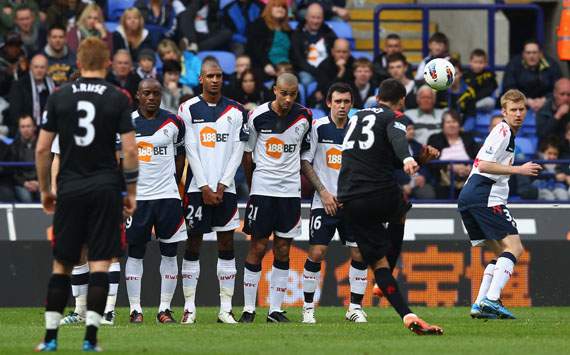 Why they deserve to go down
The fact that Bolton's best two players over the last few seasons have been Jack Wilshere and Daniel Sturridge says it all really. Wilshere was borrowed from Arsenal and Sturridge was loaned to Bolton by Chelsea to further their education and that underlined the lack of a long-term strategy at the Reebok.
There was not one homegrown player in the Bolton side that lost 2-0 at Newcastle in their last outing and that is a sorry indictment of a club who are neglecting the need to develop their own talent despite having been in the Premier League since 2001.
They keep having to fork out money to buy new players when they should be promoting their own from within like Middlesbrough used to do, but instead they have relied too much on the warhorse that is 35-year-old captain Kevin Davies.
With just four league wins at the Reebok this season Owen Coyle's team have a dreadful home record, as they pay the price of hiring journeymen at the expense of their own hungry young players.
Why they might stay up
The Fabrice Muamba factor could prove to be an inspiration. The Trotters might not be able to call upon the former Arsenal player before the end of the season following his health crisis but they will be able to ride a wave of emotion thanks to him.
Muamba is due to return to the training ground before too long following his miraculous recovery after suffering a cardiac arrest at Tottenham but his mere presence will make Owen Coyle's team-talks the easiest ever as the battle to stay up intensifies. Who could not be stirred by a rousing 'let's do it for Fabrice' pep-talk?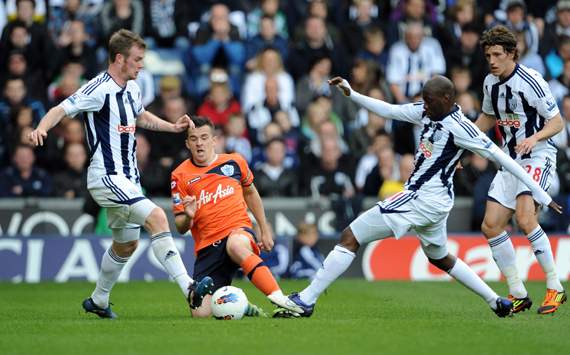 Why they deserve to go down
The League Managers' Association insist that change is not always for the better and the way things have gone this season at Loftus Road it is difficult to disagree.
Whatever Joey Barton might say, after getting the team promoted Neil Warnock deserved a chance to keep Rangers up in the Premier League but was denied that opportunity by club owner Tony Fernandes.
Warnock was not given a fair crack of the whip at Loftus Road and there has been no dramatic upturn in fortunes for Rangers since Mark Hughes took over the reins last January.
Hughes has been given millions to keep the club up but the way he is struggling to guide the Hoops away from the drop-zone shows that stability is no bad thing, especially when you are signing expensive liabilities like the volatile Djibril Cisse who, because of suspensions, has missed more games than he has played since heading to London.
Joey Barton has seriously under-performed this season and the goal he scored in the 3-0 win over Swansea was an exception that proves the rule because he should be doing more.
Why they might stay up
With Cisse, Bobby Zamora and Barton in their ranks, Rangers look to have the best squad of players in the lower reaches of the Premier League, and if – and it's a big if - they can click then Mark Hughes's team will surely avoid an immediate return to the Championship.
They might roll over a bit too easily on the road but QPR remain relatively difficult to beat on home territory where they have chalked up encouraging wins recently over Liverpool and Arsenal.
There must also be a feeling among neutrals that after what happened at Manchester United last weekend - when Shaun Derry was sent off for fouling Ashley Young in the 2-0 defeat - Rangers were the victims of small-club syndrome at Old Trafford and therefore deserve a break.
The law of averages suggests that things generally even themselves out over the course of a season and if there is any justice then Rangers might well get a big decision going their way between now and the end of the campaign.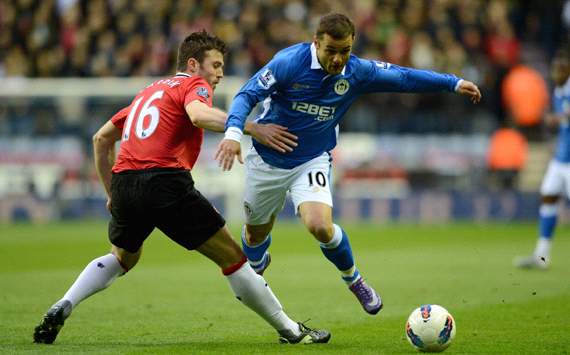 Why they deserve to go down
This is nothing against Latics chairman Dave Whelan but you have got to ask if the town of Wigan really deserves Premier League football.
Attendances for Premier League football in a town that is synonymous with rugby league rather than football show that the locals have failed to really embrace soccer.
That Wigan have remained in the Premier League for the last seven years is a major achievement but the empty seats that are always on view at the DW Stadium are a constant reminder that this is a club punching way above its weight.
Sadly, it is only when Wigan drop out of the Premier League that the people of Wigan will appreciate how lucky they have been to see their team regularly joust with the likes of Manchester United.
Why they might stay up
In two words - Roberto Martinez. In this Spaniard, Wigan have one of the brightest young managers in English football and he showed that when his team beat leaders Manchester United at the DW Stadium.
The way the Latics outplayed United was proof that he can get his players to raise their game when it really matters as they did last season with their dramatic escape from relegation on the last day of the 2010-11 campaign.
It might well be dangerous playing 'Russian Roulette' with relegation but with Martinez at the helm Wigan have the experience and know-how to defy the odds again.
He seems destined to quit Wigan this summer and few would begrudge him handing the people of Wigan the ultimate leaving present.