Executive Brian Marwood could follow the QPR-bound technical director out of the club as Abu Dhabi powerbrokers clear the decks for a shake-up of backroom operations
SPECIAL REPORT

By
Wayne Veysey
| Chief Correspondent
Even by
Manchester City
standards, it has been a chaotic few weeks.
A season-long title challenge had almost died a painful death before being given a midweek kiss of life by Wigan Athletic. Rumours of dressing-room unrest are rife while Roberto Mancini's future could hinge on the final five results of a campaign that promised so much but might eventually deliver nothing.
Behind the scenes the club is also a hive of activity.
Goal.com
has learned that City are making preparations for a root-and-branch restructure of backroom operations, which could have repercussions for the executive, management, commercial and recruitment arms of the club.
It is understood that technical director Mike Rigg, who resigned eight days ago, will join QPR at the end of the season to head up the London club's recruitment team and overhaul their scouting strategy.
Rigg will re-establish a relationship with Mark Hughes, who brought him to City in 2008 after they worked in tandem at Blackburn Rovers.
It is likely that Rigg anticipated the wind of change. As revealed by Goal.com in January, former Barcelona vice-president Ferran Soriano and Txiki Begiristain, the ex-Nou Camp dealmaker, were lined up earlier this year as an executive dream team to take on the chief executive and director of football roles.
The restructure of the high command has been complicated by events at Spanair, the airline that Soriano chairs. In the week that Goal.com revealed his link to the City job, Spanair collapsed, leaving passengers stranded across Europe.
Nevertheless, Rigg's departure next month opens up two senior roles which are crucial to the club's summer transfer market strategy.
The chief executive post has been vacant since Garry Cook resigned last September following an embarrassing email leak, although it has been filled on a temporary basis since then by John MacBeath.
Unless there has been a re-think from City's Abu Dhabi owners, Soriano and Begiristain would appear to be direct replacements for Cook and Rigg.
Both are well connected, have wide experience of football's corridors of powers and played central roles in Barcelona's rise into the most successful and second-highest earning in the world.
It would be regarded as a huge statement by City if Abu Dhabi give the green light to the former Barcelona pair as a leading Premier League club has never before been run by executives with impeccable European credentials.
The review of City's operations emanates from the club's powerbrokers and is believed to be independent of the near-collapse of the team's title bid.
Rigg is one of the five members of the club's transfer review panel, which is headed by chairman Khaldoon Al Mubarak and also includes manager Mancini, his No.2 David Platt and Brian Marwood, the most senior football administrator at the club.
| | |
| --- | --- |
| "Questions have been asked at the top of the club about City's recruitment strategy and there are whispers in the corridors at the Etihad Stadium that Brian Marwood is now vulnerable" | |
Questions have been asked at the top of the club about City's recruitment strategy. Rigg took credit for lining up Vincent Kompany and Nigel de Jong but he was also heavily involved in hiring Mario Balotelli, Edin Dzeko and Aleksandar Kolarov, who have all enjoyed only modest success.
There are whispers in the corridors of the Etihad Stadium that Marwood, Cook's close ally from their Nike days and a key figure in one of the most lavish recruitment drives in football history over the last three years, is now vulnerable.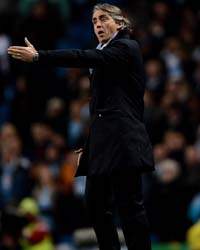 Marwood's experience of football business was crucial to getting the Abu Dhabi project off the ground at a time when the powerbrokers were on a steep learning curve but his role has been squeezed since Cook's departure.
He is also believed to have a strained working relationship with Mancini, with the pair frequently at odds over how to refurbish the playing squad while satisfying the requirements of Uefa's financial fair play regulations.
Although Marwood sat alongside Mancini on the recent Eden Hazard scouting mission, his role is mainly restricted to opening dialogue with other clubs over potential targets rather than cherry-picking players or finalising deals. The monies for all the major transfers have to be sanctioned by Al Mubarak.
The commercial and marketing departments could also be restructured as City attempt to generate greater revenues. Whether the management team suffer the same fate remains to be seen.
Mancini's position will be dictated not only by the final five matches of the season but the availability of Jose Mourinho, who is regarded by the club's top brass as the stand-out candidate to replace the Italian should he be deemed to have failed. Borussia Dortmund's Jurgen Klopp has also attracted attention in Abu Dhabi for his achievement in leading the club to the verge of a second consecutive Bundesliga title.
At the moment the signs are that it is business as usual for Mancini and his backroom team. Platt flew out to Portugal earlier this week to scout Benfica duo Javi Garcia and Axel Witsel, while Mancini is in regular contact with the club's high command about summer incomings and outgoings.
At the end of the two previous seasons, Mancini has flown out to Abu Dhabi to personally brief Sheikh Mansour and Al Mubarak on City's progress.
If he is not asked to do the same next month, the likelihood is that another senior role will become vacant.
Follow Wayne Veysey on