PROFILE
By Sam Bisby at Ewood Park
Just two weeks ago, Brad Jones was not even in contention for the Liverpool bench. Now, the 30-year-old is set for a career-defining afternoon at Wembley as the Reds' only senior goalkeeper in an FA Cup semi-final derby showdown with Everton.
Called upon by Kenny Dalglish in the 25th minute at Ewood Park, the Australian finally donned the gloves to make his Premier League debut for the Merseyside outfit and was faced with former team-mate Yakubu from 12 yards out as his first order of duty.
Saving effortlessly to his right, Jones kept out the striker's penalty right in front of the travelling support.
The remaining 64 minutes of the shot-stopper's evening did not go without incident, almost becoming the second Liverpool player of the night to be sent off – Doni's red card the reason for Jones' appearance – and Yakubu stepped up once more to the spot, this time more confidently, slotting the ball past his former Middlesbrough compatriot.
A further handful of flutters saw Jones reveal his weakness in the air and he struggled to deal with Rovers' initial goal from Yakubu less than 10 minutes after coming off the bench for his inaugural Premier League appearance for the Reds.
And it is a similar story when it comes to the keeper's stop-start career, one tainted with both injury and tragedy, on and off the pitch.
THE VIEW FROM AUSTRALIA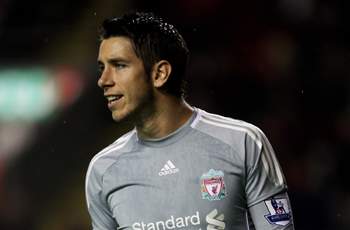 PADDY HIGGS
CHIEF EDITOR | GOAL.COM AUSTRALIA

"Jones has failed to get any kind of substantial game time since his move to Liverpool and then had to deal with the death of his son Luca after a battle with leukaemia.

"It's meant that he has since been overtaken at national level by the likes of Adam Federici (Reading), Nathan Coe (Sonderjyske) and Mitchell Langerak (Dortmund), having been sighted only fleetingly since he was summoned from Australia's 2010 World Cup preparations due to the illness of his son.

"While shaky against Blackburn on Tuesday, Australian football fans would have been heartened to see Jones back on the pitch. After all he has been through, he probably deserved a break or two - which he got with that push on Yakubu.

"That gesture to the sky after his save from Yakubu's first penalty could not have failed to move anyone watching on knowing of Jones' story, and his likely role in the FA Cup semi-final against Merseyside rivals Everton on Saturday has added even more interest to the match in the goalkeeper's native Australia."
Born into English parentage, Jones began his footballing life as a teenager at Perth's Bayswater City side, before quickly moving onto Middlesbrough's youth academy in 1999 which was to be the start of a relationship lasting just over 10 years.
Jones had to wait over four years, however, until his chance for first-team action - a period the Australian had to endure through numerous loan deals.
No less than six temporary moves were made during his time in the north east, with such tenures at Blackpool, Sheffield Wednesday and Stockport County.
But Jones finally made his breakthrough in 2004, debuting for Boro in an FA Cup third round tie against Notts County in the club's cup-winning season, earning himself a winners' medal in the process.
His tough beginnings with the now Championship outfit were predominantly down to his understudy role to the ever-impressive and fellow countryman Mark Schwarzer.
Jones made few top-flight appearances during Middlesbrough's time in the Premier League, one such match coming against Manchester United where he made a penalty stop from Ruud van Nistelrooy.
Finally in 2008, Schwarzer made the move to Fulham, leaving Jones as No.1 keeper at the Riverside Stadium.
However, an injury in the second game of the 2008-09 season resulted in a stuttered start to his dream position and he battled with now Chelsea man Ross Turnbull for the place in the starting XI.
Jones' final season with Middlesbrough saw a failed campaign to regain their top-flight status and was part of a year which saw mixed emotions for the goalkeeper.
Australia had qualified for the World Cup in South Africa and, although playing second fiddle to Schwarzer once more, this time, as part of the Socceroos make-up, Jones had a chance to be recognised on a global scale, but it was not to be.
Jones' son, Luca, had been diagnosed with leukaemia and the keeper immediately pulled out of Australia's tournament preparations to be with his family and put football temporarily out of the frame.
After dealing with the initial shock and getting Luca's treatment underway, Jones' football career was to take a different path as Liverpool came calling for the then 28-year-old.
He signed for the Reds in a deal worth around £2.3 million and was eventually handed the No.1 jersey and made his unofficial debut in Jamie Carragher's testimonial, making a good impression in the process.
A month later and Jones made his first senior appearance for the Reds in a League Cup date with Northampton Town, a match Liverpool lost on penalties after finishing 2-2 after extra-time.
A second start against FC Utrecht in the Europa League was Jones' last of the 2010-11 season, as well as the last before the heart-breaking news that his son Luca had succumbed to leukaemia and passed away in November 2011.
The five-year-old's death touched everyone in the sport and triggered a rallying cry of support through the various social networks, whilst both Liverpool and Middlesbrough marked their respect with black armbands in their subsequent matches.
Having not played since, many have been heartened to see Jones' appearance in the game against Blackburn, especially in his native Australia where the 30-year-old has an understandably high fan base.
His gesture to the night sky following his penalty save and dedicating the win to his late son was truly inspiring.
Jones' certain Saturday appearance at Wembley will only bolster the interest and support from people in the sport and is a chance that has come from nowhere for the man who has endured so much.