The former Gunners defender is relishing the prospect of seeing the two captains face off but believes that the midfield duel will prove vital in the Emirates Stadium showdown
EXCLUSIVE
By
Rob Stewart

Manchester City
will head to
Arsenal
on Sunday with their pursuit of their first ever
Premier League
title on a knife-edge and Gunners legend Nigel Winterburn cannot wait for the Emirates Stadium showdown.
City know that defeat on Sunday will all but end their title hopes for the season should Manchester United beat Queens Park Rangers at Old Trafford the same day, so there is no room for error.
Former Gunners left-back Winterburn, who helped Arsenal win three Premier League titles, gives Goal.com readers the lowdown on where he thinks the game will be won and lost.
Robin van Persie v Vincent Kompany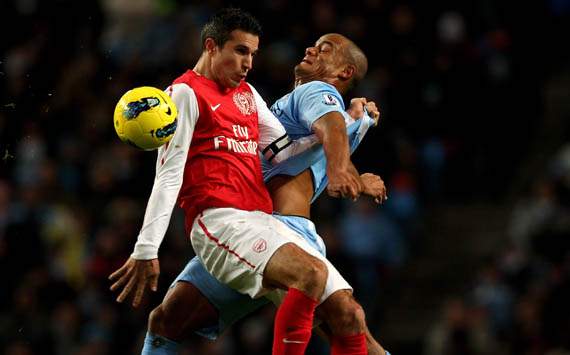 "Robin van Persie has not scored in his last three games so I guess he has a hit a bit of a crisis but, seriously, he has had a sensational season - but, then again, so has Vincent Kompany, so this will be a fascinating duel.
"The one thing that the centre forward has over the centre-half is that he can move around his positions so, if he is not getting much joy from one position, then he can switch, say, from the right centre-half to the left centre-half.
"Unless those two centre-halves move position, which is very unlikely, then he will be able to get a bit of an advantage over the centre-halves but Kompany – who has been badly missed by City when he has been injured or suspended - is a wise defender and he will be ready for Van Persie's moves.
"You just have to look out for Van Persie's movement when Arsenal are in possession, particularly when Alex Song is on the ball. He loves to peel off the shoulder of the centre-half that he is on and then Song loves to curl those balls beyond the defender for Van Persie as he did at Liverpool."
Theo Walcott v Gael Clichy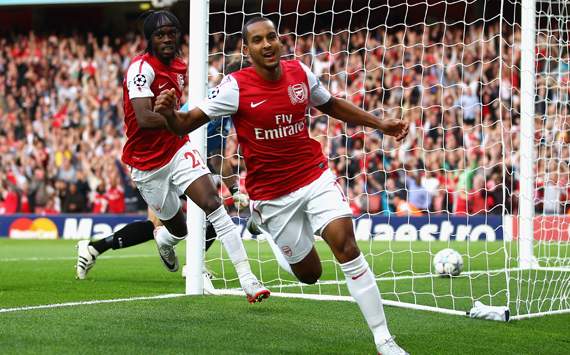 "Arsenal will have lots of pace out on both flanks but most people at the Emirates will be hoping for good things from Theo Walcott who has been more consistent of late and has scored one or two important goals.
"Gael Clichy is very good going forward but defensively there are parts of the game that he needs to learn and work on even more and his powers of concentration will be tested as well because the Arsenal fans will be wanting to give him a bit of stick for leaving the Emirates last summer.
"It will be an intriguing battle because he will want to drive Walcott back but, with his pace, Theo can hurt anybody once he goes through the gears. Plus he has added a bit of inside movement to his game and he is no longer staying out wide on the right-hand side. He is cutting inside and linking up with Robin van Persie now.
"Arsenal like to thread the ball between the left-sided full-back and the left-sided centre-half for Theo to latch on to [and] if Clichy is not aware of his runs from wide to inside then that is an area that Arsenal could well exploit."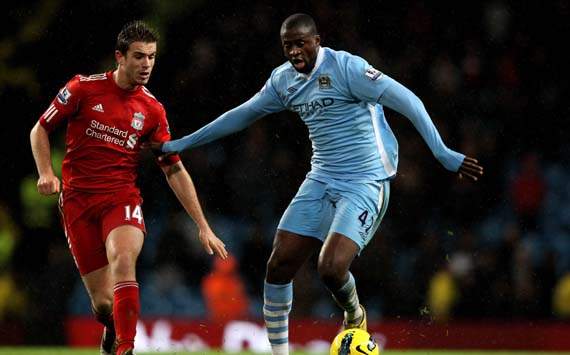 "
ARSENAL - MAN CITY PREVIEW Roberto Mancini admits that a loss would end City's title bid

The central midfield area will be crucial because you will have the power of Manchester City in there - epitomised by Yaya Toure [and] backed up by Gareth Barry - against the guile of the Arsenal midfield with Mikel Arteta, who will have Alex Song to help him out.
"When he gets into his stride, Toure really does invigorate City with those surging runs of his into enemy territory that have become his trademark in the Premier League since he arrived in England from Barcelona.
"He takes some stopping once he gets going but it will be Alex Song's job to stand firm and not allow him to get into dangerous areas because he can not only shoot with both feet but he is very adept when he comes to linking up with Samir Nasri and David Silva.
"Song needs to track him back every time but he will want to give as good as he gets. He has been a real mainstay of the Arsenal midfield this season and, as well as being strong defensively, he makes a real difference to the attack, so Toure will have to be careful that he does not get caught out because he can link up well with Robin van Persie.
"From City's point of view I just wonder what tempo they are going to play at. If they are going to play at a slow tempo then I think that Arsenal will be able to cause them some problems. If City try to play at a higher tempo then we could be in for a very good game."
Laurent Koscielny v Carlos Tevez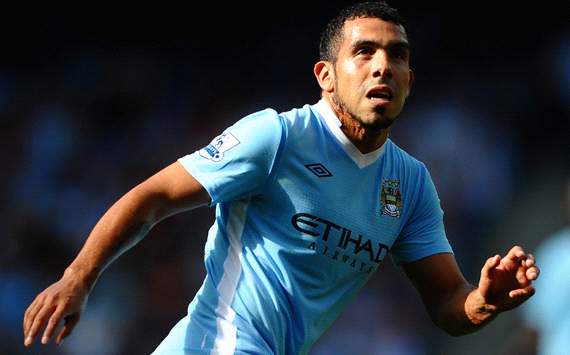 "It would be a surprise if Carlos Tevez started because he is nowhere near 100 per cent fit but, that said, he will still be very dangerous.
"As a world-class player, he has still got that ability to pick out a pass but, at his best, most people will remember him for his hard work, but he has got that little bit of explosive power that enables him to get away from defenders and I haven't seen that since he has come in [with] substitute appearances since he came back into the fold.
"He still has to be miles behind his team-mates in terms of fitness but when you get someone that is as good as he is then he does have the ability to produce something unpredictable.
"So, while I would be surprised if he starts if he is thrown in at the beginning, then it would not surprise me if he produced that little bit of magic that has probably been missing from Manchester City of late.
"There is a lot to work on in terms of the Arsenal back four because they still do make mistakes but it is certainly more consistent than it has been for a long time, apart from last week's performance.
"Arsene Wenger knew that they needed to get their full-backs into position because both the right-back and left-back areas have been a nightmare for them with all the injuries that they have had and then their centre-halves playing regularly together.
"Laurent Koscielny is a player who I think has got a lot to offer Arsenal. I think he is still very rash at times around the edge of the penalty area but his understanding of the Premier League is improving weekly and I think that he will be even stronger again next season. He will have to be at his best when Tevez gets going."
Mikel Arteta v Samir Nasri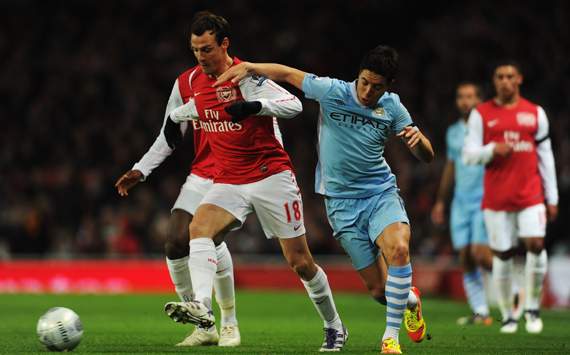 "Manchester City need to get some sharpness back into their play. They have come under a little bit of pressure of late and their performances have not been as free-flowing as they were as recently as six to eight weeks ago and that has really affected them.
"It took Samir Nasri a while to get going at City but he is showing signs that he is returning to the form that made him such a popular player with Arsenal fans.
"It often takes players a while to find their feet at new clubs but he seems to be doing his best to make up for the dip in form that David Silva has experienced and the winner against Chelsea a fortnight ago showed what a dangerous player he can be. His movement is top-quality and Arsenal will know they will have to be on their toes to deny him space.
"With that in mind, Mikel Arteta will have to work hard to keep tabs on Nasri. He is best known for his passing repertoire and will do his best to get the ball out to the flanks for the wingers to attack the City full-backs and make City work their socks off to wear them down.
"Plus, he is responsible for Arsenal's set-pieces and, in games like this between the top sides, those set-plays can be vital."
How do you stay up to date with football when on the move? With http://m.goal.com – your best source for mobile coverage of the beautiful game.
Follow Rob Stewart on