Aston Villa boss Alex McLeish believes his side must attain 40 points to secure their Premier League status, setting a target of seven more points with eight games left of the season.
The Midlands club currently lie 15th, just five points clear of the relegation zone, and have won only two of their last nine league fixtures, with a tough run-in including trips to face Liverpool and Manchester United, as well as a derby with West Brom and a home clash with Tottenham, to come.
McLeish admitted that the prospect of a second consecutive relegation, having taken Birmingham City down last year, is a big concern.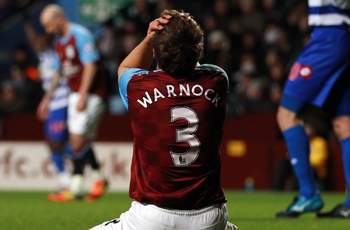 "I don't think I have ever been not worried this season"

"I don't think I have ever not been worried this season," the Scot told The Daily Mirror.
"We have to look to get to at least 40 points. That is the target I'd be giving to the players and get to that target as quickly as possible.
"I think we could have been better with some of the points we have thrown away.
"But we have been weakened by injuries. Birmingham were also definitely significantly weakened after winning the [League] Cup final [last season] - losing about five or six key players.
"That does make your job much harder without doubt. But I care, I am conscientious and try and leave no stone unturned.
"I am a deep thinker about things. I am concentrating on winning enough games to make sure Villa is OK."
The 53-year-old also conceded that Villa's struggles this season were not too surprising after losing key players such as Ashley Young and Stewart Downing last summer.
"I did say at the beginning of the season it wasn't the greatest experienced squad though," added McLeish.
"We had a lot of young players augmenting the squad. I said it would be a tough challenge for us and a transitional period given the way [owner] Randy [Lerner] wants to run the club and get the wages down.
"It has been proven and we are weaker than the players here last season at this stage. They had Ashley Young, Downing and Kyle Walker - three terrific players."