COMMENT
By
Rob Stewart
at Sports Direct Arena
King
Kenny Dalglish
's crown is today wobbling more than ever after a shambolic defeat at
Newcastle
that neatly summed up all that is wrong with this horrifyingly disjointed
Liverpool
side.
Where to start? Fom prodigal son Andy Carroll being booked for diving when he should have scored, to the striker turning the air blue as he flounced past Dalglish when being substituted - it was all hugely unedifying. The calamitous defending and Pepe Reina's red card merely rubbed salt into gaping wounds.
LACKLUSTRE LIVERPOOL


LAST EIGHT LEAGUE GAMES

Apr 1

NEWCASTLE 2-0 LIVERPOOL

Mar 24

LIVERPOOL 1-2 WIGAN

Mar 21

QPR 3-2 LIVERPOOL

Mar 13

LIVERPOOL 3-0 EVERTON

Mar 10
SUNDERLAND 1-0 LIVERPOOL

Mar 3
LIVERPOOL 1-2 ARSENAL

Feb 11

MAN UNITED 2-1 LIVERPOOL

Feb 6

LIVERPOOL 0-0 TOTTENHAM

And just to compound matters there was also the sight of Dalglish wandering onto the field to tell Jose Enrique to go in goals after Reina had been sent off.
It must have all seemed like a kick in the teeth to those fans who had trekked up the A1 to see their team in action.
Dalglish is worshipped by the travelling masses due to his illustrious past, but the Scot's credibility and his authority were left in tatters by 90 minutes of mayhem in the 2-0 defeat on Tyneside which means Liverpool are now in the middle of their worst run – six defeats in seven league games – since the 1953-54 season.
While Manchester United march on, the Reds of Merseyside are going backwards, so much so that even the most loyal Liverpool supporters must be wondering if King Kenny is the right man the lead their club to the Premier League summit for the first time.
If Manchester United beat Blackburn Rovers at Ewood Park on Monday, Liverpool will be 34 points in arrears of their arch-rivals with only 21 point left to play for, as the prospect of the former European and English champions falling behind the likes of Swansea, Sunderland, Fulham, Norwich and Stoke increases.
Unless there is a sudden change of fortune they could even be overtaken in the league table by a West Bromwich Albion side managed by Roy Hodgson, the man sacked to make way for Dalglish 15 months ago.
Since then the Fenway Sports Group have ploughed some £120 million into revitalising Liverpool but the £35 million spent on Carroll is starting to look like the biggest waste of money in English football history.
Even the most wide-eyed optimists have got to be worried about Liverpool when the pressure of the situation gets too much for Reina, who is usually a calming presence but is now poised to miss the next three matches, including the FA Cup semi-final against Everton a week on Saturday at Wembley.
The spiritual home of English football has been the scene of Dalglish's finest moments and it must bring the best out of him again if he is to ease the pressure that is mounting on one of the greatest footballers British football has ever seen.
It was at Wembley that Dalglish scored for Scotland in his country's 2-1 win over England in their own back yard in 1977. It was at Wembley that a moment of brilliance from Dalglish won the European Cup final in 1978 for Liverpool against Belgian side Bruges.
It was also at Wembley that player-manager Dalglish inspired the FA Cup glory which gave Liverpool the Double.
For his own sake he must be hoping that the famous stadium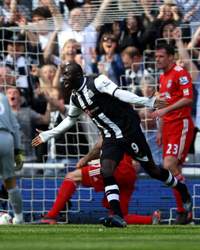 brings more good fortune because defeat by Everton at this stage is unthinkable.
Dalglish is a charismatic, inspirational figure but he needs to prove his worth against Toffees counterpart David Moyes to buy himself time.
He will certainly have to do better than he did on his previous visit to Wembley, when his team scrambled to victory on penalties in the Carling Cup final against Championship promotion contenders Cardiff City. The FA Cup semi-final could prove to be pivotal because the loss of local bragging rights will be unpalatable in the stands and in the Anfield boardroom.
Dalglish must deliver. They say the Liverpool way means sticking with your managers but the treatment of Hodgson last year shows that is a thing of the past.
If the Fenway Sports Group sense that the club is heading hopelessly downhill then they will act because it would make business sense and that is what John W Henry and his colleagues are in English football for.
There is a saying that you should never go back and, as the dust settles on the events at Newcastle, Liverpool fans would be forgiven for wishing that Dalglish had heeded that old adage.
A summer of upheaval is already looming at Anfield – Carroll will surely be moved on following his show of dissent at his boss - but the sight of the FA Cup in the Anfield trophy cabinet would placate Dalglish's critics.
There remains the possibility that Liverpool can still finish the season on a high but Dalglish needs his big-hitters to come to the fore for his own sake.
As much as they tried, skipper Steven Gerrard and Luis Suarez just could not get going against Newcastle as their team were given the run-around by Alan Pardew's charges.
Against Everton both Gerrard and Suarez need to be at the top of their game and that might – just might – bring the best out of Carroll and the like. Dalglish can not afford anything else.