The man who gave the striker his senior debut hopes the Toon fans who called him greedy at Anfield back off and show him respect on his homecoming, when he could be a key figure
EXCLUSIVE
By
Rob Stewart

Former
Newcastle United
manager Glenn Roeder has urged the Toon Army to give
Liverpool
striker
Andy Carroll
a warm welcome when he returns to the Sports Direct Arena for the first time since his record-breaking transfer last year.
Roeder gave Carroll his Magpies debut during his spell in charge of the Tyneside club and has called upon the supporters who taunted him last season at Anfield to back off when the Geordie forward makes an emotional homecoming.
The 23-year-old will not be the only member of the Liverpool squad with Newcastle connections: Craig Bellamy once wore the black and white stripes while Jose Enrique followed Carroll to Merseyside last summer. And Reds manager Kenny Dalglish was once in charge of the North-East giants.
While the tall forward could do with a goal to win over Liverpool supporters, Dalglish needs three points to ease mounting pressure - but Roeder is backing Newcastle to extend the eight-point gap between themselves in sixth place and the Reds, who began the weekend in seventh.
"For the first time in many seasons I actually think that Newcastle are favourites to win this game, although you don't have to be overly intelligent to say that either," Roeder told Goal.com.
"If they can win they can kiss goodbye to anything below sixth in the table, and what an achievement that would be. Then they can totally relax and start focusing on finishing higher up the table than sixth, which is possible.
"This is a game that Liverpool cannot only not afford to lose, it is a game they cannot afford to draw either."
Speaking exclusively to Goal.com, Roeder offered his thoughts on where Sunday's game could be won and lost ...
Mike Williamson v Andy Carroll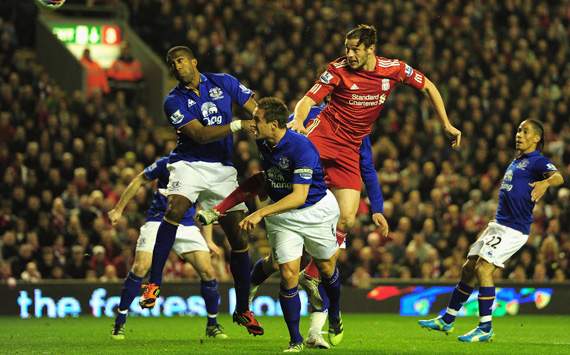 "I hope that Andy Carroll gets the respect he deserves. There will be people who realise that when Andy was in the first team at Newcastle he scored plenty of goals and did a good job for them but one of those seasons was in the Championship where he helped the club gain promotion.
"There will be a section of the crowd that appreciates what he has done and will give him a warm welcome and there will be another section – hopefully a very small one – which will give him stick and call him a greedy so-and-so and all that.
"But Andy will tell you that he wasn't really given an option once a fee had been agreed. He was told he had to go to help the club financially and he wanted to stay. Probably staying would have helped his career come along a little slower because it happened all too quickly and he even ended up in the England side.
"There is still a chance he could finish the season on a high with Liverpool and if St James' Park can inspire him like it used to then Newcastle centre-half Mike Williamson will have his hands full, especially with Fabricio Coloccini out injured, but Liverpool need to make sure they provide the crosses that he can attack.
"If he gets the service from out wide it could be just like the good old days for Andy but he will also be there to get Luis Suarez on the ball and if he does that then Newcastle have got an even bigger problem."
Cheikh Tiote v Steven Gerrard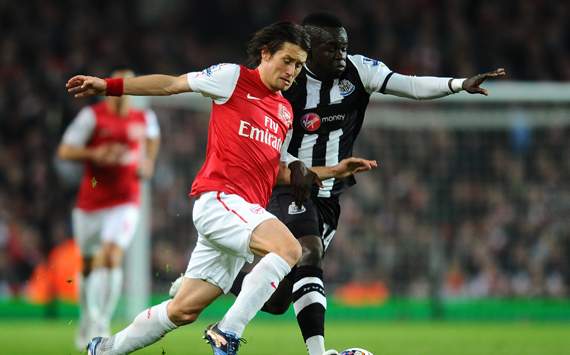 "Cheikh Tiote is without doubt a key player for Newcastle but I rate Danny Guthrie very highly. He is a good, solid professional who has improved this year and he would never let Newcastle down, but most people would expect that if Tiote is fit he would play because he has been a huge success with Yohan Cabaye.
"He is a real warrior of a midfielder and seems to play for Newcastle with a real pride and real passion and it's no wonder the fans have taken to him so much because he has real presence in the centre of the park.
"There are certain players that always rise to the challenge in big games like this and Steven Gerrard always rises to the challenge. He will appreciate the importance of winning this fixture and he will have enjoyed a lot of success on Tyneside like Michael Owen used to when he was a Liverpool player.
"The way Steven Gerrard takes games by the scruff of the neck is phenomenal and Tiote will be out to make sure that he does not get into his stride because when he does he takes some stopping. Bt it you stop him then you go a long way to stopping Liverpool so this could be the game's critical duel."
James Perch v Luis Suarez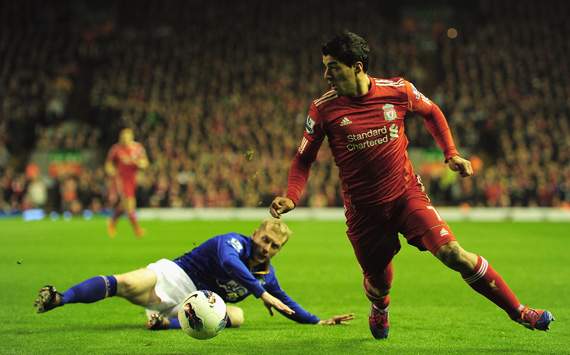 "Forget about all the problems that Luis Suarez has had, from a football perspective he has not only handled the pressure that comes with being a Liverpool player but he has grabbed it with both hands. He cost them and he looks a bargain.
"Suarez is another player a manager can count on when the stakes are high and bank on him to put in a performance. This will be his first visit to St James' Park, as I always call it, and he will relish playing there because the atmosphere is always tremendous, especially when Liverpool are in town.
"He probably doesn't get as many goals as you would expect from a player of his talents but he is a joy to watch because of his movement, his touch and dribbling skills so he will be very dangerous, especially if him and Andy Carroll click.
"James Perch deserves a lot of credit for the way he has kicked on this season and really improved. He looks as though he could play anywhere at the moment and do well which is just as well because he will be filling in for Fabricio Coloccini and his job will be not only to watch out for Andy Carroll's knock-downs but also to make sure that Luis Suarez does not get a chance to penetrate into the penalty box."
Jamie Carragher v Demba Ba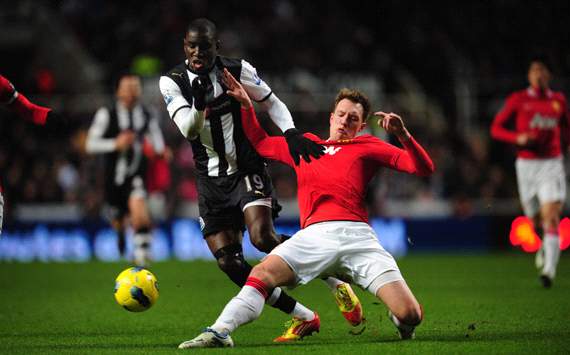 "This is potentially like a cup tie which could go end-to-end for the 90 minutes because Liverpool have to go for Newcastle's throats because they need to close the gap.
"That should suit Newcastle because as they showed against West Bromwich Albion, with Papiss Cisse and Demba Ba in the team they are excellent on the break, so when Liverpool attack Newcastle will look to hit back on the counter-attack. It could be a hell of a game.
"The Newcastle strikers will be a handful for anyone at the moment but even though Papiss Cisse is the man in form it is Demba Ba who I would be most worried about if I was a Liverpool fan.
"He has not scored in his last six games for Newcastle but with a player like him you feel that a goal will be just around the corner and his record in the Premier League proves that his barren spells do not last too long.
"He works ever so hard for the team and when you do that you know the goals will come, especially as his partnership with Cisse will only get better.
"Liverpool capitulated against Queens Park Rangers when they lost 3-2 which is something that the Liverpool of old would never do, and Jamie Carragher has the experience and the calm, assured authority to restore a bit of order to the back four and make sure that the defence is not pulled out of position by marauding forwards."
Jonas Gutierrez v Glen Johnson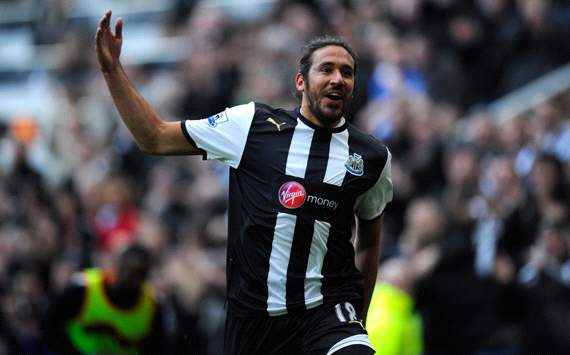 "I gave Glen Johnson his debut at West Ham, but only after I sent him on loan to Millwall where he spent 14 games on loan in the Championship, and that didn't go down well with both sets of supporters because there is no love lost between them. But for me I thought mentally it would help Glen because I am a big believer in what Sir Bobby Robson used to say, and that was for boys to become men they have to play with the men.
"At that stage he was a youth team/reserve team player but I knew that going to Millwall would either make him or break him because the supporters are very critical there and they ended up enjoying him being there because they could see he was a fine player who bombed up and down from right back with a boyish enthusiasm that will be evident at Newcastle.
"Jonas Gutierrez has been key to Newcastle's progress this season because of the energy that he brings to the team and his non-stop approach, his desire to take opponents on and the way he links up play. He will keep nagging away at the Liverpool defence and he will also be happy to track back to keep the opposition right-back in check."