The Bulgarian, who has been at Villa Park since a move from Celtic in 2006, developed a fever after the Arsenal loss and the club have asked that his privacy is respected
Aston Villa midfielder Stilian Petrov has been diagnosed with acute leukaemia.
The 32-year-old developed a fever after the club's 3-0 loss against Arsenal at the Emirates Stadium and the initial diagnosis was confirmed on Friday, with treatment set to begin on Monday.
The Bulgarian joined Aston Villa in 2006 from Celtic and has been club captain for over two-and-a-half years.
A club statement read: "Stilian developed a fever following the Arsenal game last Saturday and subsequently underwent tests conducted by Dr Ian McGuinness.
"Haematology experts confirmed the diagnosis today.
"We expect to learn more about Stilian's situation in due course and we have moved quickly to support him and his family.
"During this time we ask that Stilian's privacy is placed ahead of all inquiries and trust that we will share information as we receive it.
"Stilian is cherished by many and he will get from Villa every ounce of love and support that we have to help bring this to a positive conclusion."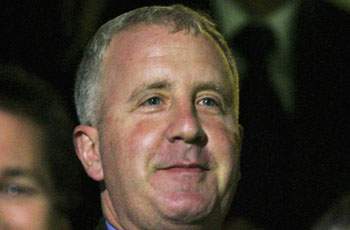 "Every ounce of love and support that we have he will get from the club to help bring this to a positive conclusion"
Villa chairman Randy Lerner also sent his best wishes to the midfielder, before adding that the club must remain focused for the remainder of the season.

He said: "We are completely focused on Stilian and his family.

"As was said in our statement, Stilian is someone who is cherished by many people throughout football and every ounce of love and support that we have he will get from the club to help bring this to a positive conclusion.

"We also remain conscious that focus is the key for Villa to playing well in tomorrow's game against Chelsea and to finishing the season as strongly as possible.

"Therefore we are relying on the very decent and experienced people in and around the club for support, guidance and leadership."

CEO Paul Faulkner added: "I was completely stunned to hear this news about Stilian.

"After our game last weekend we initially thought that he was suffering from a virus and, like the true leader and consummate professional that he is, he had simply played through it, giving his all for his teammates and the club.

"I was expecting and hoping that he would recover and lead the team out at Villa Park tomorrow against Chelsea, as he's done on so many other occasions.

"Obviously, our thoughts and prayers are with Stilian and his family now and the club will focus its energy on supporting them all as he concentrates on simply getting better.

"He's a strong man who commands affection and respect throughout the Villa family.

"I know that our younger players look up to him and admire him for his talent and achievements in the game, while it was only yesterday that he met with representatives of the Villa Former Players Association to discuss having the current squad give a percentage of their annual salaries to a fund that the FPA will use to look after former players who have fallen on hard times.


"He's a much-loved teammate and leader of our club and I'm sure our fans will join us all at our game tomorrow in wishing him a full and speedy recovery."