COMMENT
By
John Stammers
In February 2005,
Arsene Wenger
became the first man in
Premier League
history to name an entirely foreign matchday squad.
Arsenal beat Crystal Palace 5-1, but with their English contingent of Ashley Cole, Sol Campbell and Justin Hoyte injured, they were forced to field eight different nationalities, all of which were foreign.
It has been one of the historical criticisms of Wenger, his strategy of bringing in and developing talented overseas players instead of nurturing home-grown youngsters. A criticism that has continually led to the 62-year-old being accused of harming the English game.
Move on five years to the 2010 World Cup finals and, following Theo Walcott's omission from Fabio Capello's squad and Cole's move to Chelsea, the Gunners were left with no-one to represent them in the national side.
But now, with the north Londoners looking set to secure a top-four spot that had been written off months ago, and three of their players possibly shaping up as key men for England in this summer's 2012 European Championships, times have changed.
| | |
| --- | --- |
| | ARSENAL'S PREMIER LEAGUE WINNING STREAK |
| Feb 4 | Arsenal 7-1 Blackburn |
| Feb 11 | Sunderland 1-2 Arsenal |
| Feb 26 | Arsenal 5-2 Tottenham |
| Mar 3 | Liverpool 1-2 Arsenal |
| Mar 12 | Arsenal 2-1 Newcastle |
| Mar 21 | Everton 0-1 Arsenal |
| Mar 24 | Arsenal 3-0 Aston Villa |
Last Saturday was the first time since 1997 that two English players scored in the same game for Arsenal, Kieran Gibbs and Walcott netting in the 3-0 win over Aston Villa.
The left-back was facing a tough season on the sidelines after the summer deadline day acquisition of Andre Santos and things worsened when he underwent a hernia operation in November.
However, an injury to the Brazilian in December gave the 22-year-old Gibbs his chance, which he took with both hands to put himself forward as a possible long-term replacement for Cole at both club and international level.
The other goalscorer, Walcott, was bought from Southampton in 2006 for a fee of around £12 million, and has also become much more than a squad filler.
Wenger's signing of the then 16-year-old was seen by many as robbing the south coast club's prized asset, especially when the manager used him mainly as a second string player for his first few seasons.
But look at him now - six goals and eight assists in 29 Premier League games so far this campaign - proving a more consistent and matured Walcott just needed the time Wenger gave him.
The winger has gone from strength to strength after being left out of that England squad, something his boss was no doubt be happy about, and has certainly done enough to win a place on the plane this summer.
So after the initial wobbly start from Walcott, when another £12m was splashed on a teen winger from the same team in the summer of 2011, Arsenal fans must have suffered deja vu.
But once again Wenger has been able to sit back and watch any doubts about Alex Oxlade-Chamberlain firmly blown out of the water. The 18-year-old has been used sparingly so far this season but has excited, entertained and enthralled the watching crowds each time he has graced the pitch.
A menacingly attacking display and two goals against Blackburn in February and then a brilliant performance in a central midfield role up against AC Milan earlier this month mark two of the highlights so far. This young starlet will have a bright future for club and no doubt country too, perhaps even more so than Walcott.
Another fine example of the club's judgement is Jack Wilshere, brought in from Luton Town aged just nine.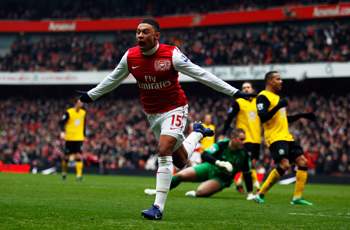 "Oxlade-Chamberlain has excited, entertained and enthralled the watching crowds every time he has graced the pitch"
The 20-year-old showed everyone his natural calmness on the ball and incredible control of midfield last season and on a loan spell at Bolton the year before, quickly forcing his way onto the international scene as well. He has been a huge miss this season and his return to the current side is something to very much look forward to.
These are four players who are crucial to the club's future, but it doesn't stop there. Carl Jenkinson, Benik Afobe and Henri Lansbury are just a few of the promising English youngsters to fill the squad in the coming years.
So what of Arsenal's future? Indeed, earlier this season many observers - including some of the Gunners' faithful - were calling for Wenger's head.
Overturning what was once a 10-point deficit, Wenger's side are now three points clear of Spurs in the race to finish third. They are also on a seven-game winning streak in the Premier League, which could well be extended to eight when they face QPR on Saturday.
With Manchester City and Chelsea the only 'big' teams left to play, Champions League football is all but secured at the Emirates next season. Something that, although seen as a given for a club like Arsenal, seemed unlikely earlier in the season and for which the boss must take great credit.
You can only have admiration for Wenger's audacity of sticking to his philosophy when pressure from the outside was lashing down on him. The confidence he shows in his young players is immense and in-turn must fill those youngsters with belief.
The rising talents at Arsenal have the potential to fire the Gunners back into the hunt for silverware and they now also have an English core, something that whoever succeeds Fabio Capello on a permanent basis will be more than delighted to see.
Follow John Stammers on