Top-flight bosses were asked who they believe have been the best players, managers and teams so far this campaign and their choices make interesting reading
Barclays Premier League
bosses have backed
Manchester City
to lift the title ahead of
Manchester United
.
Sixty-seven per cent of top-flight managers believe Roberto Mancini's side will pip their city neighbours to secure a first league title since 1968 as they answered a number of other revealing questions in a survey run by
Barclays
.
Liverpool's Anfield was voted as the most atmospheric ground in the league, taking 50% of the vote, whilst Manchester United star Ryan Giggs was hailed as the league's most influential player of all-time by the same margin.
Coaches were also asked to rank English football's best players by position and quizzed on whom they believe are the best managers, signings and most entertaining team to watch.
Here are the, rather insightful, results:
BEST BARCLAYS PREMIER LEAGUE GOALKEEPER?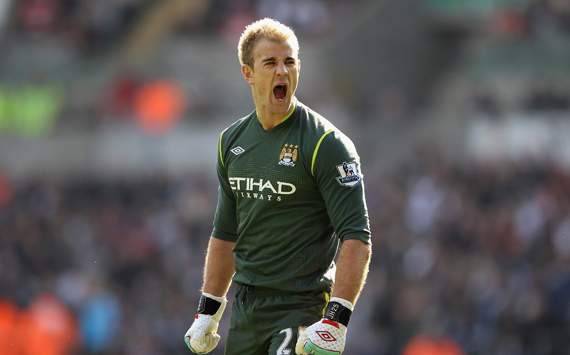 Though his side recently rescinded their grip on the top of the Barclays Premier League, Joe Hart leads the way in terms of Premier League goalkeepers.
The Shrewsbury-born shot-stopper attracted a whopping 69% of the vote following a season in which he has put in a number of eye-catching performances for Robert Mancini's side, despite their tendency to dominate games.
MANAGER'S VOTE

JOE HART
PEPE REINA
BRAD FRIEDEL
SHAY GIVEN
TIM KRUL

69%
13%
6%
6%
6%

The England No.1's nearest competitor is Liverpool's Spanish goalkeeper Pepe Reina, a recipient of the Premier League's Golden Gloves award in his three first seasons in English football. Whilst the Reds have struggled in the league this season, the former Villarreal man mustered 13% of the vote.
Meanwhile, experienced duo Shay Given and Brad Friedel join Newcastle's Tim Krul as the next-best keepers with 6%.
BEST BARCLAYS PREMIER LEAGUE DEFENDER?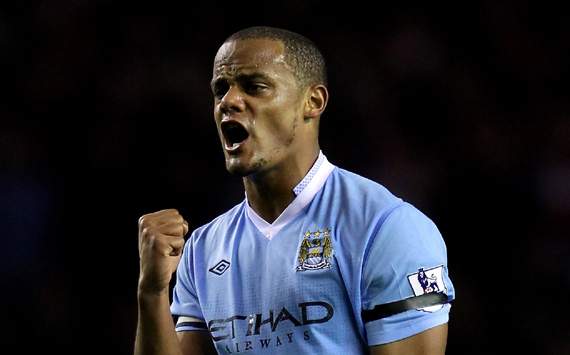 Somewhat unsurprisingly, it is another Manchester City star who gets the nod as the Barclays Premier League's most impressive defender.
City have conceded just 20 times in the league this season, giving them far and away the best defensive record in England, and Kompany has been crucial to that mean streak.
MANAGER'S VOTE

VINCENT KOMPANY
JOHN TERRY
THOMAS VERMAELEN


88%
6%
6%


That the Belgian defender was absent from proceedings as City dropped out of both the FA Cup and the League Cup - due to a red card and the subsequent suspension – is no shock such is his importance to their defensive solidarity.
The nearest competitors to his 88% of the vote are Arsenal's Thomas Vermaelen - who recently scored a last-minute winner against Newcastle - and John Terry - who features despite losing the England captaincy - who gained 6% apiece.
Given the amount of goals so far this season, it is no shock that no other defender got a mention.
BEST BARCLAYS PREMIER LEAGUE MIDFIELDER?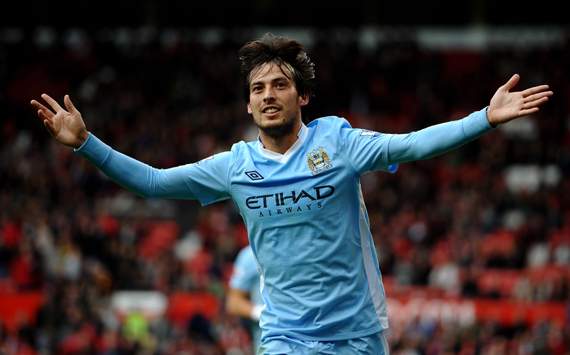 Manchester United fans may rightly feel that they have been given a rough deal in this poll as it is yet again their rivals' players who attract all the plaudits in the midfield, despite their deficit in the league table.
David Silva leads the way on 31%, after notching 12 assists playing behind City's star-studded attack, with team-mate Yaya Toure finishing second after his powerful displays in the Blues' midfield.
MANAGER'S VOTE

DAVID SILVA
YAYA TOURE
LEON BRITTON
SCOTT PARKER
GARETH BALE
MOUSSA DEMBELE
RAMIRES
LUKA MODRIC

31%
25%
13%
6%
6%
6%
6%
6%

Leon Britton makes something of a surprise appearance ahead of more established names but has been an important anchor in the Swansea engine room.
Meanwhile, Spurs trio Scott Parker, Luka Modric and Gareth Bale make up part of the best-of-the-rest on the obligatory 6%, after their pass-and-move displays earned plaudits for both style and substance.
They are joined by Fulham's Moussa Dembele - whose attacking prowess has impressed in the Barclays Premier League this season - and Chelsea's Ramires - who has turned his hard-working showings into goals, netting eight times this season.
BEST BARCLAYS PREMIER LEAGUE FORWARD?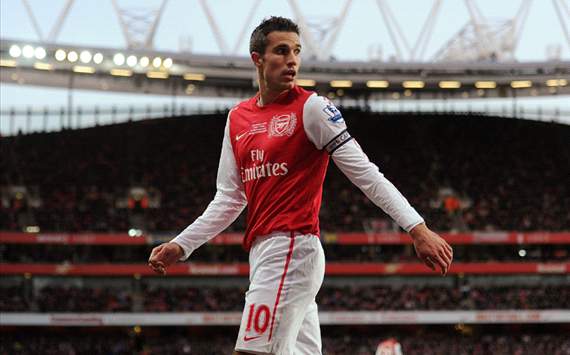 Move along, no shocks or surprises here. Arsenal's Robin van Persie rightly took the majority of the managers' votes as the number one striker in the league and, in a season in which he has hit the net 26 times, there can be no arguments.
The Dutch forward has, at times, carried his team-mates and this has been acknowledged after he scooped a quarter of the votes on offer.
MANAGER'S VOTE

ROBIN VAN PERSIE
SERGIO AGUERO
DEMBA BA
LUIS SUAREZ
WAYNE ROONEY
DAVID SILVA
GARETH BALE

25%
19%
19%
13%
13%
6%
6%

Manchester City feature highly again, with Argentine Sergio Aguero gaining 19% of the vote.
The diminutive forward is tied with Newcastle's Demba Ba, who has scored 16 league goals this term in helping the Magpies to a shock European push.
Two strikers from either side of the East Lancs Road - Wayne Rooney and Luis Suarez - have 13% each, despite the latter having scored just six league goals whilst the Red Devils man has notched 20 times.
Gareth Bale and David Silva, who featured in the midfield poll but are known for their attacking forays, both also ranked highly here.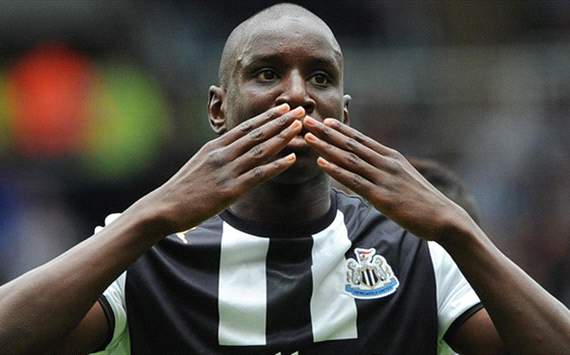 Sixteen league goals for free. That's the deal which Newcastle secured this season in taking on forward Demba Ba, and it is one which Barclays Premier League managers have acknowledged as a bargain.
Upon his departure from West Ham, the Senegalese striker was passed up on by Stoke City after concerns arose over the severity of a long-standing knee problem. Whether Tony Pulis was part of the 56% who voted for the forward will remain a mystery.
MANAGER'S VOTE

DEMBA BA
PHIL JONES
SCOTT PARKER
SEBASTIEN LARSSON
JUAN MATA
CRAIG BELLAMY

56%
13%
13%
6%
6%
6%

Elsewhere, Scott Parker, who seemingly transformed Tottenham from top-four challengers to title-chasers in joining for a nominal fee, attracted 13% of the vote.
He is joined by young defender Phil Jones who has had a mixed first year at Old Trafford but has helped his side to the top of the Premier League with his impressive forward forays from the back.
Sunderland's Sebastian Larsson has similarly made a mark for Sunderland, particularly since the arrival of Martin O'Neill, and he is rated alongside Chelsea's Juan Mata and Liverpool's Craig Bellamy in the signing stakes.
MOST IMPRESSIVE BARCLAYS PREMIER LEAGUE MANAGER?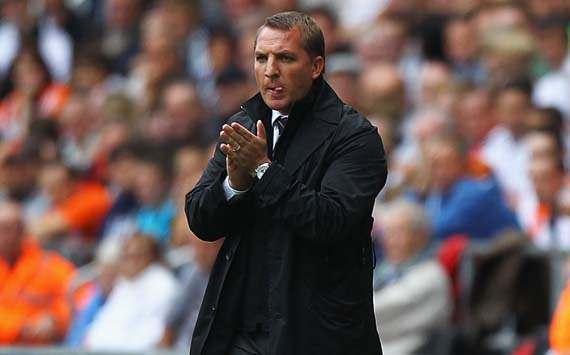 Swansea City boss Brendan Rodgers has undoubtedly worked miracles this season at the Liberty Stadium after already taking the Swans to virtual safety and doing so in style.
The home record forged by the Welsh side has had much to do with their success and Rodgers has rightly taken credit from his peers in attracting 47% of the vote.
MANAGER'S VOTE

BRENDAN RODGERS
PAUL LAMBERT
ROBERTO MANCINI
STEVE KEAN


47%
40%
6%
6%

Another side who were expected to struggle after promotion, Norwich, have also taken the Barclays Premier League by storm and gained manager Paul Lambert the plaudits.
Roberto Mancini has earned recognition for Manchester City's transformation into a genuine title threat and he is joined by Steve Kean, who has dragged Blackburn Rovers from the bottom of the league, despite fan discontent early in the season.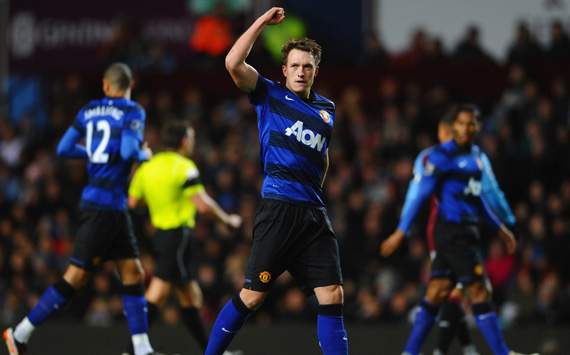 Finally, league leaders Manchester United get some recognition as Phil Jones tops the votes for the best young player.
Whilst the youngster was brought in from Blackburn on the back of several impressive defensive showings, it has been his quality on the ball which has particularly caught the eye during his maiden season at Old Trafford.
MANAGER'S VOTE

PHIL JONES
DANIEL STURRIDGE
KYLE WALKER
ORIOL ROMEU
SCOTT SINCLAIR
CHRIS SMALLING

31%
25%
25%
6%
6%
6%

He has even been tipped as a future England captain after earning his first cap this term and, though the Red Devils have struggled in Europe, he could yet pick up a Barclays Premier League medal to go alongside the many plaudits he has received.
Meanwhile, if Andre Villas-Boas possesses any sort of Chelsea legacy he can be proud of, the form of Daniel Sturridge could well be it.
The forward had previously struggled to break through at Stamford Bridge but is now a near-guaranteed starter thanks to the unwavering faith of the Portuguese boss prior to his sacking.
Sturridge ranks alongside Tottenham full-back Kyle Walker on 25% whilst Chelsea's Oriol Romeu, Swansea's Scott Sinclair and another Manchester United defender, Chris Smalling, make up the rest of the list.
MOST ENTERTAINING BARCLAYS PREMIER LEAGUE TEAM?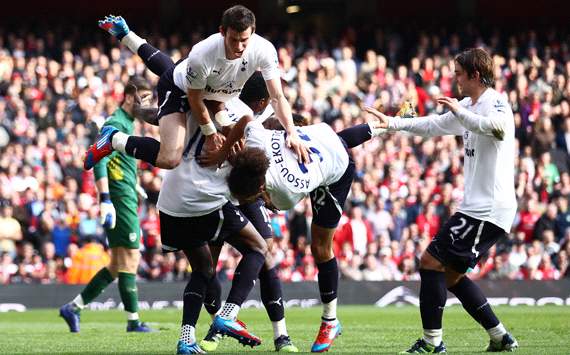 Whilst they may have taken a sizeable blow to their title chances with three consecutive defeats recently, Tottenham are still good value for money according to Barclays Premier League managers.
Spurs have rightly received praise for their attacking football this year, even if it has resulted in some heavy defeats such as the 5-2 reverse against Arsenal at the Emirates.
MANAGER'S VOTE

TOTTENHAM
MANCHESTER UNITED
ARSENAL
SWANSEA


75%
13%
6%
6%


Their 'sexy football' has in fact knocked the typically-entertaining Manchester United into second place after they gained 13% of the vote.
Meanwhile, the always defensively frail Arsenal make an appearance after gaining 6% of the vote for the entertaining nature of their matches.
They feature alongside pretenders to the pass-and-move crown in the shape of Brendan Rodgers' recently-promoted Swansea City.