Liverpool host Everton as Kenny Dalglish's side look to give their fading Champions League hopes a boost, while Jack Wilshere is 'buzzing' after Arsenal's win over Newcastle
The Merseyside derby between
Liverpool
and
Everton
has taken centre stage on Twitter, as
Wayne Rooney
has reignited his passion for his former club ahead of Tuesday night's clash.
Elsewhere, Jack Wilshere expects Arsenal's dressing room to be given a vital boost following their late 2-1 victory over Newcastle United on Monday evening.
Goal.com has wrapped up the best of the best from the past 24 hours in the world of Twitter.
"Cant wait for game tonight. If everton win they go above liverpool. Come on everton"
Manchester United striker Wayne Rooney shows where his loyalties lie ahead of Tuesday's Merseyside derby between Everton and Liverpool.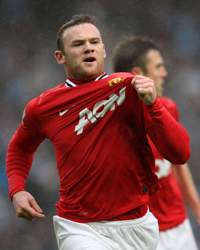 "Quiet on derby day Philip or are you just sharpening your studs and putting your earplugs in?"
Gary Neville goads his brother and Everton skipper Phil before the derby...
"Nice touch by the hotel when I got to my room!!! 32 chocolate boost bars!!"
...and naturally, Phil responds by thanking his hotel staff for providing him with confectionary.
"Does anyone else ever feel like life is a never-ending circle of washing, drying and folding clothes?"
Landon Donovan, meanwhile, has his mind on other things. Despite only leaving Everton a month ago.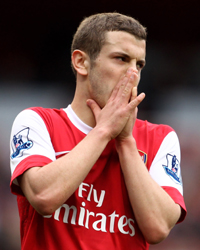 "The training ground should be buzzing this morning after that result! #GoonerPower"
Injured Arsenal midfielder Jack Wilshere is buoyed by his side's 2-1 victory over Newcastle on Monday evening. Are Arsene Wenger's men destined to overtake Spurs?
"And I had A meeting with the Queen she's thinking of making me the Prime minister. I promise to bring A change to England Vote #FrimpongPM"
Emmanuel Frimpong seems to be on another planet despite Arsenal's upturn in form. Exactly what vote he's on about still eludes us.
"Good luck to everyone at cheltenham this week!"
Tom Cleverley may be Paul Scholes' protege in midfield, but when it comes to horse racing, he's following nicely in the footsteps of Michael Owen.
Want to be at the Euro 2012 opener? Who doesn't? With Sharp FanLabs you can win free tickets to the opening event of 2012's biggest tournament. Click here to take part!