The red half of Manchester are on top for the first time in a long time and are keen to stay there while the rest of the Premier League seems to be more interested in television
This weekend saw a huge change at the top of the
Premier League
as
Manchester United
overtook neighbours
Manchester City
at the league's summit.
Elsewhere QPR and Bolton's relegation clash reignited the debate over goal line technology after Clint Hill's blatant goal was not spotted by the officials.
A window into the professional footballer's world was also provided by some television choices this weekend, while one of these shores' top stars revealed some odd match preparation.
Finally, rest assured that footballer's, despite all the money, glitz and fame, still like nothing better than a hot dinner cooked by their mother.
As ever,
Goal.com
has rounded up the deep and the dippy from football's Twitter-sphere: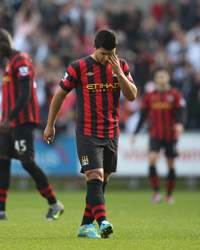 "Bad few days. No point in going on about this. Time to close the ranks and grow stronger."
Vincent Kompany
chooses to keep schtum after watching
Manchester City
surrender their spot at the top of the Premier League.

"Not a great week for results but remember that the league and Europa league are still in our hands #staypositive
"
While
Joleon Lescott
attempts to keep City fans' chins up following their loss at
Swansea
.
"Back playing in the prem, we win, top of the league so an all round good day for us!
"
Tom Cleverley
is a bit happier after
Manchester United
overhaul City at the top and he makes his comeback from injury.



"Big result today....just got to keep on winning now...won't be easy but we have to be #relentless & #believe Let's do this... "
And
Rio Ferdinand
uses some unnecessary hash-tagging to lay down the rallying call to Red Devils fans.

"I'm as gutted as any fan 4 today but can't be aving people wanting to fight me when I have my son in my arms, disgrace,I'm giving everything"
Jamie O'Hara
rightfully sticks up for himself after being confronted by
Wolves
fans while carrying his 19-month old son following the defeat to
Blackburn
at Molineux.
"Oh wow how was that not given! Please.....now it's time for goal line technology!"
Jack Wilshere
sends a clear message to the FA after seeing
Clint Hill's
blatant goal for
QPR
at
Bolton
not given.

"Can't blame the officials, their hands are tied. I've been bleating on about goal line tech for ages now. Feel physically sick, its bollocks"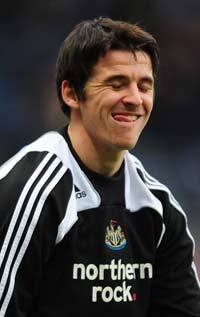 Rs midfielder and serial Twitterist
Joey Barton
offers his opinion on the decision...
"Success has many fathers, failure is an orphan....."
...Before launching into his signature brand of proverb spouting. So inspirational,
Joseph
.


"Im 15mins behind take me out but these girls turn there lights off 4 the stupidest reasons! They think there better then they r its annoyin"

Newcastle United defender Danny Simpson gets frustrated with ITV's Saturday night dating show.


"
Following on from the #looksjustlike theme last week. This Take Me Out presenter on ITV doesn't half look like John O'Shea!"
While
Michael Owen
fails to recognise the show's presenter, Peter Kay's mate, Paddy McGuiness.


"Mama is back in town which means amazing food. RT if u love when ur mom stops by."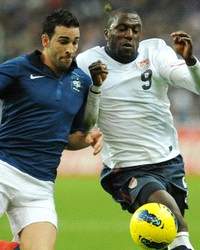 Don't let Jozy Altidore's physique and tough playing style fool you, he's a softy at heart.


"
Early morning 4 me just finished a lovely breakfast with my princess Dina watching Super dog on the telly ♥"

Robin van Persie reveals the secret behind becoming the Premier League's deadliest striker ahead of Arsenal's clash with Newcastle United on Monday night. Super Dog = goals.