ANALYSIS
By Ben Hayward | Spanish Football Editor
There were plenty of talking points after Real Madrid's impressive 5-0 win over Espanyol on Sunday. Kaka had played perhaps his finest match since joining from AC Milan in 2009; Gonzalo Higuain had silenced his critics with two goals and two assists in a performance of sweat and sacrifice; and Ricardo Carvalho had been booed by the Santiago Bernabeu and was unceremoniously withdrawn at the interval in a week in which he had reportedly demanded a new, lucrative two-year deal.
But as usual, the name on everybody's lips was Jose Mourinho.
On Saturday, a packed press room at the Portuguese's pre-match press conference had quizzed the coach on the motives behind his trip to London earlier in the week. His reply was short and sharp: "I don't have to give explanations to anyone concerning my private life."
In any case, Mourinho explained, he had informed the pertinent people at Madrid of his trip "out of courtesy". And what's more, he revealed that on Monday, he'd be on his travels once more.
The Special One's future at the Bernabeu has been questioned virtually since the beginning of his tenure in 2010, with reports in the Italian media last year claiming he had enrolled his children into a school in Switzerland, in readiness for a summer switch back to Milan with Inter.
That turned out to be incorrect, but speculation over the coach's future has escalated in 2011-12. Spanish show
Punto Pelota
announced late in January that the Portuguese would be leaving the Bernabeu at the end of June, while
The Sunday Times
reported a week later that the 49-year-old would be returning to the Premier League in the summer.
Happy days | Mourinho's Madrid hit five past Espanyol on Sunday


So when Mourinho was spotted 'house-hunting' in London on Tuesday, eyebrows were naturally raised. And talk of a move back to the English capital on Monday had only increased the intrigue, especially after Chelsea manager Andre Villas-Boas was dismissed on Sunday. There were so many unanswered questions.
But unanswered they would remain as, much to the disappointment of the Madrid media, Mourinho sent out assistant Aitor Karanka for the post-match press conference after thrashing Espanyol.
Villas-Boas, of course, has been constantly compared to Mourinho since leading Porto to a treble in his sole season at the Portuguese side, before following in the footsteps of his former boss with a move to Chelsea. But faced with an ageing side and player power at Stamford Bridge, Villas-Boas had been unable to match Mourinho in terms of success.
Many of the senior stars at Chelsea remain in contact with Mourinho and, when the squad took in a recent Clasico clash between Madrid and Barcelona on television in January and Villas-Boas celebrated a goal scored by the Catalan club, several players reportedly texted Jose to tell him of their disapproval.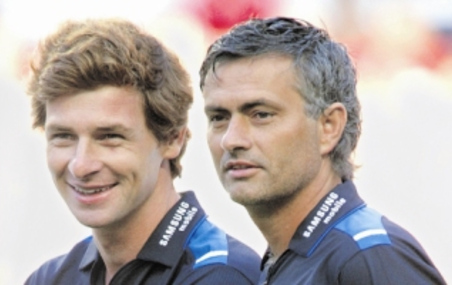 Only one Special One | Villas-Boas and Mourinho at Chelsea


As Villas-Boas left for Chelsea initially, Porto president Pinto da Costa claimed he had been "scared of Mourinho's ghost" and forced to depart through fear of being unable to emulate the Champions League heroics of his predecessor in 2004. And only on Saturday, Villas-Boas himself had spoken of how Mourinho's shadow was hanging over almost every coach in Europe.
And he should know.
But there was, as it turned out, only one Special One and, intriguingly, he was heading back to London the very next day. With a house now reportedly purchased in the English capital, too, a summer switch to either Chelsea or Tottenham has looked likely.
While in London, however, Mourinho is said to have told the owner of his favourite restaurant that he will not be moving back to the Bridge in the summer, even though he had been searching for a family house in that area.
The 49-year-old still owns a property in the English capital following his spell at Chelsea between 2004 and 2007. The latest purchase will allow family members to come and go as the coach's daughter continues her studies in London, although that will not be until 2014.
I don't have to give explanations to anyone concerning my private life. When one of us leaves Madrid, we inform the club out of courtesy. I informed them. And on Monday I am going away again





- Jose Mourinho on Saturday

In the meantime, Madrid have refused to comment on their coach's situation. But the capital club remain confident they can convince the Portuguese to commit to at least one more season at the Santiago Bernabeu.
Back in late January, talk of Mourinho's possible parting had made sense; a defensive Madrid side had lost to Barcelona at home in the first leg of the sides' Copa del Rey quarter-final, while the Portuguese had been booed by his own fans in the following fixture (a 4-1 win over Athletic Bilbao) and the knives looked to be out from the press pack, too.
Since then, however, Real have responded. Madrid were positive in the second leg against Barca and ultimately went down fighting with a 2-2 draw at Camp Nou, while Mourinho has since utilised some of his more technical players, such as Esteban Granero, who had played just 12 minutes in the league all season but has since started in four consecutive home games before Sunday.
The win over Espanyol saw Madrid claim their 10th league victory in a row and restored Real's 10-point lead over Barca at the top of the table. Times could not have been better for Mourinho in Madrid, so London talk is perhaps premature.
The Portuguese's desire to return to England one day has long been known, while his daughter is set to move there anyway. But Mourinho is of course wealthy enough to buy houses wherever he wishes and, for the moment, his vague responses and coy posture over a possible move appears to represent more of a ploy to divert the attention away from his players and onto himself, a tactic he learned by studying former Barca and Inter coach Helenio Herrera and one he has adopted so successfully on numerous occasions in the past. He has also allegedly agreed a verbal pact with Madrid president Florentino Perez to bring the Champions League trophy back to the Bernabeu - be it sooner or later.
So London is undoubtedly calling for Jose Mourinho at some time in the future. But perhaps not just yet.
Follow Ben Hayward on