The majority of football talk on Twitter over the weekend was reaction to
Liverpool's
League Cup
penalty shoot out victory over
Cardiff City
on Sunday.
The Bluebirds took the lead through Joe Mason in the 19th minute and held the lead until the hour mark when Martin Skrtel slid home. Dirk Kuyt scored what look like the winner in extra time but right at the death Ben Turner made the scored level again after a nail-biting few minutes.
The game then went to penalties and after some shocking efforts the Reds eventually won 3-2 on spot kicks.
The game dominated footballers' discussions, while Arsenal's north London derby success and Manchester United's win over Norwich was also topical.
Here is
Goal.com's
round-up of the latest happenings involving footballers on the social networking website:
"Unbelievable day!!! Well done boys!!! #CarlingCupChamps"
Liverpool
defender
Glen
Johnson
expresses his delight at the final victory.
"Terminatorrrrrrr Skrtelllll.

"Alwaysssssss him Dirkkkkkkkk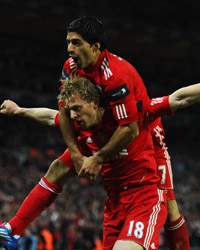 .
"We are the CHAMPIONS !!! CAMPEAOOO."
Lucas Leiva
provides a running commentary of
Liverpool's
triumph.
"What a great day!! We are the champions!! So happy :)"
Liverpool
forward
Luis
Suarez's
thoughts on the final.
"Come on Reds!! All the best pals.

"#inPepeweTrust"
Former Red
Xabi
Alonso
tweets his encouragement before the match and then his confidence in
Pepe
Reina
during the penalty shootout.
"Sorry to everyone! I can't close my eyes wid out seeing that penalty!! It's goin to haunt me for the rest of my days! Head is mashed!"
Cardiff
City's
Anthony
Gerrard
conveys his understandable disappointment at his missed spot kick.
"Massive 3 points for us. Norwich gave us a hard game. We never give in though which is the Man Utd way! Ryan Giggs-900 games...madness!"
Manchester
United
centre-back
Rio
Ferdinand
on the last-gasp win at
Norwich
City
and team-mate
Ryan
Giggs'
900th appearance.
"All the best @AndrArshavin23 in russia nobody will forget the 4 goals @ anfield and the winner v barca see you @ the euro's.
Arsenal
striker
Robin
van Persie
says his goodbyes to
Andrey
Arshavin
, who recently joined
Zenit
St
Petersburg
on loan, before then showing his joy at the north London derby win against
Tottenham
:
"Early morning 4 me today still buzzing from yesterday's win! The emirates stadium literally exploded all afternoon and after every goal!!!!!"

Jack
Wilshere
was another
Arsenal
player who has been busy on Twitter, he obviously enjoyed the Gunners' victory over
Tottenham
as well:
"Apart from the day Archie was born....this is the best day of my life! #Gooners"
He was also looking back to
Arsene
Wenger's
side's defeat to
Birmingham
in the
League
Cup
final last season, while hoping to ending
Liverpool's
joy soon:
"The Carling Cup Final brings back some horrible memories!

"Well done to Liverpool today! Have a good party tonight and we will see you next week to ruin the party! #Gooners"