COMMENT

By
Wayne Veysey
| Chief Correspondent
Only the man himself and his court of advisers, cronies and hangers-on will know for certain if
Roman Abramovich
plans to attend the most pivotal match of
Chelsea
's season in person on Tuesday night.
Andre Villas-Boas could be forgiven for thinking that Napoli's Stadio San Paolo already has a reputation as an edgy, intimidating arena without the oligarch settling into one of the comfortable seats with his hand hovering over the trigger like a Bond villain.
Privately, Chelsea say that the Portugese's job is secure and that Abramovich has changed the habit of a lifetime by putting his faith in the intense figure who has gymnastically paraded the Chelsea dugout this season.
Yet Villas-Boas is also shrewd enough to know that he faces the most testing examination of his career against opposition who have saved their best for the Champions League this season and possess, in Edinson Cavani, Marek Hamsik and Ezequiel Lavezzi, three forwards with the cutting edge to make the return leg at Stamford Bridge a mere formality.
The ante is upped by the fragile health of Chelsea, literally and metaphorically. The club's two best defenders, John Terry and Ashley Cole, are struggling to make it onto the pitch and many of those that are fully fit are so devoid of confidence and form that many observers rate this current incarnation the weakest team of the Abramovich era.
Somewhat ludicrously, given Abramovich's investment in his manager – he signed off cheques amounting to £28 million to replace Ancelotti with Villas-Boas - and players, the odds are stacked against Chelsea tonight.
| | |
| --- | --- |
| Time in charge | REVOLVING DOOR Abramovich Managers |
| Sep 00 - May 04 | Claudio Ranieri |
| Jun 04 - Sep 07 | Jose Mourinho |
| Sep 07 - May 08 | Avram Grant |
| Jul 08 - Feb 09 | Luis Felipe Scolari |
| Feb 09 - May 09 | Guus Hiddink |
| Jun 09 - May 11 | Carlo Ancelotti |
| Jun 11 - Present | Andre Villas-Boas |
However, most bookmakers still judge them marginal favourites to progress ahead of the Italians into the quarter-final draw.
So, who is to blame for a situation where Chelsea appear further than ever away from achieving what has long been considered the holy grail for their silent but far from invisible owner?
Is it Villas-Boas, who, at 34, is only a few months older than some of his key players? Or Abramovich and his ever-changing inner circle, who have seemingly promised Villas-Boas his job is not dependant upon results? Or the players, who are so used to surviving the senior coaching staff that they regard the manager's authority as forever compromised?
The noises coming out of Chelsea are notably different to when the services of Carlo Ancelotti and Luiz Felipe Scholari were ruthlessly dispensed with. Senior club sources insist that Abramovich will persist with Villas-Boas and empower him with the resources to oversee a cultural revolution.
It is a message the Portugese repeated at his pre-match press conference on Monday night as chairman Bruce Buck and chief executive Ron Gourlay listened at the back of the room.
"You have to understand that there's a different perspective now," said Villas-Boas, once again addressing the subject of his job security. "I have the full confidence of the owner. I am here to do my job. And my job is for this year and the next two years.
"These words would be more valuable coming from the top, I know. I cannot keep saying them, but as the voice of the club, I will continue to perpetuate this message because this is what we believe in."
About time, you might think. The owner's whims have been a skyscraper-sized obstacle to Chelsea achieving his dream of them becoming the English Barcelona.
How can the foundations be laid for a Europe-dominating dynasty when, on one hand, the owner is making vanity purchases while, on the other, the director of football is investing tens of millions in promising youngsters who are either on the fringes of the first-team squad or are immediately farmed out to second-tier European clubs?
This strategy would be workable if Villas-Boas was not expected to simultaneously introduce a more expansive playing style and keep Chelsea in the hunt for honours while the spine of the team that has won three league titles in the Abramovich era ages before his very eyes.
Although the Russian has built his vast fortune from making instinctive decisions and has shown during his nine-year reign that patience is not part of his vocabulary, his demand for instant gratification is killing Chelsea's Champions League dream.
Consider all the winners of club football's premier competition in the modern era. Barcelona, Inter, Manchester United, Milan, Porto, Real Madrid, Porto, Bayern Munich, Borussia Dortmund, Ajax. They all built their success upon a culture and clear philosophy.
Arguably, only the 2005 Liverpool team, which allied Rafael Benitez's tactical nous with a stout Scouse heart, triumphed despite an obvious absence of a long-term strategy.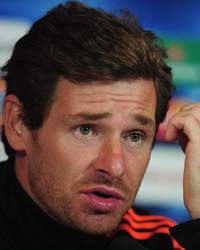 Abramovich's questionable football judgement is costing Chelsea dear. At which other leading European club would someone as unqualified as Michael Emenalo have such a senior recruitment role? Why pay a fee of £50m to sign Fernando Torres when there was no evidence of a bidding war?
We could go on and on. From the signing of Juan Veron back in those crazy few weeks in the summer of 2003 when Abramovich kick-started his £800m investment in the club to the recruitment of Andriy Shevchenko and the departure of Jose Mourinho. What the owner gives with his financial might, he takes away with his impulsiveness and restlessness.
Having spent so much recruiting Villas-Boas last June and, especially with Guus Hiddink now unavailable as a possible mid-season Mr Fix-it, the sensible course of action for Abramovich would be to grant his young manager the jurisdiction to revolutionise the team.
As Villas-Boas himself acknowledged minutes after saying that his position was not conditional upon results, questions about his future were being directed to the wrong person.
Pictures of the pair together during Abramovich's recent spell at the Chelsea training ground offered little clues to the owner's thinking. He has a tendency to look like an avuncular history teacher during his interactions with his pupils but swiftly resorts to expelling the head boy if he does not get A stars in all his examinations.