Despite all the recent furore over the racism row surrounding their Uruguayan striker and Patrice Evra, Kenny Dalglish's men find themselves four points off fourth-placed Arsenal
COMMENT

By
David Lynch
Finally, the dust appears to be settling. The finer cultural details of nations' exact use of the Spanish language, body linguistics and legal procedure can all be put to rest by fans of
Manchester United
and
Liverpool
as the furore surrounding
Patrice Evra
and
Luis Suarez
looks to be coming to a close.
In the past month we've got the inevitable hurdles out of the way; a game at Anfield, a game at Old Trafford, a missed handshake and overdue apologies bounced back and forth and gracefully accepted between the affected parties.
Now it is perhaps time for both great clubs to get back to what they are most famous for doing, playing – or perhaps, given their respective pedigrees, winning – football matches.
For Liverpool, there has at least been a period of respite amongst the tumult, one in which the club reminded itself of its fantastic heritage outside of press scrutiny.
Firstly, a League Cup semi-final played and, of course, won in the type of atmosphere which only Anfield can seemingly generate on those midweek nights. Just ask Manchester City fans and players who were powerless to resist it, the best team in the league beaten by sheer force of will.
Then, just a number of days later, the feat had been repeated. This time a last-minute winner – the type which Manchester United scored with depressing regularity at Anfield in recent memory – gave Liverpool a fifth-round berth in the FA Cup, a competition which now contains neither of the Premier League's top two sides.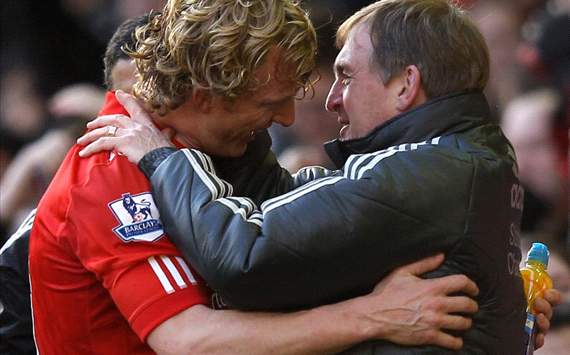 "The Reds sit just four points away from fourth spot, which means they are still in with a shout of achieving their season's aim."
In fact, this episode of clarity amidst a hurricane of criticism which constitutes a run of good form can well be continued by Kenny Dalglish's men, despite the recent Premier League loss at Old Trafford.
Whilst that would not have been the result the manager, players or fans would have hoped for, that fixture still remains possibly the toughest away day in English league football. Liverpool sit just four points away from fourth spot and crucial Champions League qualification, which means they are most certainly still in with a shout of achieving their season aim.
They may well hold that position thanks to the incompetence of others such as Chelsea and Arsenal but this is a bridgeable gap - an opening not to be missed. But, if they are to do so, an improvement will have to come from amongst their current resources.
If one person in a Liverpool shirt could have felt any fortune as his Uruguayan team-mate foolishly dismissed the outstretched hand of Evra last Saturday, it is Stewart Downing.
'Handshakegate' and the resultant fanatical condemnation served to do one thing above all else - mask another anaemic performance by the former Villa man.
In a season which will undoubtedly be viewed as transitional, Downing has been one of the few undeniable low points. The steady improvement of Jordan Henderson and Andy Carroll may well not have been detected by all those who populate the Kop but their youth ensures that they have the opportunity to win those over in time. For the frustrating Middlesbrough-born winger, aged 27, on the other hand, this is supposed to be the peak of his playing career.
A total of zero assists and one goal, scored against lower-league Oldham in the FA Cup, is simply not a good enough return. His form and transfer fee have, at times, made him detrimental to the cause and thus so much of a proposed turnaround to clinch European football rests upon his shoulders.
If there is one thing that Downing must not feel responsible for, however, it is his manager's job security. The zealous demands of certain observers would have you believe that attaining a Champions League spot this season is a must for Dalglish but the mitigating circumstances which surround this order will of course be taken into account by the Merseyside club's astute owners.
The rapid improvement of Manchester City and the realisation of a long-term project at Tottenham – one in which current Liverpool director of football Damien Comolli was a crucial foundation – mean that the difficulty of attaining one remaining spot against the might of Arsenal and Chelsea is clear.
And, whilst Dalglish's gross spend during his second spell with Liverpool is often used to form criticism and unrealistic ultimatum, the amount of cash recouped through the sales of Ryan Babel, Fernando Torres and Raul Meireles, underline this job's status as a complete squad rebuild.
So, given that the Reds are on the cusp of League Cup success and have a fantastic opportunity in the FA Cup, all is not lost should they fail to kick on in the league now. However, the upcoming run of games is an opportunity for Liverpool's young and improving squad to give themselves a real chance of capping a perfect transition.
If Dalglish can manage that then his position as King on Merseyside may in fact be under threat because the Kop will then want to reference him in even higher terms.
Follow David Lynch on