| | | | | |
| --- | --- | --- | --- | --- |
| MANCHESTER UNITED | | V | | LIVERPOOL |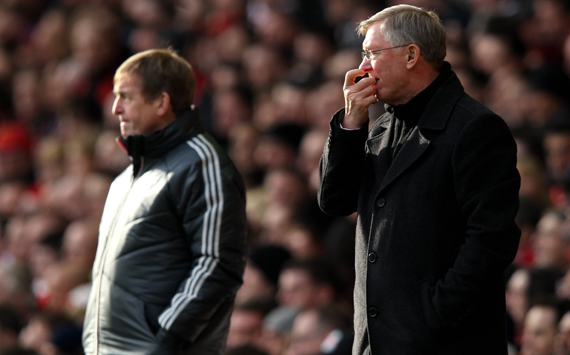 Manchester United
and
Liverpool
face off for the third time this season at Old Trafford on Saturday in what is expected to be a fiery encounter, as the Red Devils look to close in on
Manchester City
at the top of the table.
The biggest talking point will undoubtedly involve Luis Suarez as he comes up against United, and Patrice Evra, for the first time since being banned for racially abusing the French full-back.

Goal.com invited Matt Ladson, editor of This Is Anfield and Ed Barker, editor of United Rant, to get involved in our Twitter Q&A ahead of the crunch clash between the two fierce rivals...
How would Matt and Ed feel if Sir Alex Ferguson and Kenny Dalglish were to swap jobs?
Matt Ladson
: "Sick. Dirty. Confused."

Ed Barker:
"I'm not a man prone to violence, but ... Dalglish wouldn't make it into Carrington. The MIB (Men in Black) would see to that. You know, the shady bunch that staked out Rooney's house. Mind you, Ferguson could win the league with almost any squad. Certainly any of the top four. Maybe even Liverpool's team..."
ML:
"Depends if Fergie brought his chewing gum with him."
Will Luis Suarez and Patrice Evra shake hands at the start of
tomorrow's match
- and, indeed, should they?
Jason Angelo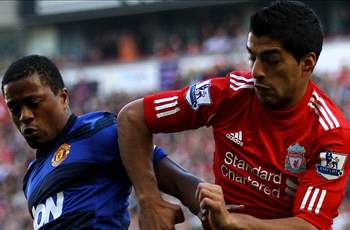 Matt Ladson:
"It might not be needed, if Suarez doesn't start. If he does, I think they will. Whether they should or not is a whole other debate."
Ed Barker:
"Only if Suarez starts - I suspect he will. And if that happens I believe that the players will shake hands. From a United perspective I'd like to see that happen, and for Patrice Evra to continue riding that moral high horse. He's got nothing to lose by shaking Suarez's hand."
How do the panel see the match going, and where are the key battles that could make or ruin each side's day?

Matt Ladson:
"In all honesty, a key battle will be Evra vs whoever he is up against. He really isn't playing well lately and Suarez could give him a hard time down that side. Alternatively, Kuyt could get some joy."
Ed Barker:
"I'm sure the pattern will match the game two weeks ago. United will try and control the possession, tempo and 'style' of the game. Liverpool will hit Andy Carroll early (if he plays) and try and put David de Gea under pressure. It's up to United to do two things: defend better than in the past two games, and take more chances than at Anfield. It'll be good to have a more settled back four - that's been a real problem."
Has the criticism of David de Gea been too harsh? What's the view on the Spaniard from both sides of the camp?
Matt Ladson:
"Ferguson loves a dodgy keeper, doesn't he? Hopefully he will play - it's got to play on his mind,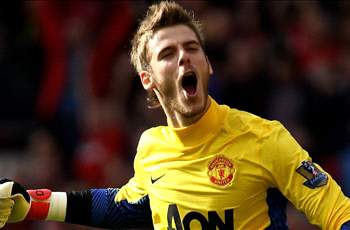 like Nemanja Vidic whenever he played against Fernando Torres (back when Torres was good). We have a big team these days, more so if Andy Carroll and Martin Kelly play, so exploiting his aerial weakness wouldn't be a bad ploy. If only we could actually deliver a decent corner!"

Ed Barker:
"I have no doubts whatsoever that De Gea will become one of the world's finest goalkeepers. He's had a struggle adjusting to life in England and the Premier League. He doesn't speak the language well, he's conducting a long-distance relationship with his lady, he's only just found a house, and he's coping with the physical side of football in England. The high ball, crosses are a weakness but, believe me, that aspect is being worked on. De Gea's reflexes, technical ability and potential are some of the best I've ever seen at 20."
Is the return of the Paul Scholes a sign of desperation from
Manchester United or a shrewd move?
Ed Barker:
"Desperation. Absolutely. You can't suck hundreds of millions out of a club without that having an effect on the club's spending in the market. But he's come back and just been Paul Scholes - there's still nobody technically better, and he can pass the ball all day. I was amazed that Liverpool didn't press in midfield in the cup game. If they do then Scholes has a problem because he can't cope with the physical side of the game anymore. If not, then Scholes will just pass, pass, pass all day long."
Matt Ladson:
"There has to be a hint of 'desperation', but if I'm being fair I'm guessing it was more down to United's injury problems in midfield a month ago. I'm sure he can still do a job, as we saw at Chelsea last week, but in a high-tempo game like this it's something we should look to exploit. We need to press him and not allow time and space on the ball to dictate the play."