COMMENT
By
Greg Stobart
| Northern Correspondent
It is never particularly pleasant when
Manchester United
take on
Liverpool
, but there will be added malice when the fierce rivalry is renewed on Saturday as
Luis Suarez
takes to the pitch at Old Trafford.
Suarez is expected to make his first start since his eight-match ban for racially abusing United defender Patrice Evra - and the home fans will let the Uruguayan know how they feel about an incident that has further darkened the great rivalry.
Suarez will be booed, whistled and abused by more than 70,000 snarling United fans who will want to make their feelings known, to make his afternoon as uncomfortable as possible. All eyes will be on his handshake with Evra before kick-off, but Suarez - who still feels aggrieved about the ban handed to him by the FA - will be fired up to make a spectacular comeback.
And it would not be the first time in this fixture.
In October 1995, Eric Cantona returned from a nine-month ban to set up the first goal and score the second in a 2-2 draw between the sides. The following May, he scored the winner in the FA Cup final to make the Liverpool players feel as horrible as their famous cream suits.
Cantona was probably the most influential character in the dynasty built by Sir Alex Ferguson. His influence and goals laid the foundation for a shift in power between the two north-west giants, culminating in United's 19th top flight title last season.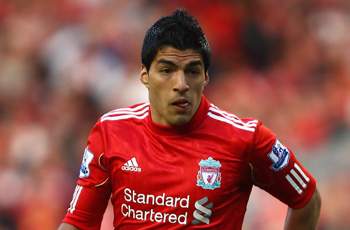 "I do know United fans are going to try to make me feel uncomfortable. But I have to tell them – they are going to spur me on if they whistle at me"
The Frenchman, who helped United to their first title in 26 years in his first campaign at Old Trafford, was a similarly divisive figure to Suarez. He was loved by his own fans, hated by the opposition. He was a supremely gifted player whose short fuse was always a risk.
The comparison with Suarez is obvious, as much as the supporters on both sides of the divide would like to deny it.
Suarez is the type of character who will enjoy the challenge and look the thrive off the hatred that will cascade down on him from the steep Old Trafford stands.
"I do know United fans are going to try to make me feel uncomfortable," Suarez said in a radio interview earlier this week. "But I have to tell them – they are going to spur me on if they whistle at me."
Like Cantona, Suarez is a fierce competitor. Too competitive, in fact. He showed that side to his game will not abate during his appearance as a substitute in the goalless draw against Tottenham on Monday night.
Any thoughts that the Evra affair might mellow Suarez were quickly put to bed as he niggled at defenders, berated the referee and received a booking for a kick on Scott Parker that could have resulted in a red card.
It is the fire in his belly that makes Suarez cross the mark on occasions, whether it's his spat with Evra, biting an opponent while playing for Ajax or his handball on the line in the 2010 World Cup quarter-final.
But it also makes him an incredibly dangerous player to defend against, a constant menace who has the desire to match his movement, skill and vision.
The United players will remember the way the No. 7 tormented them during Liverpool's 3-1 win at Anfield last March, especially the way he wriggled past three defenders to set up Dirk Kuyt's opener.
On Saturday, it is likely that Kenny Dalglish's much-vaunted trio of Suarez, Andy Carroll and Steven Gerrard will start alongside each other for only the second time.
Dalglish said it would not have been fair to play Suarez from the start against Tottenham after he had not played since Boxing Day, but the Scot will surely include his most influential attacking player in the starting line-up this weekend.
Suarez will be desperate to make an impact, to make the Old Trafford boo-boys eat their words and to head back down the M62 as a match-winner.
The rivalry between the sides is the most bitter in the country, the atmosphere and intensity will be as explosive as any United-Liverpool clash in recent memory. Can Suarez anger United fans even more by producing echoes of Cantona?