ANALYSIS

By David Lynch
Andy Carroll's goal and performance against Wolves were widely described as a fitting way to mark his one-year anniversary with Liverpool and an important boost for the striker. More notably for the Reds' fans, the game also heralded the end of Uruguayan forward Luis Suarez's eight-match stint on the sidelines for racially abusing Patrice Evra.
Perhaps less vaunted, however, was the opportunity marked by the final whistle at Molineux, a chance for manager Kenny Dalglish to do something he has rarely been able to since his return to the dugout. Namely, put £57 million worth of strikers in the same starting line-up as talismanic captain, Steven Gerrard.
The Reds' struggles for consistency this season and their dearth of goals have been widely documented. Yet, when you consider that, a year since the arrival of Suarez and Carroll, the duo have never started a game alongside Gerrard, those troubles begin to make sense. The attacking triumvirate have in fact spent just 69 minutes on the pitch together in total, a shocking statistic which owes its existence to various factors.
Carroll was plagued with a thigh injury throughout the start of his Anfield career and his struggle for form since has of course formed the narrative of his time on Merseyside. Gerrard himself had something of an
annus horribilis
in terms of injuries, missing large chunks of 2011 and only recently truly getting back to fitness as his 'rest' against Wolves proved. Suarez has on the other hand been an almost ever-present, but his services have lately been denied to Dalglish thanks to that unsavoury incident at Anfield in October.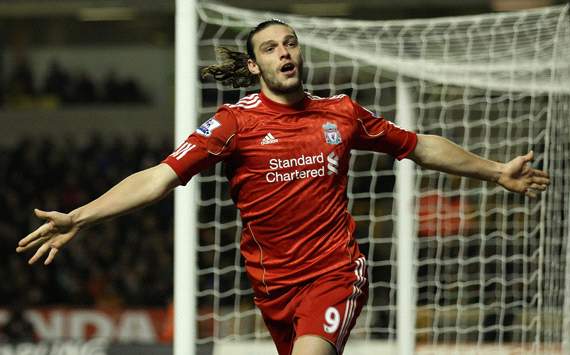 However, against Tottenham on Monday night, Liverpool have the prospect of fielding their most-coveted attacking options together at last. Dalglish in fact finds himself with something of a selection headache thanks to the brilliant recent form of Carroll and Craig Bellamy and the option to call upon a rested Suarez and Gerrard.
Carroll, who had in the past looked to be weighed down by his £35 million price-tag, has hit a run of form which sees him with two assists and a goal in his last three appearances. Yet, much of the former Newcastle man's turnaround can be put down to the changing shape of the side around him – a factor which could now prove key if Liverpool are to end this season all guns blazing.
In their most recent impressive performances - against Manchester City, Manchester United and Wolves - the Reds have switched to a 4-5-1/4-3-3 system familiar throughout the successes which came under Rafael Benitez.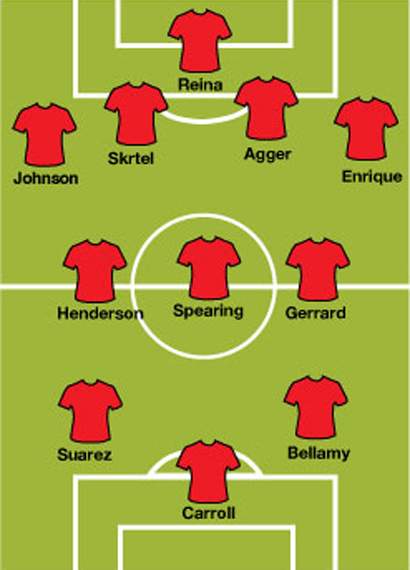 That Carroll has been the pivot of this system has worked wonders for his confidence and output; and a Reds squad which contains so much of Benitez's stamp still is, quite frankly, built for this.
This is a system which allows Dalglish to move the energetic Jordan Henderson inside, a position where his performances have vastly improved upon those in which he was asked to run 'the graveyard shift' on the right. It also provides suitable central cover for Charlie Adam's lack of defensive nous and Gerrard's trademark bursts forward. In short, the system is one quite clearly tailored to those who currently make up the squad.
Even Suarez's poor chance conversion rate, whilst something of an oddity given his goal record over the years, gives weight to the argument that his skills would be best used coming in from wide. There seems to be a fear that this could isolate the former Ajax man, the Reds' most productive player, but that Lionel Messi so regularly made a mark from this position should allay those concerns. Your best player doesn't necessarily have to be down the middle.
This would also allow Bellamy, a man who should on current form be the first name on the teamsheet, into the Liverpool side on the wing. The Welshman's recent performances have evidenced a maturity and selflessness which makes him a genuine world-class threat and make him equally as important as the aforementioned frontmen.
So, now that Dalglish's squad can finally be used to its full potential, the Scot has much to consider ahead of the visit of Spurs. Harry Redknapp's side represent another obstacle in a difficult month for the Reds, one which features a visit to Old Trafford and the League Cup final.
Whether they can win on Monday will say much about Liverpool's Champions League ambitions but Dalglish, a man who famously keeps his cards close to his chest, may have to consider a reshuffle if he is to come up trumps.
Follow David Lynch on