COMMENT
By
Greg Stobart
| Northern Correspondent
The message from all angles this week has been unequivocal.
Liverpool
,
Manchester United
,
QPR
and
Chelsea
have all called for calm from their players and supporters ahead of potentially explosive FA Cup clashes between the teams this weekend.
For some, the matches represent a nightmare, the worst cocktail of hatred, revenge and feuding for a sport that's image has been dragged back a couple of decades in recent months.
We thought racism in football was a thing of the past but now have to accept that ignorance and intolerance have re-emerged - on the pitch and in the stands - and must be stamped out at the earliest occasion.
Since the allegations concerning Luis Suarez and John Terry first emerged, a group of Charlton fans have been arrested for racist chanting on a train, a young black Oldham player has been abused by the Kop and individuals have been arrested for racially abusing black players on Twitter.
When QPR face Chelsea at Loftus Road and Liverpool take on Manchester United at Anfield on Saturday lunchtime, the atmosphere will be tense, passionate and hate-fueled.
Patrice Evra is likely to captain United as the fallout from the Luis Suarez race row continues, while John Terry and Anton Ferdinand go head-to-head just days before the Chelsea captain is due in court charged with a racially aggravated public order offence concerning alleged abuse of the QPR defender.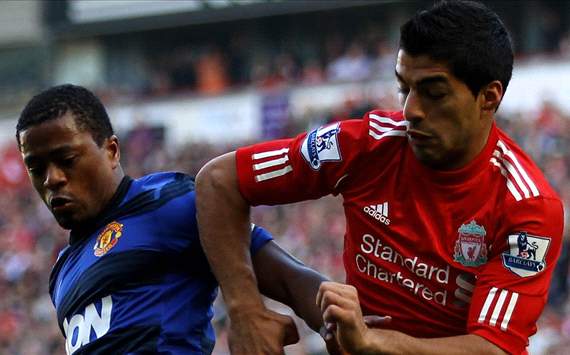 All the elements are there for stupidity to reign, for mindless idiots to let their clubs down by resorting to ignorant insults that have no place in any football stadium or any society.
Alternatively, however, we could be able to draw a line under the ugliest aspects of the game and begin to draw a line under the recent storm, notwithstanding Terry's appearance before the magistrates. Of course, the supporters will be passionate, but the recent controversies will focus the mind on what is and isn't acceptable, for both the players and the fans.
Liverpool and United have both been at pains to urge a responsible approach to the FA Cup fourth round clash, with Steven Gerrard putting it best when he says: "We all have a responsibility to ensure that this game is remembered for the football."
Evra can expect a hostile reception from the Kop but the Reds fans should take heed of the club's desire to move on since Suarez accepted his eight-match ban for comments made towards the Frenchman.
Steve McManaman knows better than most about the hostility of football fans, having played in a number of clashes between Liverpool and United as well as El Clasico in Spain, not to mention Merseyside and Manchester derbies.
"Fans completely lose their heads at football matches and it is a worry ahead of this weekend," McManaman told Goal.com. "The Liverpool fans will give Evra stick but they need to keep it within acceptable boundaries. A bit of booing is fine but it crosses a line when you start saying things about his family or giving racial abuse.
"These big matches are both the best and the worst to play in. I've never heard a noise like the sound of Barcelona fans whistling the Real Madrid players at the Nou Camp.
"The journey through Barcelona used to be genuinely frightening, we would have bricks thrown at the coach. It's completely unacceptable to start behaving like that just because of the team someone plays for or supports."
Dietmar Hamann, another former Liverpool player, has urged the Reds fans to lay off Evra and focus on the main reason they will be at Anfield: to watch their team book a place in the fifth round of the FA Cup.
"There is always a risk that the game could be remembered for the wrong reasons because of the trouble over Patrice Evra and Luis Suarez but I think it has got to be stressed that Evra has done nothing wrong," former Liverpool midfielder Hamann told Goal.com. "So I think people have to realise that. They have to forget what happened and concentrate on the football."
As much as we would love to concentrate on the football, it is inevitable that much of the focus will be on the things surrounding the game.
All eyes, for example, will be on whether Terry and Ferdinand shake hands before kick-off at Loftus Road. Ferdinand is believed to be agonising over what he will do when the pair cross in the fair-play line-up, with QPR believed to have advised him to shake the England captain's hand to deflate the tension at the ground.
Nobody other than Sepp Blatter would expect a handshake to resolve anything. What it might do is calm down the Chelsea fans from singing "you know what you are" towards Ferdinand, a chant the club have vowed to stamp out with strong action. They are at pains to point out that their support of Terry in his legal battle in no way means they will condone racist chanting.
"I don't think racism is a big problem in football, certainly not for the players. But that doesn't mean it isn't a problem at all," McManaman adds. "It's when you pretend it's not there that it eventually comes up and bites you.
"It's been a bad few months for the game's reputation in that sense but I'm confident the talking points on Sunday and Monday will be about this weekend's football, not racism or abuse."
All four clubs should be commended for publicly doing their utmost to calm emotions, making clear that racism will not be tolerated. The responsibility now lies with the players and supporters on a pivotal weekend in the fight against the most unedifying stain on English football.
Follow Greg Stobart on