DEBATE
By George Ankers at Carrow Road
Fifteen minutes into the second half and it seemed that
Norwich City
's resistance was finally broken.
Chelsea
had not been at their best but were dominating possession and turning the screw after the restart.
Jose Bosingwa
stormed down the right and delivered into the box. This was it – the end of the drought.
Then Fernando Torres missed.
As the one-year anniversary approaches of the day when Chelsea broke the record for a transfer fee paid by a British club by throwing Liverpool £50 million, the Spanish striker is still in what you might generously term his settling-in period.
Three hundred and fifty-five days into Torres' time in blue and the statistics aren't good. Five goals in 42 appearances. £10m per goal. Since his last league strike against Swansea on September 24, 181 other players have etched their names on the Premier League scoresheet.
Saturday's miss, a lame toe-poke from close range when it would have been easier to score, and the 0-0 result to which it contributed, extended his goalless run to 11 consecutive league games, his worst ever period.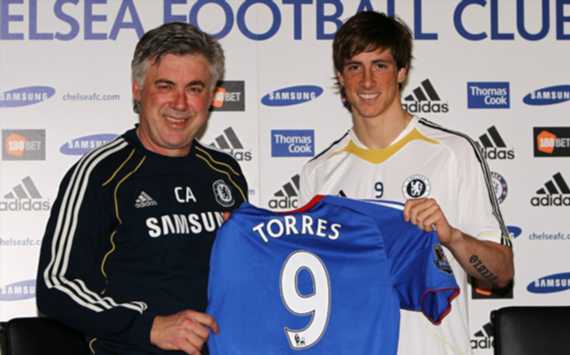 You're not smiling anymore | The £50m move has turned sour for Torres
"What a waste of money," the Norwich fans gleefully sang – but is it time for Chelsea to cut their losses and admit as much? Can Torres ever overcome his Stamford Bridge malaise?
There are reasons to say no, that there is hope yet in persisting with the misfiring marksman. The simplest is the adage that form is temporary and class is permanent – before his 12 months as a Blue, Torres racked up 172 goals in 384 matches for first Atletico Madrid and then Liverpool, a fearsome record.
You cannot, of course, simply ignore what has been a humiliating nosedive of a year for the striker, but you can point to evidence that players can overcome barren spells of this kind.
Take the example of Inter's Diego Milito. The Argentine hitman struck twice in the Champions League final in May 2010 to cap off a treble-winning season in which he scored 30 goals and confirmed his reputation as one of Europe's finest strikers.
But he too endured a horrific calendar year in
TORRES FEELING BLUE


TORRES IN CHELSEA COLOURS

GAMES STARTED
GAMES AS SUBSTITUTE
GOALS SCORED
GAMES SINCE A LEAGUE GOAL


27




15


5
11


CHELSEA STRIKERS GOALS PER GAME

DIDIER DROGBA (150 in 324)
DANIEL STURRIDGE (19 in 63)
SALOMON KALOU (58 in 236)
FERNANDO TORRES (5 in 42)
ROMELU LUKAKU (0 in 8)


0.46




0.30


0.25
0.12
0.00

2011. The 32-year-old netted just seven times in that period and was awarded by Italian fans the little-coveted Bidone d'Oro award ('the Golden Bin') as the worst player in Serie A. Yet, two games into 2012, Milito already has three goals and looks back to his best – and this is a player older than Torres.
It is not a direct comparison - Milito did not have a £50m price tag weighing on his shoulders, for one thing - but it offers hope to the Blues' No. 9 that there is always a way back if you keep putting in the effort.
The more convincing case, though, is that it might be better for everyone if both Chelsea and Torres were to call it quits.
The 27-year-old's problem is hard to address as it seems an acute mental one. There have been signs, for example, that his all-round game is coming back, particularly against Sunderland a week ago but also at Carrow Road.
Torres was energetic, particularly in the first half, finding some promising positions and even bursting into life to conjure a chance before the break, only stopped from assisting Daniel Sturridge by an alert Anthony Pilkington.
But, close in to goal, when all he had to do was tap into the poacher's most natural instinct, he could not pull the trigger. It looks like a classic case of what golfers call 'the yips' – a mental barrier that is only exacerbated by spending time dwelling on it.
Overcoming this would be an easier prospect if Chelsea were prolific enough to push through and help him to rediscover his old self free from burden, but they simply are not.
Since his arrival, Chelsea have scored an average of 2.5 goals per match when the Spaniard has not featured, but only 1.68 per game when he has. The difference is startling and a clear sign that the Blues rely on a centre-forward to drive not only the scoring but the creation of their goals.
While Torres flounders in that role he prevents
ANOTHER CHANCE MISSED


FROM OUR LIVE COMMENTARY

60'

I genuinely just cringed. Torres receives the ball in front of goal but the Spanish striker somehow, SOMEHOW shoots wide to the right of the target. Andre Villas-Boas is the personification of fury on the sidelines. The home fans merrily jeer the former Liverpool forward who looks gutted with his woeful miss.
Sturridge, whose average of 0.30 goals per game on the right wing dwarfs the Spaniard's apologetic 0.12 in the middle, from having a chance to flourish in his preferred central position. Young Romelu Lukaku also showed promise with a marauding run after coming on late against Norwich but has few opportunities while faith is kept in the £50m man.
The Blues are a side undergoing rejuvenation. The acquisition of Gary Cahill this month is a continuation of the makeover Villas-Boas began in the summer by buying the likes of Mata, Lukaku and Oriol Romeu.
The ageing Stamford Bridge outfit are set to say goodbye to Didier Drogba at some point in the coming months, with Frank Lampard also slowly being phased out and more likely to follow. But can this fresh start complete itself while the Torres monkey clings firmly to the club's back?
The No. 9 has become a figure of both comedy and pity at Stamford Bridge, so much so that it is hard to imagine that he will be able to shake the image in the eyes of the nation's fans. An escape from the Premier League, ideally back to his native Spain, might well be the healthier option for the player.
Torres' form had already been dipping when Roman Abramovich, seemingly on an impulse, produced the enormous cheque to prise him away from Anfield on deadline day last winter. Maybe now is the time for Chelsea to concede that cutting their losses would be healthier for them as well.
Follow George Ankers on