EXCLUSIVE
By Rob Stewart
Newcastle United
icon Malcolm Macdonald believes the Tyneside club could soon be challenging for a place in the
Champions League
following the £10 million signing of Senegal striker
Papiss Cisse
to partner the in-form
Demba Ba
.
Macdonald is convinced that Newcastle, who are currently sitting sixth in the Premier League, can secure a return to European competition at the end of this season by winning a Europa League berth and then aim for Champions League football.
The former Newcastle and England striker is bullish about his old club's prospects after Cisse headed to the Sports Direct Arena from Bundesliga side Freiberg on a five-and-a-half year deal that will see him lead the line for Magpies boss Alan Pardew with Senegal team-mate Ba.
"This is a very shrewd bit of business and when things settle down it will be a case of just watch them go because they will have two top-class strikers with prolific records spearheading their attack after the Africa Cup of Nations," Macdonald told
Goal.com
.
"I see no good reason why, now that they have a serious goal-scoring force up front and because of the way the team is being put together, that European football could come back to these parts and I am expecting now rather than hoping that by the end of this season Newcastle United will have qualified for next season's Europa League.
"The following season the target must be to go one better and get into the Champions League. Now that is going to be the really tricky challenge because it will be tough to break into the top four but if you have got goals in your side coming from more than one person than all things are possible.
"That so why Manchester United have been up at the top for so long. It is because goals have flowed from all quarters. They could even leave Dimitar Berbatov on the bench because goals come from all over."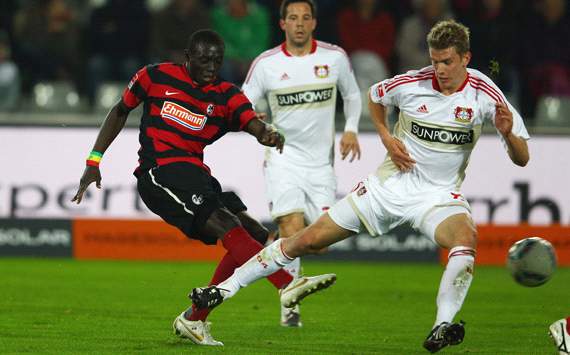 Firepower l Cisse will bring goals to the North East judging by his Freiburg exploits
Macdonald, who was nicknamed Supermac due to his goal-scoring prowess and is now a highly respected radio presenter on Tyneside, believes that Newcastle's upward mobility is down to Pardew.
He has steered the club into the upper reaches of the Premier League and will now be aiming to bring European football back to the club for the first time since the 2006-07 season when Glenn Roeder was in charge, before trying to secure Champions League fixtures on Tyneside for the first time since the 2002-03 campaign.
"To be honest I am surprised just how well Alan Pardew has done because he has very quickly put a side together and has brought in some exceptional players such as Demba Ba and Yohan Cabaye," Macdonald added.
"I think he has looked at the Premiership and realised that the way to get to the top is to try to out-football the footballing sides and so he has got Newcastle playing some absolutely brilliant football.
"The two most entertaining sides that I have seen in the Premiership this season have been Tottenham and Newcastle because they both have a flowing passing game.
"Everybody gets involved in attacks and people are prepared to flood forward but every now and again they just slip off the rails.
"But what I would say is that the Queens Park Rangers game was a bit of a turning point because the art of being successful in the Premiership is when you play badly you still win your games and that is what happened against QPR."