Swans outgunned the Gunners with a slick performance at the Liberty Stadium a day after Paul Scholes rolled back the years with a goal and a ghastly challenge
By
Nick Price
Best impersonation
Swansea
At the Liberty Stadium on Sunday you'd have had a hard job determining which was the team with multiple Premier League titles to its name given just how stonkingly good Swansea were.
Brendan Rodgers' team out-Arsenaled the Arsenal with a performance more stylish than a Milan catwalk.
Danny Graham led the line like Robin van Persie at his best, stretching the backline with clever runs and taking his chance when it came, while out on the flanks Nathan Dyer and Scott Sinclair bested (though it's not particularly hard to do) Andrey Arshavin and Theo Walcott.
In midfield, Joe Allen and Leon Britton were like Alex Song and Jack Wilshere rolled into one glorious bundle of bite and artistry.
In short, the Welsh team were better at being Arsenal than Arsenal, and it was a bloody lovely game too.
Worst bus removal company
Liverpool
Stoke City arrived at Anfield on Saturday with one game plan in mind: defend, defend, defend, and maybe pinch something on the break, just as Liverpool did to Manchester City in midweek.
They were there for the taking as Tony Pulis gleefully parked the team bus in front of the goal to give his side, who have an abysmal away record, a chance of heading back to the Potteries with a point in the bag. And a point was what they got, but in large part because Liverpool barely made an effort to get the bus off the ground (ironic given Scousers' reputation for pinching anything that isn't bolted to the floor).
Kenny Dalglish, as he did in the same fixture last season to earn a comfortable win, deployed three centre-backs and played Dirk Kuyt up top on his own rather than Andy Carroll, and rigidly stuck to that shape in one of the worst games
MTW
has sat through all season.
Liverpool were more gutless than Andrey Arshavin in a 50-50 and were tiresomely predictable, repeatedly failing to breach their opponents' rearguard as they pumped balls into the box for Kuyt to challenge for against Stoke's giant centre-halves, while Charlie Adam resorted to shooting from inside his own half, even though City goalkeeper Thomas Sorensen was stood right on his line.
It was dreadful stuff, and they were every bit as 'anti-football' as the visitors seeing as they couldn't string a single decent passing move together and their one and only clear chance came from a flukey deflection.
It got all the more pathetic and embarrassing when Carroll was introduced.
MTW
is oft accused of 'picking on' players and recycling material, but it'd be amiss not to highlight once more how utterly rank the Geordie striker was. All he did when he came on was get in the way and complain about the faintest of touches in the box.
The only conclusion is that he's deliberately playing so badly as some sort of practical joke – one that, like
MTW
's comments on him, is getting less funny by the week.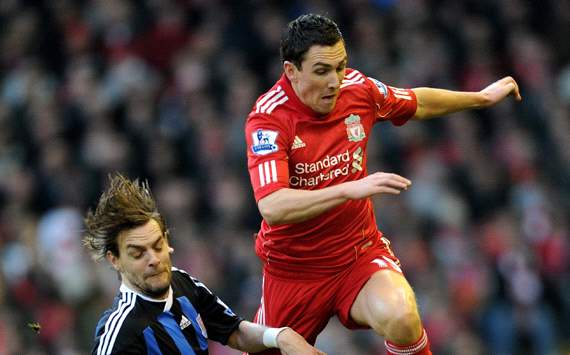 Liverpool personified | Downing's lacklustre performance summed the Reds up once more
GOOD WEEKEND


Gary Cahill
The centre-back finally agreed personal terms on a deal with Chelsea, two weeks after the London club had reached a fee with Bolton. Expect him to be earning a fair wedge now as he shows David Luiz how to hold a defensive line for the first time in his life.

Steve Kean
He just doesn't know when he's down, does he? The Scot may be a total charlatan but he doesn't deserve the vile abuse being sent his way from Rovers fans, and he masterminded – or lucked out – a 3-1 win over Fulham despite his team being a man down after just 23 minutes. If he keeps them up he could be up for the manager of the year gong.

Chelsea
They may have only picked up a slender victory over Sunderland, but the performance of Fernando Torres and a defeat for Arsenal means there is plenty to look forward to for Villas-Boas' team, who are now four points clear of the Gunners and Newcastle in the race for the last Champions League spot.
BAD WEEKEND


Arsene Wenger
The Arsenal manager once again had to send out an unfamiliar back four and yet again looked stupid in that caterpillar coat on the touchline. For the love of God, man, buy a couple of full-backs and a decent jacket.

Ravel Morrison
The Manchester United youngster, famous as much for his precocious talent as he is for his heinous scumbaggery off the pitch, has been told by Sir Alex Ferguson that his contract demands are ridiculous. And now he's seen Paul Scholes, the man he had been tipped to replace, come out of retirement and score.

Blackburn fans
Rovers beat Fulham at home on Saturday to move out of the relegation zone, something that will have torn supporters who seem to love nothing more than seeing their side lose as they feel – wrongly, seeing as the owners have made clear that he is untouchable – defeats will see the demise of manager Steve Kean.
Biggest character
Emmanuel Frimpong (Wolves)
Not content with being a meme starting, t-shirt making, Mr T-impersonating nutcase, the midfielder further went down the Mario Balotelli route by playing the part of chief clown as he went up against parent club Arsenal's bitter rivals Tottenham at White Hart Lane.
Besides blowing kisses at the home fans as though he were in a pantomime, the Ghanaian also nearly knocked Rafael van der Vaart's head off by belting the ball at him with ferociousness of one of his typical tackles. And rather than show concern for his stricken opponent, he smirked and carried on playing.
MTW
is quite a fan.
Tweet of the weekend
"It's soo quiet it's soooo quiet at the Lane hahha #Afc forever #Wolves love ya"
- Frimpong here with a trademark crap Twitter wind-up and typical disregard for punctuation.

Man most easily wound up
Andre Villas-Boas (Chelsea)
The Portuguese boss oversaw his side picking up a win against Sunderland at the weekend, with Frank Lampard shamelessly celebrating a customary accidental strike as though he had just banged in a sweet strike from 30 yards out.
Fernando Torres' acrobatic volley – yes, he can still do some good stuff – smacked off the bar and ricocheted off the midfielder, who was barely a yard off the line, and into the back of the net.
The Spanish striker was much improved – though he could have turned up steaming drunk and looked better than he has done for the past few months – at Stamford Bridge this weekend, but less impressive were David Luiz and Jose Bosingwa, who had recently come in for criticism from Match of the Day pundit Alan Hansen.
The former Liverpool defender had, quite fairly, said the Brazilian centre-half "wouldn't know what a good position is if it was staring him in the face", before saying Bosingwa was so bad "he makes Luiz look like a world-beater at times". Pretty innocuous stuff, especially after Gary Neville's scathing put down of Luiz as playing as though he were being controlled by a child with a Playstation pad.
But that didn't stop Villas-Boas from going on the attack once more. "I really can't get myself involved with these people again," he said, sensibly, before then getting himself involved with these people again – and putting them in their place.
"Alan doesn't have the privilege that I have, to work with these players every day. If everybody had perfect games, first media pundits would have no jobs because there would be no-one to criticise. You'd have to find jobs in professional football, which is a little harder."
MTW
scores that Villas-Boas 1-0 Hansen.
Quote of the weekend
"It is good to see him picking up confidence and assisting people.

"He hasn't been scoring but he is getting nearer all the time."
- Villas-Boas here not concerned by Torres' lack of goals. A bit like saying he'd be happy with John Terry getting 'nearer' to completing a tackle.
Rolling back the years
Paul Scholes (Manchester United)
The ginger ninja came out of retirement last week to make a shock comeback against Manchester City in the FA Cup and he played once more like he'd never been gone this weekend.
Before scoring the opener in the 3-0 win over Bolton, the midfielder made a trademark crunching tackle – or should that be outright assault – on an opponent as he clattered into Mark Davies' thigh with his boots. The result: no booking. Some things just always stay the same.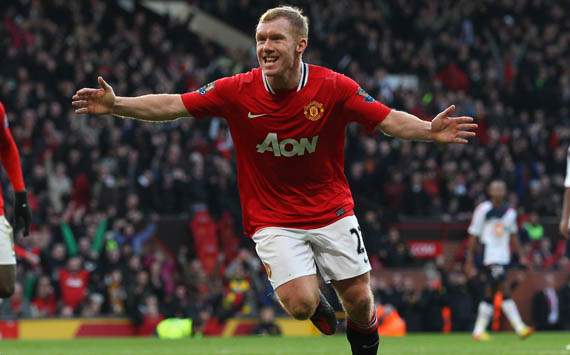 He scores goals, my Lord | And rakes people's legs with his studs
Fantasy hero
Nathan Dyer (Swansea)
The winger was electric against Arsenal and scored a peach as the Welsh club came out the better side of a five-goal thriller.
Mad props, as the kids say, to Leon Best for capitalising on Demba Ba's absence to score the winner for Newcastle against QPR, and to Steve Morison for netting a crucial late goal for Norwich at West Brom, giving his team a victory that moves them to 11 points above the drop zone.
Fantasy zero
Yakubu (Blackburn)
Rovers won (and for that, Fulham goalkeeper David Stockdale also belongs in this section after conceding three) despite the Nigerian getting himself sent off after just 23 minutes for a ridiculously high challenge on Danny Murphy. You muppet. The powerful and potent striker will now miss big games for his team as they fight relegation (and their own fans).
Nick is leaving Goal.com this week but fear not as Mock the Weekend and What We Learned This Week will still be around, so be sure to log on every Monday and Friday for your fix of raving rants.