COMMENT
By
Rob Stewart
They say that you should never go back and despite what has happened to
Thierry Henry
at
Arsenal
, it is to be hoped that
Liverpool
striker
Andy Carroll
does not return to
Newcastle United
any time soon - for the sake of all parties.
Henry might have enjoyed a fairytale return to his old club at the Emirates with the winning goal against Leeds, but a return for Carroll to his home turf just a year after his record-breaking £35 million move would be bad news for everyone concerned.
Carroll has told friends he will not be coming home this month and so it should be encouraging for him ahead of the League Cup semi-final against Manchester City that Newcastle and his representatives have been quick to distance themselves from reports linking him with a return to his native North East.
For the striker it would represent a missed opportunity because Anfield represents the chance for him to develop as a person and as a player plying his trade with some of the best footballers the Premier League has ever seen.
For Reds manager Kenny Dalglish, selling the most expensive player in the club's history at a knock-down price would be humiliating because it would make him responsible for the biggest flop in English football.
CARROLL AT LIVERPOOL

Competition

League
Cups
Europe
Total


Appearances

25
4
2
31



Starts

16
2
1
19


Goals

4
2
0
6

And for Newcastle boss Alan Pardew it would undermine his admirable efforts to cope with the departure of Carroll and evolve a team that has become a high-energy unit rather than the one-dimensional side that had the England player as its spearhead with Kevin Nolan and Joey Barton as his able accomplices.
Under Pardew, Newcastle have moved on thanks to the arrival of Yohan Cabaye and with all that in mind it is not surprising that suggestions that Newcastle want to offer Carroll an escape route this month are being played down within the corridors of power at the Sports Direct Arena.
Despite widespread reports to the contrary,
Goal.com
understands Newcastle are not currently interested in bringing Gateshead-born Carroll back to the club and that there has been no communication between the two clubs.
Pardew remains a big admirer of Carroll and recently admitted he would welcome him back to Newcastle with open arms, but there remain lots of obstacles to that happening imminently.
For starters, Carroll is currently being paid £80,000 per week which is approximately double what Newcastle owner Mike Ashley would be prepared to pay because of the club's wage structure.
Plus, Newcastle have 15-goal Demba Ba in their ranks now and a return to Carroll would unsettle the Senegal international even more than Tottenham manager Harry Redknapp telling the world he has an escape clause in his contract worth some £7m.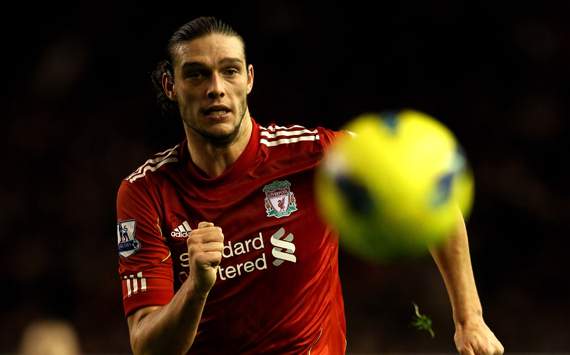 Forward-thinking | Carroll can still prove his doubters wrong at Liverpool
There is no escaping the fact that Carroll has failed to live up to expectations on Merseyside and his return of just six goals in 31 games has left him open to cheap shots from those in the North East who used to sing his praises when he was on Newcastle's payroll.
There is something of a tall poppy syndrome in the way his detractors have revelled in his struggles but Carroll – with one broadsheet journalist labelling him 'useless' - will have seen it all before because this is not the first time he has proved his doubters wrong.
When he prepared to leave Joseph Swan School in Gateshead, his teachers laughed when he told them was going to be a professional footballer.
And when he was sent back to Newcastle from Preston North End following an uninspiring loan spell it seemed the writing was on the wall, but he confounded all his critics with a sudden surge through the ranks to the England team.
He did not help himself with his off-the-field activities and his boozing antics and court appearances have been held against him while he has been in Liverpool, even though no-one has any evidence that he has stepped out of line.
Moving to Liverpool – where he will this month receive a £150,000 loyalty bonus - was never going to be easy, but he still needs to be given time to fulfil his potential rather than being
shown the door at Anfield as Robbie Keane was after a disappointing start to his career on Merseyside.
The fiercely protective Dalglish – who railed at erroneous suggestions he had been ordered the striker to lose weight – will not give up on Carroll and that means the practice ground will be the key to his redemption.
And the absence of Luis Suarez gives Carroll the chance to prove himself while his colleague kicks his heels on the sidelines as he sits through an eight-match ban.
As former Liverpool midfielder Jason McAteer told Goal.com, Carroll – who is one year into a five-and-a-half year deal – needs to get back to his old aggressive ways when his team face City at the Etihad Stadium.
He needs to rise to the challenge of replacing Suarez against City and he needs to show the cynics that he is worth £35m by helping his club win a place in the League Cup final.
It is a tall order but at 6ft 3in and with the inspirational Dalglish – I can say that because I was once in his quiz team – as his mentor, the player is surely up to it. Otherwise, as well as being forever dubbed a flop, Carroll will be damaged goods.
Follow Rob Stewart on