ANALYSIS
By
Greg Stobart
at Etihad Stadium
"I knew it was the right time to happen. You can't go on forever. I know how my body has felt. You're at a top club with the best players and you just have to realise your legs can't do what you want them to do"
-
Paul Scholes, June 2011
Something made
Paul Scholes
knock on
Sir Alex Ferguson
's door at the end of last week and announce that he had changed his mind. Maybe it was the way he had been training with the reserves in recent weeks, perhaps it was the sight of
Rafael da Silva
and
Ji-Sung Park
labouring in central midfield during
Manchester United
's home defeat to
Blackburn
on New Year's Eve.
Whatever the reason, the player nicknamed 'Sat Nav' by his team-mates decided to answer the club's SOS for midfield reinforcements - a U-turn announced barely an hour before Sunday's Manchester derby.
The news and consequent reaction of United fans - most delighted, some concerned by what the comeback represented - was drama derby day hardly needed, theatre incompatible with the 37-year-old's naturally unassuming nature.
What was suited to Scholes' outlook was the thrilling game that followed, a 3-2 win in which he played the final half-an-hour after replacing Nani as a 59th minute substitute to a hero's reception from the 5700 United fans in the South Stand of the Etihad Stadium.
The man described by Wayne Rooney (and many others) as "definitely the best player I have played with" pulled on a United shirt 225 days after his last appearance for the club, in the Champions League final defeat to Barcelona at Wembley.
With his No.18 now adorned by Ashley Young, Scholes took to the pitch wearing No.22 as he once again represented the only club he has known since he joined the Academy at the age of 14.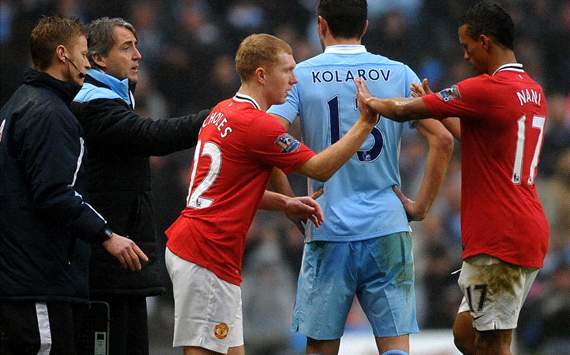 He's back | Scholes made his return from the bench in a thrilling FA Cup derby
"It's fantastic that Paul has made this decision," Ferguson said of Scholes' reinstatement. "It's always sad to see great players end their careers, especially so when they do it early."
Adding that Scholes was in "great shape" and insisting there were "no negatives" to the deal, Ferguson looked delighted to have an extra man in a squad severely depleted by injuries to key players.
Yet while his experience and technical ability might initially be seen as a no-brainer for United, it also raises questions about the state of the Ferguson's squad, not to mention the funds available to compete with City's petrodollars.
For all the talk about United's young squad, it says little for Academy stars such as Paul Pogba and Ravel Morrison that the club has resorted to recalling a man who hadn't played a competitive fixture for seven months, who was thought to have waved his final goodbye to Old Trafford following his testimonial in August. Pogba, in particular, is considering his future at the club and the 18-year-old must surely be wondering whether he will ever get his chance to shine given the weakness of United's current midfield.
SCHOLES WATCH
HOW THE COMEBACK WENT

59'

Gets his first touch and exchanges neat passes with Michael Carrick, receiving a rapturous reception at the same time.
64'

Gives the ball away with a sloppy touch from a United throw in, City break and Aguero scores.
68'

Gets clattered in mid air as he goes up for a header alongside Micah Richards.
69'

Slides in with an important challenge with City on the counter-attack.
72'

Hits a trademark strike from 20 yards out following Valencia's lay-off but Pantilimon gets down well to stop and hold the shot.
74'
Dinks a fine chip out to the left flank as Evra advances down the channel.


80'

Gives the ball away again, this time to Aguero as the hosts plough forward in search of an equaliser.

84'

Keeps hold of possession well in the middle of park with United looking to see out the game.
90'
Threatens to shoot but plays in Rooney on the edge of the area.
As a short-term fix, Scholes offers a useful option. He is not, however, the man to help United achieve their stated aim of supplanting Barcelona as Europe's premier team, never mind the immediate requirement to compete with City for this season's Premier League crown.
What United really want is a player close to the level Scholes was reaching a decade ago. But then again, who doesn't? In his press conference on Friday morning, Ferguson conceded for the first time that United need new signings as he responded to calls from supporters for quality midfielders who can dictate games. "What can you get in January? The players we'd like we can't get," Ferguson said. "If the alternative is to sign a second-rate player, we don't want to do that."
A central midfielder will remain the top priority in the summer, with the likes of Tottenham's Luka Modric high in the club's thoughts as they search for a top class, long-term replacement to Scholes - something Ferguson failed to do last summer when United missed out on Wesley Sneijder.
United's attempts to land Sneijder failed over money and Scholes' comeback will once again raise issues over just what funding is available to improve the squad. Ferguson claims the cash is there if he needs it, but supporters are justified in fearing the Glazers - who have drained so much money out of the club - won't back their manager in the transfer market.
Scholes' return will be judged on his performances, the measure by which he has always appraised himself. Ten league titles, one European Cup, three FA Cups and two League Cups - not to mention 66 England caps - suggest he didn't do too badly the first time around.
He will only be returning because he feels he still has something to offer, based on his performances on the training ground and view from the stands. The carrot-topped genius doesn't do egotism; he's always been considered a throwback to the good old days.
He has never had an agent and throughout his career made a point of shunning the media spotlight and the trappings of fame. For Scholes it has always been about what you do on the pitch: control, passing and shooting. It's a simple game.
He did that to some effect on Sunday, although his glorious comeback got off to an alarming start when he conceded possession for City to score four minutes after his introduction. It did little to ease fears that Scholes might struggle to rediscover the pace of top-flight football, a question that surely can't be answered after just 31 minutes of action.
But while he seemed to be breathing rather heavily in the final minutes, Scholes did play an important role as United saw the game out in unlikely circumstances to book a fourth round clash against Liverpool, their other great rivals.
Scholes found the rhythm of the game and the 71 passes he made after coming on - 97 per cent which were completed - were more than any City player attempted in the entire game.
For a moment, the United fans sensed a fairytale moment when he tested City goalkeeper Costel Pantilimon from 20 yards, but in general he was happy to sit deep and play short, simple passes to relieve the pressure.
Scholes, having admitted his legs have gone, has taken a calculated gamble by returning to the United ranks until May. A derby day victory will leave him satisfied he made the right decision - but will it be enough as United tackle more underlying issues?
Follow Greg Stobart on