The striker was woeful in defeat to Newcastle, Andre Villas-Boas was snubbed by the cool kids, Suarez & Dalglish disgraced Liverpool (again), and Barton was a whopping hypocrite
By
Nick Price
Wayne Rooney deserves another fine
The Manchester United striker was sanctioned by Sir Alex Ferguson for a sloppy performance in training the night after he, Jonny Evans and Darron Gibson allegedly went out for a few beers (the Red Devils boss evidently has a keen eye as
WWLTW
would not be able to tell the difference between Gibson at his best and Gibson stumbling along with a steaming hangover).
But being docked a week's wages and being dropped from the team evidently wasn't enough to compel the sulky striker to put in a decent, or even professional, shift as he looked more cumbersome and less useful than a giant cement mixer on the pitch against Newcastle.
Rooney was so bad in the 3-0 win that he was hooked off with 26 minutes left, being replaced by Anderson, who seems to have sold the semi-detached house that served as his enormous backside for the past three years.
It was a performance so rotten it merits another fine. And maybe a pair of scissors through the striker's newly thick head of hair.
Suarez's pathetic apology cannot make up for his, Liverpool's & Dalglish's shocking lack of class
We covered the
Reds' repulsive response to the FA's ruling a fortnight ago
(earning this writer dog's abuse and a Twitter mention column full of nonsense 'evidence' from Liverpool fans who seem to prioritise propagandising for a football club above their own morals and rational thinking), but now the full written evidence against the Uruguayan has been revealed and yet the club continues to act like a classless bunch of cretins.
Suarez released a statement on Tuesday in which he seemed incredulous that the term 'negro' might be considered sensitive when used in an argument with a black man. Dalglish, who really ought to know that using such words in an aggressive way is more than just a touch insensitive in this country, then faced the cameras – fortunately not wearing a stupid t-shirt, though
WWLTW
bets the idea crossed his mind – and said his striker had released a "brilliant" statement, before refusing to accept that the Uruguayan ought to apologise for his choice of words.
Eventually Suarez did finally see sense, though one suspects he was forced to, and posted a self-serving statement on the club's official website apologising if his choice of words offended anyone. Pointedly, the man found guilty of using racist language chose not to mention the man who he actually offended in his unconvincingly contrite comment.
Well played Suarez, Dalglish and all the Anfield boardroom – you've bismerched a club famed for having a noble social conscience. Now go employ someone with the power to vet any ludicrously overzealous statements and to zip the manager's mouth.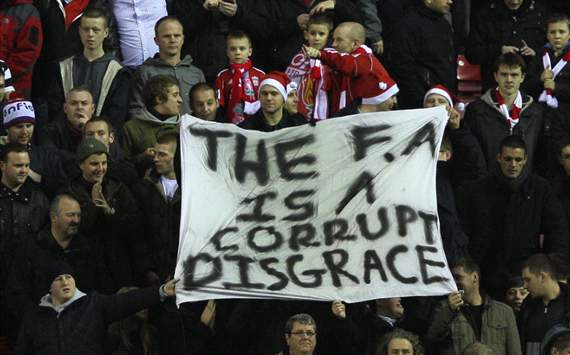 Bet you feel embarrassed now? | A stupid banner that summed up Liverpool's fecklessness
What we will learn this weekend...

After scoring from over 100 yards out (just shy of an average Andy Carroll first touch), Everton goalkeeper Tim Howard will be snapped up by Chelsea to give Fernando Torres some tips.

Oldham's ridiculously naff attempt to generate an atmosphere by lighting up Anfield on Friday – the club are trying to get their fans to count down from 20 before waving their phones in the air – will backfire as 6,000 supporters instead drop their pants and moon the Kop when they reach zero.

Carlos Tevez will finally move to AC Milan after the Argentine's family, who the striker so desperately wanted to be with in Buenos Aires, plead with Manchester City to cut a deal after getting sick of him like everyone else has.
Villas-Boas' goal celebration backfires as none of the cool kids get involved
Last month reports emerged that the Portuguese boss had asked his players to include him in their goal celebrations to boost morale. The story was quickly dismissed by the Chelsea manager, presumably because it made him sound ridiculously clingy and desperate, which doesn't combine well with the fashion faux pas of a ginger beard (only Chuck Norris can get away with one of them).
But against Wolves on Monday, the boys in blue did swarm towards their boss after Ramires burst the net with a rasper. They were all there with the manager, cuddling him, patting him on the head, and doing a little jig to share their jubilation. All except John Terry and Frank Lampard, who stood apart and looked at the scenes unfolding as though they'd turned up at the uncoolest house party in high school and didn't want to be seen there.
Villas-Boas must have been wounded.
Go on lads, ease up and join in the shameless display of sycophancy and embrace the bootlicking boogieing – the man loves it, and heck, it's good fun for us viewers too. Just don't pass to Fernando Torres though, boys, or there'll be no chance of celebrating anything.
Joey Barton is a massive hypocrite
Ignoring his claims to be a pacifist despite punching seven shades out of a 16-year-old (amongst other on and off-pitch acts of mindless violence), the QPR captain further descended into the realms of stupidity when he lamented his sending off for an apparent headbutt on Norwich midfielder Bradley Johnson.
Taking to Twitter, the refuge of nutjobs the world over, Barton bemoaned the softness with which players go down, saying he never touched Johnson and hinting he may go down the route of suing the Norwich man for playacting or even the referee for getting the decision wrong – well, he does know a thing or two about the criminal justice system.
He has a point that playacting makes officials' jobs hideously tough, but to suggest anyone deserves to be sued for making an honest mistake was ridiculous, while to decry an opponent for indulging in the dark arts of acting was outrageously hypocritical. The man is becoming a parody of himself.
At the beginning of the season, after being brushed by the giant foreheaded Gervinho, Barton admitted he was compelled to go down, indignantly blurting to reporters: "In 20 years of the Premier League there has been an influx of diving, and I sound hypocritical because I am guilty of going down too easily but if I didn't and stayed on my feet, I could be making my own team suffer."
Now Joey,
WWLTW
finds you to be a rather amusing, mildly misunderstood, and on the whole quite likeable bloke, but even you must admit you're being a humungous 'helmet' by complaining about Johnson making a meal of a bit of contact after what you did in August?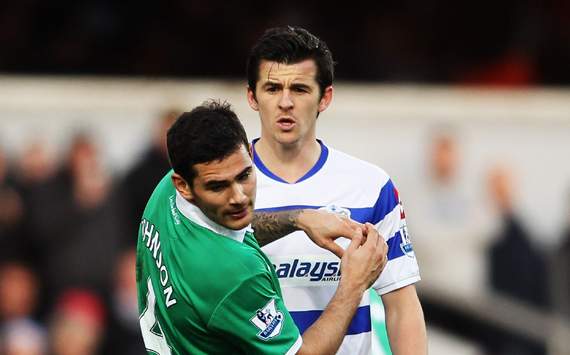 Master and apprentice | Johnson took his cue from one of the best in the business
Arsenal fans are slightly less hypocritcal
On Sunday the club's official website caused a stir by accidentally – yeah, right – banging up a picture of Thierry Henry posing in this season's home kit, despite a move from New York Red Bulls being far from finalised.
Arsenal fans reacted with delight at the sight of the iconic forward back in a red and white shirt, which is rather unlike how they reacted when Cesc Fabregas was forced to don a Barcelona jersey in 2010.
WWLTW
seems to remember them spitting feathers then, and going – and this is putting it mildly – bats*** mental about a lack of respect whenever the Catalans posted the merest hint of praise for the midfielder when he was still a Gunner.
Seems a bit hypocritical to be getting the buntings out and boasting about how great it is to have Henry back before a deal has even been done then, eh? Think how 'disrespectful' that is to those poor Red Bulls fans, you cruel buggers.
To be fair though, it is only a loan deal and those smirks will turn into awkward sighs when they realise that Henry – a man who once used to be complemented by Dennis Bergkamp and is now the poorer half of a partnership containing Luke Rodgers – isn't quite the fleet-footed magician he once was.