COMMENT
By Greg Stobart at Etihad Stadium
For the first time in 82 years, Manchester City are top of the league on Christmas Day and playing with such style that the club's fans can be confident Roberto Mancini's side will still be there at the end of the season.
On Wednesday night, the leaders swatted aside Stoke City with a 3-0 victory to complete 2011 unbeaten at home having dropped only two points in the calendar year. It was another home game, and yet another comfortable victory as Sergio Aguero struck twice either side of a long-range effort from Adam Johnson.
It was a performance put into an even starker context as it fell two days after Mancini celebrated his second anniversary in charge at the Etihad Stadium. The Italian can reflect on rapid progress made under his guidance in forming what is now undoubtedly the strongest squad in English football.
Yes, the Abu Dhabi petrodollars have been the driving force behind their re-emergence, but it has taken Mancini's guiding hand to knit all the pieces together to get to the stage where they are favourites to win the league title heading into 2012.
It has sometimes been a bumpy ride handling the dressing room egos - testimony to which is the ongoing Carlos Tevez saga - but Mancini has operated with single-mindedness and direction to build a squad characterised by balance, quality and winning mentality.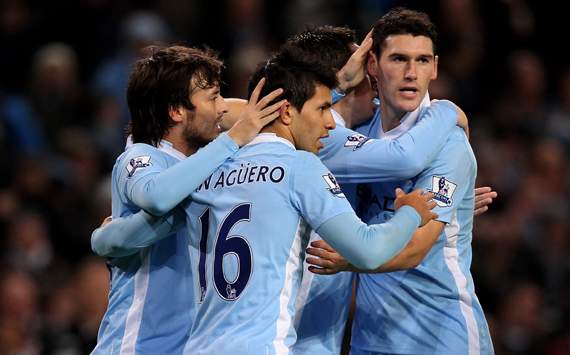 Blue Christmas | City secured their spot English football's summit with the Stoke win


"We are staying up," chanted the home fans just before half-time on Wednesday night, a self-deprecating nod towards the club's not-too-distant history in the lower leagues and perennial battles against relegation.
Yet City are no longer defined by inconsistency and unpredictability. There was an air of inevitability about their victory even before Aguero opened the scoring with a tap-in in the 29th minute.
Tony Pulis' side arrived at the Etihad Stadium determined to put nine men behind the ball in the hope of frustrating their opponents and threatening the hosts at set-pieces when possible. The story was told by the fact that Stoke failed to register a single shot on goal.
CITY'S RECENT CHRISTMAS POSITION


2002-03
2003-04
2004-05
2005-06
2006-07
2007-08
2008-09
2009-10
2010-11
2011-12

12th
11th
10th
7th
15th
4th
18th
6th
3rd
1st
24 pts
20 pts
23 pts
27 pts
20 pts
34 pts
18 pts
29 pts
32 pts
44 pts

While some teams might panic when faced with a wall of defenders, City always looked completely confident, with Yaya Toure setting the tone in midfield as they manoeuvred the ball with possession football, keeping it on the ground to also nullify Stoke's aerial strength.
In Aguero, the Blues boasted the star man on the pitch and a key indicator of how they have developed in the last year from top four challengers to title contenders. The Argentine took his Premier League tally to 13 so far this season with two predatory goals inside the penalty box to cap an energetic, skilful all-round display.
Pulis looked almost aghast as he discussed Manchester City's strength in depth after his side's humbling. Mancini was able to give David Silva a hard-earned breather by bringing on Mario Balotelli; while Johnson scored a stunning, venomous strike on his first league start since mid-October.
Stoke were lucky, in the end, that their opponents took their foot off the pedal in the second-half, operating in cruise control as they looked to conserve energy at the start of a hectic holiday fixture schedule.
"I'm happy for our supporters that we are top at Christmas," Mancini reflected after the game. "They can have a good Christmas day but the important thing is to be there at the end of the season."
Those fans will be happy with what they have seen over the last two years, and particularly the last 12 months. Mancini has brought Champions League football to the blue half of Manchester and, of course, he delivered the FA Cup in May, City's first major trophy in 35 years.
The way the season is going, City can have plenty more to look forward to in 2012.
Follow Greg Stobart on