EXCLUSIVE
By
Rob Stewart
Former
Arsenal
left-back Nigel Winterburn knows what it takes to win the
Barclays Premier League
title and as his old club prepare to face pacesetters
Manchester City
on Sunday, the game is already looking as though it will be one of this season's defining matches.
Winterburn, who helped Arsenal reach the summit of English football three times, believes stifling David Silva could be the key to the Gunners' chances of success at the Etihad Stadium, where City will be out to show they have the character to bounce straight back from their first defeat of the season at Chelsea.
Gunners skipper Robin van Persie represents the most obvious threat to City and while Winterburn, who played almost 600 games for Arsenal in 13 trophy-laden years, believes man-to-man marking could be the key to halting him, but thinks even that might not be enough to keep the Dutchman quiet.
Speaking exclusively to
Goal.com
, the former left-back has given his thoughts on where Sunday's game could be won and lost...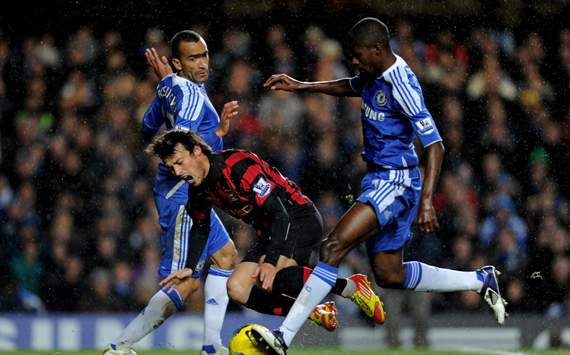 "This will be the crux of the tactical battle and the success that City have in getting David Silva into the space between the Arsenal back four and midfield will go a long way to deciding this game.
"If Arsenal can condense that space then they could really stop City playing so they will have to keep those lines very tight as well as the ones between attack and midfield, and if they do so and make City make several passes before they can get the ball in behind the midfield to get at the defence then Arsenal can do very, very well but many a team have tried to do that against City and failed this season.
"The main responsibility for protecting the defence will fall on the shoulders of Alex Song. He is the main holding midfielder although over the last few weeks he has set up a couple of Robin van Persie goals which shows he is not just a defensive player.
"But he will be looking out for creative players such as Silva who drift in and around the attack or Mario Balotelli when he drops deep to squash that space so the pass doesn't come through to the strikers, because if the defence is exposed then you would expect City to create goal-scoring chances."
Aleksandar Kolarov vs Theo Walcott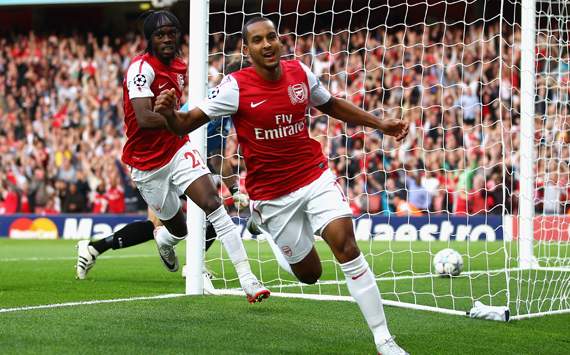 "I'm sure that Theo Walcott will be gutted that he won't get the chance to show Gael Clichy that he was wrong to leave Arsenal last summer but privately he must also be pleased that his former colleague is suspended after getting sent off at Chelsea.
"It means that Theo will be up against Aleksandar Kolarov who is excellent on the ball, especially when he is going forward but I am not so sure about his defensive qualities so that is one area that Arsenal could get the upper hand in because of Theo's pace.
"Plus his consistency over the last few weeks has been at a very high level, and if Arsenal can get enough of the ball to Theo then they could do really well down their right wing and both Theo and the team as a whole will go to Manchester with plenty of confidence because they have been playing really well of late."
Adam Johnson v Thomas Vermaelen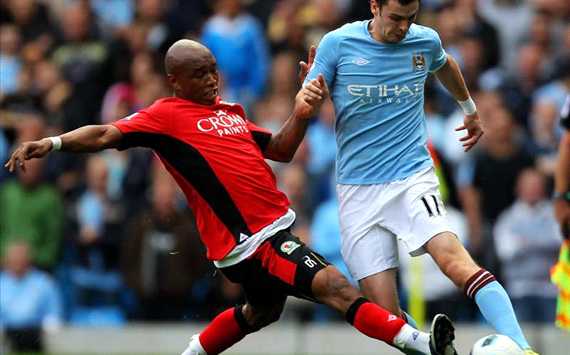 "It's far from ideal that Arsenal have got both left-backs out with injuries to Kieran Gibbs and Santos but Thomas Vermaelen should be able to fit in nicely and make sure that their absence is not too much of a problem because he plays in that position for the Belgian national side.
"If he comes up against James Milner he will be facing one of the most hard-working players in English football, so he will have to be on his toes, but I reckon that Adam Johnson could be handed a starting slot because he is an orthodox jinking left-winger with nifty foot-work and Vermaelen will have to be ready for him cutting inside from the right flank."
Joleon Lescott v Robin van Persie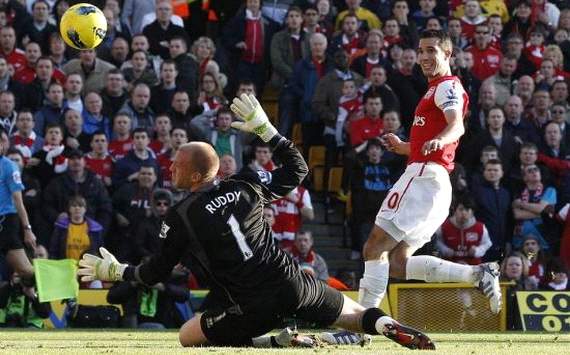 "There seems to be no stopping Robin van Persie at the moment but occasionally he can get a bit isolated. If you are brave enough then one of the centre-halves can almost go man-for-man as long as the other has the awareness to switch and cover other positions very quickly.
"That is one way you could try to halt him but Van Persie's movement of late has been absolutely sensational and some of the goals he has scored have been brilliant. But that's not all he brings to the team because the amount of space he creates for some of the others has been outstanding as well.
"I liked Joleon Lescott when he was at Everton but I wasn't 100 per cent sure about but I have to admit that over the last couple of months I have been really impressed with his performances, particularly when he has stepped in and played for England.
"I think Vincent Kompany has outstanding qualities so they have a strong central defensive partnership and is certainly one that is good enough to cope with the Barclays Premier League."
Samir Nasri v Mikel Arteta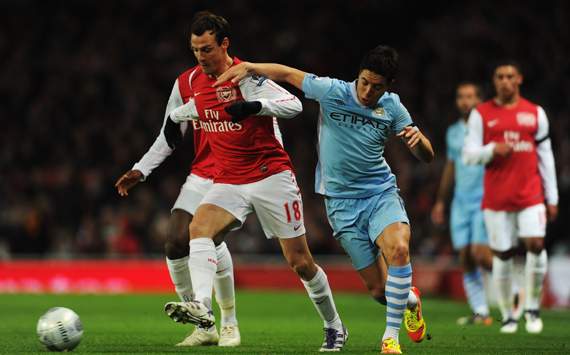 "If you asked would I have liked Samir Nasri to stay at Arsenal, the answer to that would be 'yes'. But if you asked me do I think Samir Nasri has played anywhere near the level he played at for Arsenal as he has done at Manchester City then the answer I would give is 'no'. I don't think he has produced form that is anywhere near as good as it was when he was at Arsenal, particularly in the first half of last season.
"Sometimes it can take players quite a while to settle down into a new system. Everyone wants to hit the ground running and reach a high level immediately but for some it just doesn't work. What you need to look at is where he is being played on a regular basis and what he is being asked to do.
"Unfortunately if you are not in and around the training ground you are not privy to all of that. But he is certainly not making some of the runs he made at Arsenal now he is at City. But he is a quality player and I am sure that he will be very, very effective in the near future.
"Mikel Arteta has done a fantastic job since he came to Arsenal. He has great ability on the ball but his work ethic has really surprised me. When he was at Everton I saw him play plenty of times and I was always really struck by his quality on the ball.
"But since he came to the Emirates I have been staggered by his work-rate when it comes to his defensive duties. He has been absolutely outstanding in that department, particularly when it comes to backing up fellow midfielders or even Santos when he darts down the wing from full-back. He is clearly relishing the opportunity of being at a really big club."
Follow Rob Stewart on