COMMENT
By Josh Clarke at the Emirates Stadium
The powers that be at the Emirates left no stone unturned in the challenge to make the celebration of Arsenal's 125th anniversary as historic a day as possible.
Statues of club legends were unveiled in the build-up to the visit of Everton, with match day carnivalised by marching bands, giant silver cannons and a roll call of the great and the good from the Gunners' history.
The largest cheer of the pre-match antics - accompanied by wistful cheers of 'Arsene, Arsene sign him up' - was reserved for returning club record goal scorer Thierry Henry. Yet, as the final whistle blew in north London, there was only one talisman in the minds of the Arsenal faithful.
To say that Robin van Persie is up alongside Henry in the hearts of the club's support would be misguided and premature at best. The old number 14 had a unique style and grace that is unlikely to ever be replicated in sentiment. However, in his ruthless hunting down of Henry's goalscoring records, the Dutchman is doing as good a job as empirical observation will allow.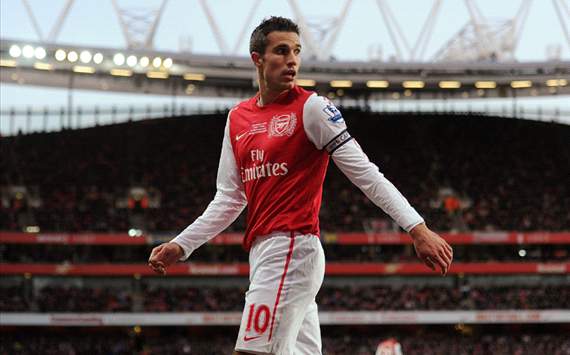 Legend in the making | Van Persie scored his 33rd goal of 2011 against Everton
The captain's solitary goal in the 1-0 win over Everton leaves him on 33 goals in 32 Premier League games this calendar year. Henry managed 34 in 39 back in 2004, while Alan Shearer, back in the days of an extended campaign, chalked up 36 in 42.
With four games left until we welcome in 2012, if Van Persie adheres to the mean average of 1.03 goals per game that he has set himself this year, he will surpass both legendary marksmen. Trips to the Etihad and Villa Park, followed by the hosting of Wolves and QPR represent the chance for Van Persie to crystalise a record that spells out on paper, in black and white, his remarkable achievement.
A YEAR TO REMEMBER


VAN PERSIE'S CURRENT RECORD

GAMES PLAYED
GOALS SCORED
AVERAGE GOALS PER GAME


32




33


1.03


HENRY'S RECORD IN 2004

GAMES PLAYED
GOALS SCORED
AVERAGE GOALS PER GAME

39




34




0.87

SHEARER'S RECORD IN 1995

GAMES PLAYED
GOALS SCORED
AVERAGE GOALS PER GAME

42




36




0.86
Yet, Van Persie's contribution to Arsenal is so much more than just numbers.
As has so regularly been the case this season, Van Persie stepped up to conjure one moment of magic to plunder all three points for an Arsenal side that has flattered to deceive when on the front foot.
This time round it was an audacious first-time, left-footed volley from Alex Song's raking pass that flew in off the far post when the Gunners were seemingly all out of ideas and destined to be held to a tepid 0-0 draw that would have juxtaposed the backdrop of the day in the ugliest of manners.
With a wry smile in the press conference after the game, Arsene Wenger gestured towards the historical familiarity of Arsenal and the 1-0 win. The boss was quick to attribute praise to his side's defensive solidarity though, in fairness, Everton's goal threat was non-existent.
It was a 1-0 win that, rather than being built on rigid stoicism or masterful organisation, served to further underline the importance of Van Persie's clinical disposition to the Arsenal team. Nevertheless, it was a scoreline that encapsulates an Arsenal return to fortunes of old.
Indeed, the result proved even more symbolic than that, with the – albeit potentially temporary – propulsion of the Gunners back into the top four of the Premier League table.
It was a day that began with pomp celebration of the history of Arsenal Football Club but ended with Robin van Persie further proving his vital significance to the Gunners of the here and now.
How do you stay up to date with football when on the move? With http://m.goal.com – your best source for mobile coverage of the beautiful game.