SPECIAL REPORT

By Wayne Veysey | Chief correspondent
In the upper echelons of Chelsea, all the talk is of one club: Barcelona. How to emulate the most accomplished team of this and perhaps any generation. The peerless brand of football, the relentless winning and the conveyor belt of world-class players.
Roman Abramovich has let it be known that the return he expects on his £800 million investment in Chelsea is an English version of Barcelona.
It is this which guided the dismissal of Carlo Ancelotti 12 months after winning the domestic double and the appointment of Andre Villas-Boas with a clear mandate to make Chelsea more than merely remorseless and efficient.
It is also the Barcelona-inspired approach which provides the Portuguese with greater job security than some of his predecessors.
Although Chelsea's youthful manager said in the aftermath of his team's fourth defeat in 12 league games that "there is no calling this year a transition", there is no expectation at the top of the club for a fourth domestic title of the Abramovich era this term.
Instead, an appreciation exists that building an entertaining and successful team takes time and Villas-Boas will be given it as long as there are signs that the holy grail of the Champions League remains within sight.
"The title is immaterial," a Chelsea source told Goal.com. "The only real target is third place and definite qualification for the Champions League to provide another opportunity to win the European Cup.
"It doesn't matter if they are 20 points behind Manchester City. If they finish third everybody goes on holiday happy and they do not have to pre-qualify for the Champions League, so pre-season is unaffected. Fourth is a lot worse than third.
"Villas-Boas needs to show there has been progress while providing entertainment and promise. Otherwise, it's all about Europe and reaching the later stages of the Champions League. The verdict on the manager will remain open until then."
Although Abramovich has built his vast fortune from making instinctive decisions and has shown during his eight-year reign that patience is not part of his vocabulary, there is a greater understanding in his ever-changing inner circle that it requires time to put in place foundations for a Europe-dominating dynasty.
"He didn't pay 15m [Euros] (£13.1m) to get me out of Porto and doesn't want to pay another fortune to get me out of here," said Villas-Boas, addressing the issue of Abramovich head-on. "It is not a question of the owner losing patience. We have set out to build something new at this club and the club is committed to what we are building for the future."
Guus Hiddink's availability following the end of his Turkey reign has raised the possibility of a return to Chelsea in some capacity but he has admitted that Anzhi Makhachkala interest him and is ready to open talks with the mega-rich Russian club.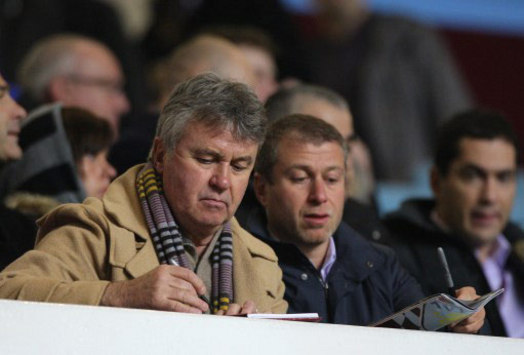 Guus on the loose | Hiddink is close to Abramovich but is ready to open talks with Anzhi
This may ease the pressure a little on Villas-Boas, who was the second choice behind Hiddink to replace Ancelotti but it does not diminish the size of his task at Chelsea, where he must simultaneously change the playing style while overhauling an ageing squad.
As the source pointed out: "The reality of why Chelsea don't play like Barcelona is because they don't have Barcelona players.
"Six or seven years ago Roman would have completely rebuilt the team and not really thought too much about it. But, of course, he now faces the restrictions of Uefa's Financial Fair Play regulations (FFP)."
In a bid to close the gap on Barcelona and Real Madrid overseas and Manchester City at home, Chelsea are concentrating on the Spanish market and the production line of technically gifted youngsters emerging from the home of the world and European champions.
Club officials have spent a great deal of time in Spain over the last month targeting the likes of the fringe players at Barca and Real in attempts to persuade them to follow the path trodden by Oriol Romeu, the 20-year-old midfielder who has already made a favourable impression at Stamford Bridge after accepting there were more too many superstars blocking his path to a starting place at the Nou Camp.
How much influence Villas-Boas has on player recruitment is open to debate. Moves to sign youthful pair Romelu Lukaku and Thibaut Courtois were in place long before Abramovich paid the Portuguese's buy-out clause although Juan Mata, Raul Meireles and Romeu all bear the stamp of Villas-Boas approval.
Nevertheless, Carlo Ancelotti let it be known that Fernando Torres was a luxury he could do without last January and another vanity purchase by the owner cannot be ruled out, assuming that ways can be found to circumnavigate FFP.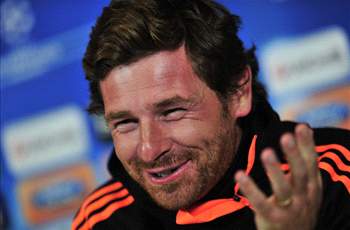 Despite the bumpy start, Villas-Boas has demonstrated that Jose Mourinho's understanding of the dynamics of a game have rubbed off on him.
Despite the bumpy start to his Chelsea career, Villas-Boas has demonstrated that Jose Mourinho's understanding of the dynamics of a game have rubbed off on him. His tactics and management of change have generally been sharp, such as his half-time adjustment against Liverpool on Sunday that replaced off-key defensive screen John Obi Mikel with wide attacker Daniel Sturridge.
Villas-Boas has also flexed his muscles and shown that the era of the untouchable spine is over. Frank Lampard, Didier Drogba and John Terry have all been victims of their own haphazard form and axed at various times, even if occasionally it has been dressed up as 'rested' in the modern way.
Perhaps the biggest question mark when he took the job was his exposure to the big-name players. There is a suspicion that some of his selections have been the result of the legendary Chelsea dressing room politics, such as the reluctance to use Brazilian centre-half Alex, who featured in the team that drew blanks at Stoke City and Blackburn Rovers in two of his three Premier League appearances this season.
Nevertheless, the players have responded to his modern methods. "The training is good," added the source. "His personality is good. When things are going well everyone is happy. The true test is when times are more difficult, like now."
All the while, his boss dreams of a team who play and win like Barcelona. Some task.