The need for increased revenues for the Tyneside club is clear to the most ardent of supporters, but the famous ground's name should have been untouchable
FANVIEW
By Ed Harrison | The Newcastle United Blog
Newcastle United fans were shocked this week to hear that St James' Park will be renamed Sports Direct Arena.

Mike Ashley seems to like to shock people - like sacking Chris Hughton last December, and then selling Andy Carroll last January. That was after new manager Alan Pardew had been telling everybody who would listen in January that there was just no way Newcastle would sell Carroll.

St James' Park is completely linked with the Newcastle United Football Club, but after no discussion about it whatsoever, suddenly the name St James' Park is no more.

Ashley's ruthless streak, which even Pardew has admitted he has, is once again on show. Dictators do what they want, whatever people think, and in that definition the Newcastle owner is a dictator, he simply does what he wants to do – after all it's his club.

But that's just not right somehow.

We are running a poll on the Newcastle United Blog, and at the time of writing with over 1900 votes cast, 63 per cent of readers disagree with the renaming, 26 per cent agree with it, and 11 per cent are unsure.From the comments on my blog, those that agree with it only want Newcastle United to be successful, and if that means renaming St James' Park then so be it.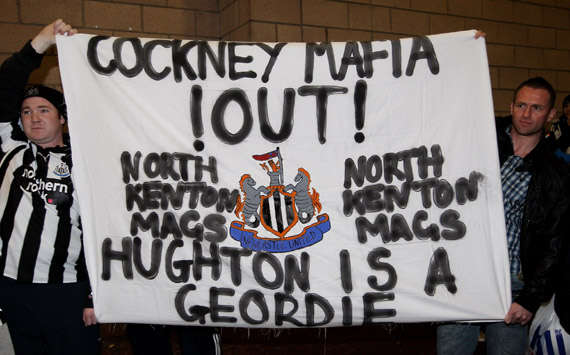 Disgruntled | The Toon Army have long opposed Ashley's ownership
However, the majority of fans think of St James' Park as part and parcel of the club, and while we fully understand that Newcastle need to generate more revenues if they are to keep up with the top clubs in England and Europe, some things are untouchable – and St James' Park is one of them.

It's also true that Newcastle revenues have not grown much at all over the last five years, and certainly our disastrous relegation in May 2009 didn't help that.

But in the last financial year ended last June we are hoping the club's revenue comes fairly close to £100 million, which it was a good few years back.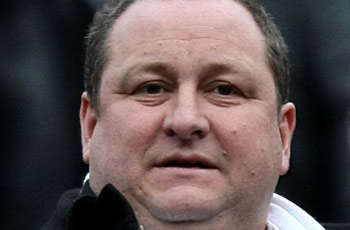 "Ashley's ruthless streak, which even Pardew has admitted he has, is once again on show."
With Newcastle now being back in the Premier League, and with crowds going over 50,000 at our home games, the revenues should be much improved over the previous financial year when the club was in the Championship.

The Premier League is now a global business - a very big global business - and there are big bucks to be made from the worldwide TV rights for every Premier League club, so just staying in the top flight, especially if Newcastle can finish in the top eight, would definitely help the revenues to rise.

Getting back into Europe for next season even seems possible at the moment, and that will also bring in extra revenues.

Chelsea, Manchester United and Liverpool have not renamed their stadiums yet, so it's got to be possible to make a lot more revenue than Newcastle are making at the moment without having to resort to selling the naming rights of St James Park.

We would like to have seen many other avenues of revenue explored and opened up, and keep the name of the stadium as St James' Park.

But Newcastle fans and supporters have no saying in the running of the club at all under Mike Ashley, and he does what he likes – he has just demonstrated that again.
How do you stay up to date with football when on the move? With http://m.goal.com – your best source for mobile coverage of the beautiful game.