COMMENT
By
Rob Stewart
at St James' Park
He may hail from London and speak with a Cockney accent but his background has not stopped
Alan Pardew
from turning out to be just like
Newcastle United
but only in microcosm as both club and their manager experience an upturn in fortunes following difficult times.
It once seemed unlikely but the former West Ham United manager is silencing those doubters who had started writing him off when his career hit the skids last season and he is now even being talked about as a future England manager following a series of setbacks.
And likewise Newcastle have emerged from a becoming a Premier League laughing stock when the club lurched from crisis to crisis three seasons ago before relegation to emerge as a Premier League force once again.
Against all expectations, Pardew is sitting pretty once again with the Tyneside club currently third in the Premier League and undefeated in 11 league games, just one and quarter seasons after a humbling campaign in the Championship.
That proved to be the ultimate reality check for a club with apparent illusions of grandeur that followed a flirtation with Champions League football and regular European action during and after the great Sir Bobby Robson's reign in charge of his boyhood club.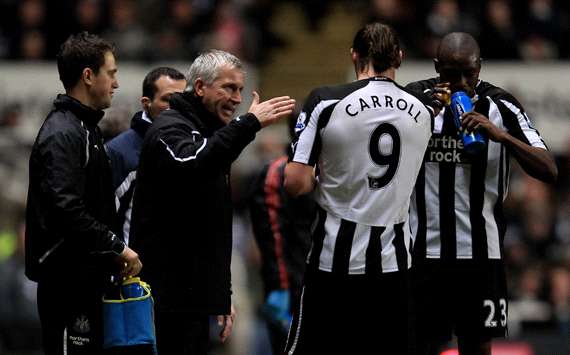 Calling the Toon l Alan Pardew has made light of Andy Carroll's exit to revitalise Newcastle
But Newcastle fans are not the only ones who have benefited from suffering a severe jolt because the same applies to Pardew whose is now flourishing as much as the club where he is employed against a gloomy backdrop on a personal and collective basis.
The 50-year-old is quickly rehabilitating his professional reputation following his shock sacking by Southampton last year by Saints chairman Nicola Cortese after a 4-0 win at Bristol Rovers as the club's nascent League One promotion campaign stuttered.
TOON ARMY ON THE MARCH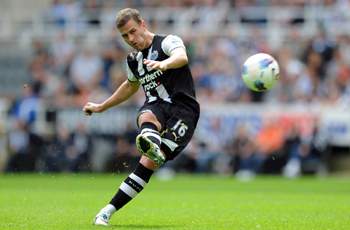 Newcastle's five best starts to a Premier League season
(first 11 games)

1994-95
Position: 1st Pts: 29 Finish: 6th

1995-96
Position: 1st Pts: 28 Finish: 2nd

2011-12
Position: 3rd Pts: 25 Finish: ??

1996-97
Position: 2nd Pts: 24 Finish: 2nd

2001-02
Position: 4th Pts: 20 Finish: 4th

Having been sacked by West Ham and Charlton previously, Pardew looked destined for the managerial scrapheap but he has bounced back emphatically at Newcastle since succeeding Chris Hughton last December.
Like Newcastle, Pardew has benefited from a spell out of the limelight because while out of work he worked hard on harnessing his coaching skills and broadening his know-how across Europe – he was in Germany when Newcastle came calling – and now the benefits are there for all to see.
Newcastle became renowned for kamikaze attacking and defensive frailties during Kevin Keegan's day but now the side in black-and-white stripes have been moulded into a cohesive unit whose whole is stronger than the parts of the parts and Pardew deserves immense credit for that.
He was pilloried for insisting Andy Carroll would not be sold last season before his £35 million move to Liverpool and then relegation struggle was predicted when mainstays Kevin Nolan and Joey Barton were allowed to leave the club last summer before Jose Enrique headed to Anfield.
Pardew wanted to keep the outspoken Barton but his pragmatism and tactical nous has enabled the club to move on without last season's outstanding performer and Newcastle have evolved with Yohan Cabaye now dictating their pass-and-move game as the midfield fulcrum.
It is in defence that Newcastle have really confounded their critics because in marked contrast to their predecessors, this team have a defensive resilience and spirit that has provided the platform for their surge to the dizzy heights of the Champions League places.
It probably will not last but the statistics show things are clicking at Newcastle because Pardew's team have the stingiest defence in the Premier League so far this season having conceded just eight goals following their battling 2-1 win over Everton.
And in Demba Ba they have a free signing whose eight goals this term mean he has out-scored Carroll who still has just four strikes to his credit at Anfield – a figure that vindicates Mike Ashley's decision to sell and keep the in the Newcastle bank account.
However, it is off-the-field that Pardew should take extra satisfaction because not only are the fans chanting his name these days but there are more of them than ever this season and they flock back to St James' Park.
The Everton game may have been televised but for the first time this season the St James' Park attendance topped the 50,000-mark. The good times are back for both Newcastle and Pardew.
Follow Rob Stewart on