ANALYSIS

By Liam Twomey at Loftus Road
While it could not boast either the shock value or the spectacular scoreline of the 6-1 annihilation of Manchester United a fortnight ago,
Manchester City
's hard-earned 3-2 win over
QPR
on Saturday arguably told us just as much about the Premier League title-chasers.
At Old Trafford, Roberto Mancini's expensively-assembled squad of superstars demonstrated that they possess the individual and collective quality to destroy any other team in the land when at their best. At Loftus Road, they proved they can still get the job done when blowing cold, rather than hot.
Nowhere on their domestic travels this season have City encountered such spirited resistance. Rather than sit back and hope to survive, QPR instead went for the jugular from the first whistle, looking to hem their more illustrious opponents into their own half and batter them into submission. They almost succeeded, and certainly deserved a point.
Yet, despite being second best for long periods, Mancini's men travelled back to Manchester with their five-point lead at the top of the table intact, and a winning streak which now stretches to eight matches in all competitions.
It was, in short, a contest which highlighted much of what marks Manchester City out as front-runners for the Premier League title.
YAYA TOURE HITTING HIS GOALSCORING STRIDE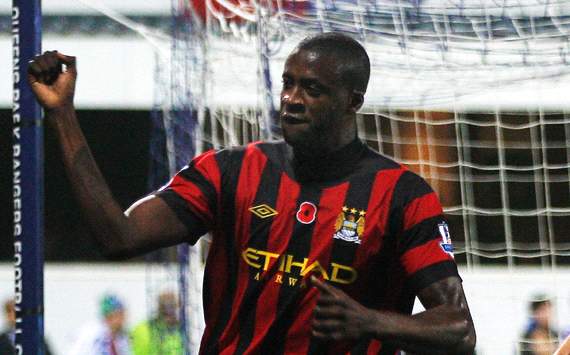 Regarded as merely a midfield destroyer by some of the less informed sections of the media upon his arrival at Eastlands last summer, Toure is so much more.
The big Ivorian's combination of power, skill and a cultured footballing brain means he is more than capable of being effective in a more advanced role linking up with a central striker, as Villarreal discovered to their cost on Wednesday.
Against QPR, Toure's job was primarily to stabilize the midfield alongside Gareth Barry, but he still found the opportunity to charge up-field and power a header past Paddy Kenny and win the match for his team.
With three goals in his last two matches Toure is clearly a man in form, capable of hurting opponents regardless of where he is deployed on the field.
DAVID SILVA ALWAYS PROVIDES A MOMENT OF GENIUS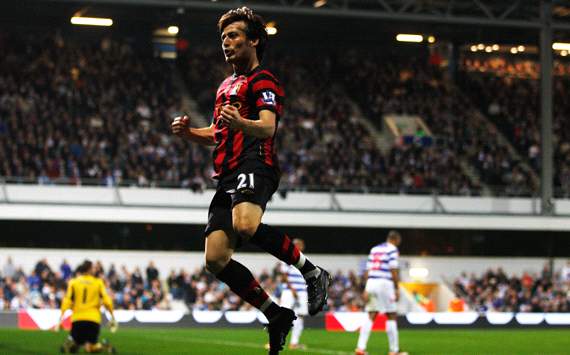 Conventional footballing wisdom dictates that form is temporary and class is permanent. David Silva has showcased both of late. He is a brilliant footballer in the form of his life, eviscerating opposing defences with peerless movement and vision on a frighteningly regular basis.
At Loftus Road, the form which prompted many to consider little Spaniard the outstanding player in the Premier League temporarily deserted him. QPR's high-tempo pressing and disciplined defence often forced him to drop very deep in search of the time on the ball he craves, particularly in the first half.
But despite not having things his own way, Silva never stopped trying to influence proceedings. He never chose to hide while his team-mates laboured to gain a foothold, and his unbridled class finally shone through in the 52nd minute when he took Edin Dzeko's low centre beautifully into his stride before lashing the ball low past Paddy Kenny.
At his best, Silva is a joy to watch, but Sunday proves that even when below-par, he is capable of making a decisive difference.
VINCENT KOMPANY IS SORELY MISSED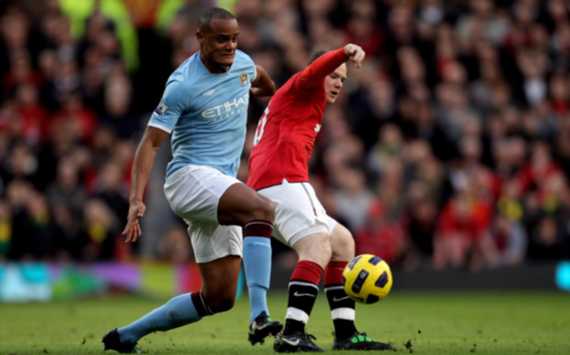 Joe Hart may have taken the plaudits for the 18 clean sheets City kept in the Premier League last term by winning the Golden Glove award, but Vincent Kompany is the rock upon which this formidable backline is built.
The Belgian is big, strong, quick and possesses a superb ability to read the play and anticipate danger. Yet even more crucial than any individual qualities is the benefit his presence brings to the team. He is a leader, organizer and all-round calming influence, inspiring confidence in his fellow defenders and planting a seed of doubt into the minds of opposing attackers.
With Kompany missing through suspension, City looked more vulnerable defensively on Sunday than at any stage this season.
Joleon Lescott is a solid rather than outstanding defender, and young Montenegrin Stefan Savic's lack of experience was shown up on his first Premier League start, as he was repeatedly caught out of position and dominated in the air by the excellent Heidar Helguson.
City managed to win without their captain at Loftus Road, but the evidence suggests they cannot afford to be without him for the sterner tests which lie ahead.
CITY SHOW THEY CAN WIN 'UGLY' TOO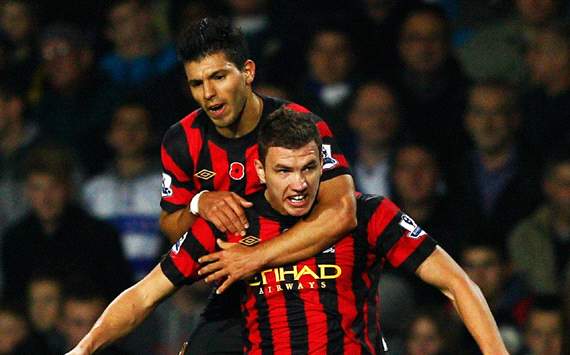 In his post-match press conference, City assistant manager David Platt admitted his side had put in their worst performance of the season against QPR. This, of course, is nothing to be celebrated, but the fact that victory was still achieved will be cause for encouragement inside Eastlands and considerable worry everywhere else.
The Premier League title race is as much a test of endurance as of quality. No side has ever won it playing the sort of football which has characterized City's blistering start to the season from August until May.
Adversity must be overcome at some stage, whether in the guise of injuries, fatigue, loss of form or just plain bad luck. At that point, unwavering resolve is just as valuable as talent.
While City were not exactly 'ugly' on Sunday – both Edin Dzeko and Yaya Toure's goals were breathtakingly clinical, and Silva's effort was a thing of beauty – their performance suggests they possess both qualities in spades.
NOBODY CAN CONTAIN CITY FOR 90 MINUTES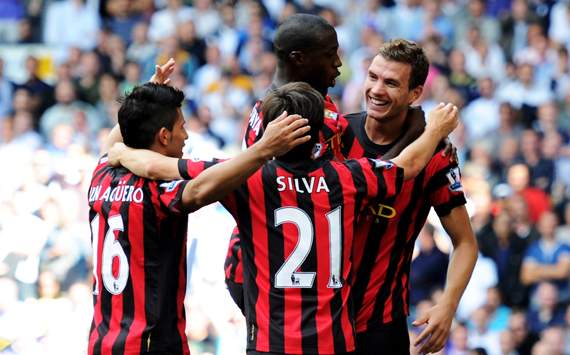 Even without the exiled Carlos Tevez, City possess an unrivalled array of options going forward.

Against QPR on Sunday their starting XI included over £100million's worth of attacking talent in the form of Dzeko, Milner, Silva and Aguero, with another £50m on the bench in the form of Nasri, Johnson and Balotelli.

These mind-boggling figures highlight the scale of the challenge facing any team wishing to compete against them. City's lavish spending has amassed a frontline which possesses not only the quality, but also the variety to win any match.

What's more, their attacking threat goes beyond the usual suspects. The likes of Milner and Yaya Toure have already demonstrated that they are capable of contributing goals from midfield, while rampaging full-backs Kolarov and Richards provide another potentially lethal outlet going forward, and Kompany and Lescott are a potent threat from set-pieces.

Only Bayern Munich have prevented City from scoring so far this season, and it already appears as though others will find it extremely difficult to repeat the feat.