The Geordie businessman who galvanised Newcastle has backed Ashley strategy and expressed admiration for manager Alan Pardew following surprise unbeaten start to season
EXCLUSIVE
By
Rob Stewart
Former
Newcastle United
owner Sir John Hall has hailed St James' Park supremo Mike Ashley's prudent ways following the Magpies' storming start to the Premier League season.
Sir John, who sold the Tyneside club to the Sports Direct founder four years ago, has voiced his support for Ashley whose decision to keep a tight grip on the pursestrings at St James' Park has been vindicated with Newcastle surging to third place in the Premier League following an unbeaten start to the league campaign.
In an exclusive interview with
Goal.com
, Sir John, who sanctioned the then world record £15 million signing of Alan Shearer in 1996, has backed Ashley's strategy of adopting a cautious approach to running the club and signing new players in the face of competing against the likes of Chelsea's billionaire owner Roman Abramovich and Sheikh Mansour at Manchester City.
"The only thing fans wanted is for you to keep throwing your money into a club but you can't keep doing that when you are competing with the likes of Chelsea because it is a recipe for bankruptcy unless you have a bottomless pit of money," Sir John told Goal.com.
"Ashley runs his business by keeping a very tight rein on things and he is doing very, very well. Sports Direct has done exceptionally well since he founded the company and he has brought his business principles to St James' Park.
"I don't have as much money as Mike but I would probably be doing the same as him. In my day we were local millionaires such as Jack Walker at Blackburn, Dave Whelan at Wigan and Bill Kenwright at Everton and we put our money into our clubs because we were fans.
"But now the game is being run by billionaires and for me it is wrong and stupid if any English businessman tries to compete with these billionaires who are coming in and I don't think are coming in for the right reasons. But is an open marketplace and a global business and it is going to grow bigger. But Ashley has a formula that is working and long may it continue.
"In my view when Roman Abramovich came in, the game in England changed forever and basically people threw money at it for reasons other than football. It is a global business but I don't think the right thing is happening for the fans."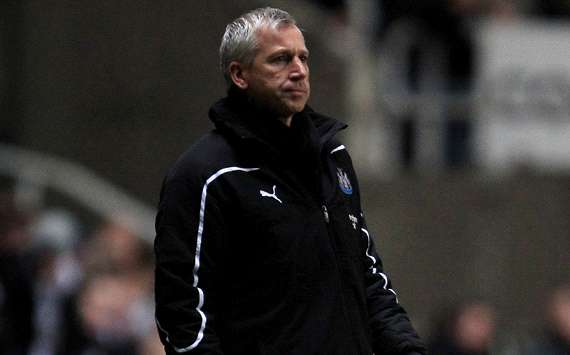 Talk of the Toon l Newcastle boss Pardew is helping Mike Ashley win over fans
Until this season, Ashley has been the subject of intense criticism from many Newcastle supporters - including Sir John himself - especially when the club was relegated from the Premier League and he has twice tried and failed to sell the club.
However, Sir John now believes he deserves praise from his former detractors.
"Mike Ashley has had a lot of unjustifiable criticism," Sir John added. "With some of the headlines he has got in the local press, I would have walked away if I had got them. But probably he came in not knowing football.
"He took a lot of advice from friends of his in the south of England which wasn't the sort of advice that Newcastle United needed and he suffered the consequences of it. He came in to the club to use Newcastle United as a brand to bolster his Sports Direct business and I still think that will happen.
"But he has got to be applauded for the position of the club at the moment. He spent money and he has bought players but he has bought the players he wants to buy and he is running the club in a manner which he wants to run it. He is a very astute businessman and he has got the team playing well and the club functioning well as a whole. He deserves credit and we should all be saying well done and carry on."
Sir John, who revolutionised Newcastle when he appointed Kevin Keegan as manager, expressed admiration for the work of current boss Alan Pardew.
"I am very surprised by how well Alan Pardew is doing but I am also very pleased," Sir John said.
"He left Southampton in difficult circumstances and there were a lot of dissenting voices because Chris Hughton was sacked to make way for him. Again you have to take your hat off to Pardew as well as to Ashley because of the influence that he has clearly had on the team.
"He is doing a great job. They attack with plenty of pace and guile and they are defensively sound which has not always been the case with Newcastle sides down the years.
"There have been some very good buys so Graham Carr who is doing the scouting for the club has done some great work. Cheik Tiote has been a tremendous buy and it is looking as though Yohan Cabaye and Demba Ba will prove to be the same. Plus they are playing as a team which is great because the importance of playing for each other can not be over-stated."
Sir John is hoping that the club that has not won a major domestic honour since 1955 can win a trophy during Ashley's watch.
"Everyone wants a winning team but we have always been the bridesmaid rather than the bride at Newcastle which is unfortunate," Sir John said.
"We are a big club in the sense of the amount of supporters that we have got but we are not big in terms of winning things.
"With the amount of money that is being spent in the game it is getting harder and harder and harder to win things. It can be done but it will be tough. I just hope that we can finish in sixth place and get into Europe again and continue to build again - that would be great."
Follow Rob Stewart on