COMMENT
By Joel Lamy at the Hawthorns
In his pre-match press conference,
West Brom
manager
Roy Hodgson
admitted that
Liverpool
"have done very well this season".
"They have spent quite wisely and bought some very good players into the club," he continued. "Their team is much, much stronger than it's been in a long while."
If he was slightly envious of the situation Liverpool manager Kenny Dalglish found himself in then it is no surprise.
A year ago, Hodgson was the main man at Anfield as the club went through a transition period, but this time 12 months ago a 1-0 away win at Bolton on Halloween weekend was only significant in that it lifted Liverpool outside the relegation zone.
Today, the situation for Reds fans is certainly more one of optimism after a year of spending that has left them with a squad able to challenge for top honours again, and more remarkably, without their two senior stalwarts.
It may be five years now since Steven Gerrard was winning trophies almost single-handedly for Liverpool, but this season he has been reduced to just two starts and missed the trip to the Hawthorns with an infection on his troublesome ankle.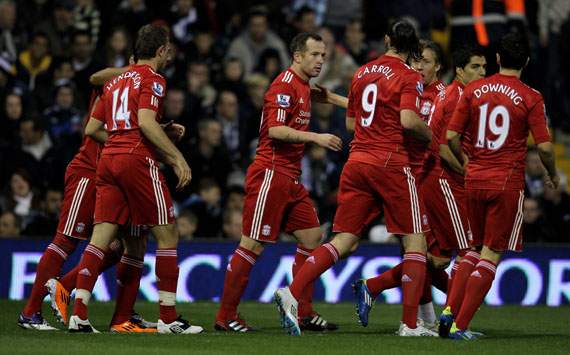 Adam's apple | Scot dispatches penalty to give Liverpool the lead at the Hawthorns
However, despite his absence the squad still looks stronger than it has for years; Daniel Agger and Martin Skrtel formed a formidable partnership in central defence against the Baggies, limiting the home side to just one half-chance.
This was Dalglish's side's first clean sheet in all competitions this season against a team who hadn't been down to 10 men for most of the mach.
In midfield, Lucas Leiva is another, like Skrtel, to have struggled in the past but he was one of Liverpool's star players against Albion, pulling the strings and protecting the defence.
And that troublesome left-wing position, which players such as Albert Riera and Ryan Babel were bought in to fill, looks finally to have been sorted out with Stewart Downing and Craig Bellamy both available to the Scot.
What a difference 12 months make

October 30, 2010

Position

18th

Played

9

Goal Diff'

-5

Points

9


October 30, 2011

Position

5th

Played

10

Goal Diff'

+4

Points

18

But it is in attack where Liverpool look strongest. With Gerrard having been out for most of this year, Luis Suarez has stepped up to the plate, lighting up the Premier League with his unquestionable talent.
He showed at West Brom what he is all about. He was the architect of both goals, and created other chances for himself which he failed to convert. Alongside Andy Carroll, the striking pair showed glimpses of a partnership beginning to form.
In the closing moments of the first-half, Suarez found Carroll with a lovely weighted ball into the area which the former Newcastle man tucked home to double Liverpool's lead. A far cry from last season, which saw an uninspired Fernando Torres languish around the pitch.
In their previous campaign, Liverpool lost 11 times on the road. And those who saw them play at Stoke City and Blackburn last season would surely testify that they had been outfought in both matches.
However, this season they have shown themselves capable of dominating their opposition, if not clinical enough to beat them. West Brom were certainly far from their best, but they weren't allowed to be due to Liverpool's dominance throughout.
Stoke, Manchester United and Norwich have all taken points off Liverpool, but all were fortunate to do so.
Only a defeat at White Hart Lane has soured their start to the season, but had they been more ruthless in front of goal they could so easily be sitting in second position, only looking up at Manchester City.
But that is one problem which continues to dog Liverpool – their ruthlessness. For all of Suarez's brilliance, he has the most off-target shots in the league and against West Brom he missed several opportunities to seal victory.
This should not come as a surprise, as Dalglish's side are still very much a work in progress and their target this season is fourth place, not first.
They face both Chelsea and Manchester City next month, which will give a greater idea of where they are at the moment, but there are certainly encouraging signs that even without their two leaders, there is still a bright future ahead for the club.