COMMENT
By
Wayne Veysey
at Loftus Road
Since sliding into the manager's chair at
Chelsea
,
Andre Villas-Boas
has been the epitome of well-groomed rationality.
He has cultivated an academic and sensible persona but his media offerings, all delivered in perfect English, have been almost universally guarded and bland.
On the whole, the Portuguese has been a controversy-free zone and any insight into the man behind the designer suits and exotic touchline body postures has been restricted to a concession that he likes to unwind by heading for the mountains on one of his off-road motorbikes.
Defeats, especially contentious and bad-tempered ones, tend to raise the heckles of even the most sane managers and the splendid new media suite at Loftus Road provided the platform for Villas-Boas to demonstrate that there is fire as well as ice in his veins.
He admitted to being "aggressive" towards referee Chris Foy and not caring what the official thought of that, thank you very much. He claimed Foy was unable to handle the emotion of a London derby, his decision-making was "poor, very, very poor" and dissected each and every decision which the official and his colleagues got wrong. For good measure, Villas-Boas offered the conspiracy theory that referees are biased against his Chelsea team, highlighting the Manchester United and Stoke City games as evidence to support his claim.
That little lot will not so much land him in hot water with the Football Association as sink him into a river of boiling liquid.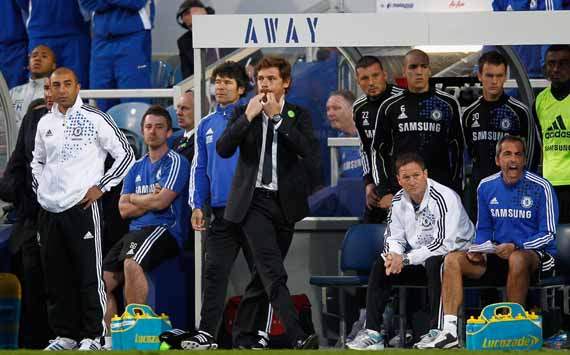 Villas-Bombshell | Chelsea boss launches tirade after defeat at QPR
It has taken just over two months of his debut campaign in England to see Villas-Boas uncut but here he was, raw with emotion and delivering machine gun sound bites like one of his famed predecessors and the man whose path he has followed so closely, a certain Jose Mourinho.
Was the 34-year-old's diatribe simply a cynical attempt to airbrush the lack of discipline in his own team, who had Jose Bosingwa and Didier Drogba sent off before half-time and accumulated seven other yellow cards by the time Foy called time on a derby classic which Neil Warnock reckoned would be recalled by QPR fans in "30 or 40 years"?
"
Everybody can have a bad day but this was not a bad day for Chelsea. This was a good day. It was a bad day for the referee
"


Villas-Boas' post-match rant
Or was it the one-eyed bleatings of a manager who couldn't see the wood for the trees and was sharpening his stick to beat others with in response to a defeat that left his team six points behind leaders Manchester City?
Perhaps both. In fairness to Villas-Boas, there was some validity to his claims that Chelsea did not have the rub of the green against their neighbours.
While David Luiz is an accident waiting to happen at centre-half in domestic encounters, the spot-kick award for his barge into Heidar Helguson was no more illegal than the second-half penalty box skirmishes in which Frank Lampard, John Terry and the Brazilian himself were on the receiving end.
When Villas-Boas claimed "if he [Foy] gives a soft penalty like that, he has to give a penalty on the opposite side" he had a fair point.
The Chelsea boss did not dispute Drogba's sending-off for an x-rated lunge that was as clear-cut as you can get but he claimed Bosingwa should only have received a yellow card for hauling back Shaun Wright-Phillips as the little winger whizzed into a goalscoring position.
His mitigation, that Bosingwa was not the last man because "JT was there to cover", was not backed up by video evidence, which demonstrated that Terry would not have caught up with the play even if he had a rocket strapped to his back with Mario Balotelli ready with a matchstick to light it.
So far, so normal. Manager of big club loses, manager of big club questions the decisions that contributed to the defeat.
But it was in claiming that referees are biased against Chelsea that Villas-Boas was on shaky ground.
"Conspiracy theories can lead to bans and lead to you calling us cry babies, and we're not. But it keeps happening," said the visibly angry boss.
Yet, sore losers were precisely how Villas-Boas and his petulant players appeared. To claim that officials are targeting deliberately targeting Chelsea is an insane theory, and an incorrect one, too. By even airing it, and highlighting the United and Stoke games – which, coincidentally, were the only other two Premier League matches in which his team have not taken all three points this season – Villas-Boas was almost embarrassing himself.
Chelsea lost at Old Trafford because they could not take advantage of the many excellent chances that they created as a result of an adventurous game plan devised, no doubt, by the manager. At Stoke, the robustness of the visitors' defence proved too difficult to break down. Neither setback was a consequence of referee incompetence.
It was the same at Loftus Road. QPR rode their luck but it was not the home team who had the names of nine of their players entered in Foy's notebook (Rangers received just two bookings).
When the dust settles, Villas-Boas may wish he had been a little less outspoken and a little less critical of those conducting proceedings. A little bit less like Mourinho, perhaps.
Pressure does strange things to people and it is now clear, 13 games into his Chelsea reign, that even the normally sober young manager has his fiery side.
How do you stay up to date with football when on the move? With http://m.goal.com – your best source for mobile coverage of the beautiful game.