SPECIAL
By Carlo Garganese | Deputy Editor
Some of football's all-time legends - including Marcel Desailly, Ruud Gullit, Joao Pinto and coaching icon Arrigo Sacchi - have offered their predictions on this Sunday's Manchester derby, and the almost-unanimous verdict is that
Manchester United
will emerge victorious over bitter rivals
Manchester City
.
The northern giants are fighting it out at the top of the Premier League, with only two points separating the unbeaten outfits after eight games of the new campaign. With 52 goals scored between them, and hundreds of millions of pounds worth of talent at their disposal - featuring world class stars Wayne Rooney and Sergio Aguero - the game at Old Trafford promises to be a fascinating spectacle.
Speaking at Betclic's Ambassador event in London, a selection of past footballing legends offered their predictions ahead of a match which is expected to be viewed by 1.4 billion people around the world.
Those on hand to give their forecasts were Germany's 1990 World Cup champion Thomas Berthold, two-time European Cup winner and Euro '88 hero Ruud Gullit, his former coach at AC Milan - the one and only Arrigo Sacchi, France's defensive rock from the 1998 World Cup and Euro 2000 successes Marcel Desailly, Portugal's previous 'Golden Boy' Joao Pinto, as well as ex-Swedish stars Glenn Stromberg and Pontus Kamark.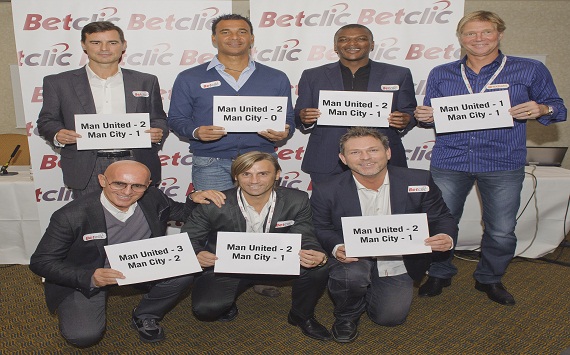 Clockwise from top left | Berthold, Gullit, Desailly, Stromberg, Kamark, Joao Pinto, Sacchi
Six of the seven legends predicted a home win for Manchester United, although of these only 1987 Ballon d'Or winner Gullit believed the difference would be more than one goal. Benfica and Atalanta hero Stromberg - described by Sven-Goran Eriksson as one of the five best players he worked with - was the sole ambassador to bet against United. 'The Marathon Man' prophesised a 1-1 draw.
Arrigo Sacchi, whose AC Milan side of the late 1980s and early 90s is regarded by many as the greatest club team of all time, went for the most entertaining outcome. The ex-Italy boss foresees a five-goal thriller at Old Trafford going in favour of the hosts.
The legends also offered their reasons for picking the above scorelines.
Manchester United will win, unless Roberto Mancini changes his tactics and packs the midfield. If he doesn't Utd will win






Marcel Desailly - Man Utd 2-1 Man City

The experience of Manchester United is sure to be decisive in this game, and I think as a result they will come away with the win






Ruud Gullit - Man Utd 2-0 Man City

I'm still not sure about Man City. They struggled in Europe and still need to prove themselves in the big games. Utd are stronger






Pontus Kamark - Man Utd 2-1 Man City

City are on track to get very close to Utd this season. Last year they only lost to Rooney's incredible goal. City are improving all the time






Glenn Stromberg - Man Utd 1-1 Man City

So it is all set up for the biggest game of the English Premier League season so far. The legends have given their predictions, but you can also have your say by leaving a comment below and voting in our poll.
Goal.com
will provide the very best online coverage of the Manchester derby, with previews, press conferences, live commentary, reports, ratings, reaction, pre-and-post-match features, and much, much more.
Betclic.com is one of the leading online gaming companies in Europe offering odds on all the top football action. Betclic.com works with football legends such as Marcel Desailly, Ruud Gullit and Arrigo Sacchi, who are all brand ambassadors for the online bookmaker. Visit Betclic.com for all the latest odds!
Expekt.com is a leading online bookmaker in northern Europe offering odds on all the top football action. Atalanta and Benfica legend Glenn Stromberg has been a brand ambassador for four years. For all the latest odds visit Expekt.com
Follow Carlo Garganese on