Former Kop hero warns against dangers of over-relying on the Uruguayan and Steven Gerrard but is confident Kenny Dalglish's Reds revolution is heading in the right direction
EXCLUSIVE
By
Rob Stewart
Liverpool
legend
John Barnes
believes that the Reds cannot afford to lose striker Luis Suarez to injury and must continue signing quality players because "they cannot win without him".
Liverpool, who face Norwich City at Anfield on Saturday, are sitting in fifth position in the Premier League and have been bolstered by the return of Steven Gerrard from injury but Barnes is concerned Suarez is having to shoulder too much of the attacking burden.
"Luis Suarez is fantastic but I wish it was not all about Gerrard and Suarez. Liverpol need a better squad so there is not too much focus on them because if Suarez suddenly gets injured and can't play you have got a problem and Liverpool can't win," Barnes told Goal.com.
"It can't just be about the one or two players no matter how good they are. You do not win things when you depend on one or two players.

"You don't want to be in a position where you have to rely on one or two people alone. Yes Suarez and Gerrard are both excellent players but they have to make sure that players are up there with them as well."

Barnes continued: "Steven Gerrard has been the best player in England for the last five years and he really he is a fantastic captain and Fernando Torres was superb as well for Liverpool for a couple of years," Barnes told Goal.com.

"Suarez is a great player but the great thing about football is that there is always someone else coming along who is going to become a great player. Things quickly move on in football.

The 47-year-old Barnes, who helped Liverpool win the title twice in ten trophy-laden years on Merseyside, insisted the club's American owners must be prepared to invest more heavily in new players if the Reds are to return to the summit of English football.

The former Anfield star believes that the Liverpool board must continue to back manager Kenny Dalglish in the transfer market to stop his team being too dependent on one or two key players to end their long wait for a Premier League title.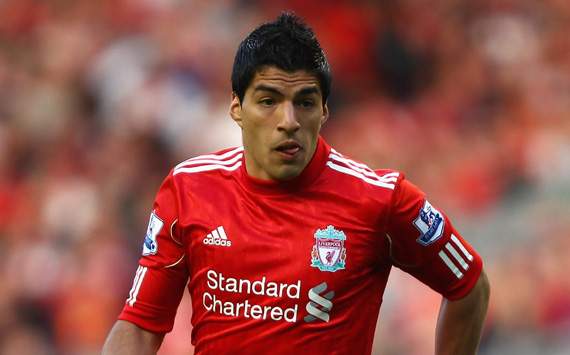 Kop idol | Luis Suarez has rapidly become Liverpool's key attacking threat
Liverpool owner John W Henry has sanctioned more than £100-million of spending on new players throughout 2011 on new players but Barnes believes the club are still too dependent on Steven Gerrard and Luis Suarez for its own good.

"Kenny is doing very well but no one should get carried away with over-expectation," Barnes added.

"Liverpool are good enough to finish in the top three or four. But it is still a bit too early for them to actually go on and win the title.

"They still need more quality and more investment in new players from the club's American owners but they are upwardly mobile and I am certain that Kenny will keep them heading in the right direction.

"But things are certainly moving in the way right – that is 100 per cent true. I have been away for the last five or six weeks in the Caribbean but when I get back I will go and see Liverpool and Kenny."

Jamaica-born Barnes is currently scouring the Caribbean for new talent as head coach in a joint venture between communications company Digicel and English Premier League side Sunderland.

"There are lots of potential Dwight Yorkes and Kenwyne Jones in the area but it is a question of whether or not they take their chance to prove themselves and whether or not they are given an opportunity," Barnes said.

"The quality is very high in the Caribbean. What is not in question is ability because they have very talent. But what also counts is the discipline, determination and spirit, but discipline is the most important thing. Mentality is the area where we as Caribbeans have to improve and that is what I have been stressing.

"Youth football is very well supported but what has to happen is that an environment has to be created for the boys to succeed from the ages of 16 to 21. Until 16 youth football is well backed and well run and well sponsored but then from the age of 17 you have to go out and get a job to feed your family so it is not an environment conducive to football development. You can see why they do not kick on beyond school."
The new Digicel Academy is a week-long elite training camp under the leadership of top Barclays Premier League coaches from the Sunderland Academy, assisted by John Barnes, which will take place in Trinidad. For more information, visit www.digicelfootball.com.