ANALYSIS

By Wayne Veysey | Chief Correspondent
In justifying the events of a tumultuous summer that drained
Arsenal
of some of their best players and which he admitted left him feeling exhausted,
Arsene Wenger
highlighted the greater riches on offer at Manchester City.
It was not ambition but money, said the Frenchman, that was the principal factor in the departures of Samir Nasri and Gael Clichy, who followed Emmanuel Adebayor and Kolo Toure on the increasingly well-trodden path from Emirates to Etihad Stadium.
Asked whether players were heading north from London to Manchester simply to bolster their medal collection, Wenger observed: "No, it's not that. Frankly, if you compare what Manchester City have won in the past and what Arsenal have won, then you don't go to Manchester City to win titles. Players go to Manchester City because they pay much better than Arsenal."
Wenger also used newly-rich Paris Saint-Germain, who head the French league, and Spanish giants Barcelona and Real Madrid as examples of "financial logic behind who ends up being successful in any league".
As an argument, it has much merit. Yet it is a half-truth to claim that City are able to sanction salaries well in excess of what Arsenal can offer.
Arsenal's recently published financial results revealed that the club's total wage bill for the 2010-11 financial year was £124 million. By comparison, Man City's 2009-10 figure was £133m, a long way short of the biggest payers Chelsea, whose wage bill was £173m.
Although these are not like-for-like comparisons, as both City and Chelsea have not yet published their 2010-11 accounts, it is misleading of Wenger to suggest that Arsenal, who also announced pre-tax profits of £15m, have taken up residence in the poor house.
Chief executive Ivan Gazidis recently turned his nose up at the suggestion that the club have a wage ceiling. "I don't know where that story has come from," he sniffed.
Indeed, Arsenal had the capacity to match the £180,000-a-week contract Nasri agreed when he signed for City in August, but chose instead to offer him a £90,000-a-week deal.
A significant test of Arsenal's resources will come when the club hold contract talks with prize asset Robin van Persie, which, at the skipper's insistence, have been put on hold until next summer.
Should they restructure the wage bill, which is sensibly maintained at just over half (55 per cent) of the club's turnover, Arsenal could even afford to more than double the Dutchman's £80,000-a-week wages and pay him £200,000-a-week.
There is plenty of evidence to suggest that Arsenal can dig deep when they need to. Thierry Henry earned more than £200,000 a week in his final season at Arsenal after signing a lucrative new contract incorporating a £5m signing-on fee, and that was five years ago when the Gunners' finances were severely drained by the move to Emirates Stadium.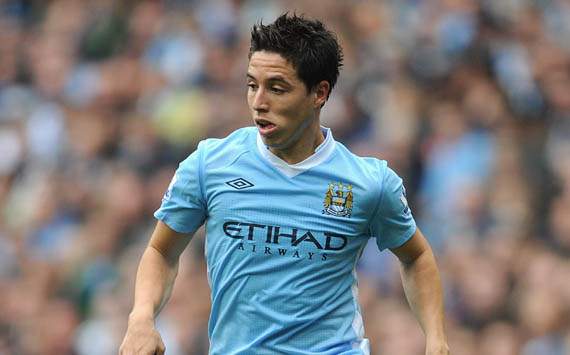 Boy in blue | At Manchester City, Nasri pockets twice what Arsenal offered in the summer
When Fabregas first began agitating for a switch two years ago, his pay was back-dated for two years in recognition of his status and he was rewarded with a bumper £110,000-a-week contract that made him the best paid player at the club.
Remarkably, following the departures of Fabregas and Nasri, not a single Arsenal player is in the £100,000-a-week bracket at the club, routine figures for the Champions League elite.
The problem for Arsenal is not so much the size of the wage bill but how it is utilised and, for this, Wenger must take a significant share of the blame.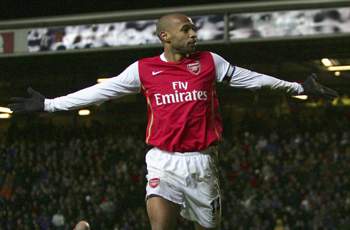 "Arsenal can dig deep when they need to - Thierry Henry earned more than £200,000 a week in his final season"
It is understood that the Frenchman is handed an annual budget and allocates it how he sees fit, with relatively little influence from the board of directors. His philosophy is that first-team players should be paid roughly the same, hence the generous contracts handed out to the likes of Manuel Almunia, Sebastien Squillaci, Marouane Chamakh (£50,000-a-week), Abou Diaby, Nicklas Bendtner and Denilson (£60,000-a-week) before they had proved themselves in the first team.
Talismanic centre-half Thomas Vermaelen signed a new contract on Tuesday but it is highly unlikely that he will be on more than £80,000-a-week, although that is partly the consequence of the lack of football he has played over the last 14 months.
The knock-on effect of this egalitarian wage structure is that Arsenal struggled to sell their fringe players during the summer because clubs were unwilling to match the salaries they commanded at Emirates Stadium. Almunia, Bendtner and Denilson eventually completed loan moves, but it is believed that Arsenal are still paying a portion of their salaries.
This is in stark contrast to, say, Manchester United, the only other 'top six' Premier League club who have announced their 2010-11 financial results.
Although United's £153m wage bill was £29m more than Arsenal's, that figure was inflated by 'one-off' performance-related bonuses in a season when the club won the Premier League title and were runners-up in the Champions League.
United's policy is to place emerging first teamers on a lower pay scale than their Arsenal counterparts. Javier Hernandez was said to earn around £25,000-a-week before finally agreeing his new contract last week following a sensational 15 months at Old Trafford.
The result for Arsenal is they cannot compete at the top end of the football pay scale, where the likes of Wayne Rooney, John Terry and Carlos Tevez reside, because the bottom end has ballooned to a level beyond that of their direct competitors.
In May 2008, Van Persie delivered a withering and, for Arsenal fans, worrying assessment of the club's wage structure. "Arsenal have a policy where they will not go over a specific amount of money when agreeing a salary of a player," he said. "They won't pay enormous amounts of money. I think they should go to a higher level of salary. If you are 27 or 28 I can understand that you would make the decision to go elsewhere if you can earn three or four times as much. If that sort of money was also paid at Arsenal I'm sure that person would stay."
Those words could prove to be quite prophetic at the end of the season when Van Persie, who, coincidentally, is now 28, considers his future.