The banned England striker will travel to Anfield with a cloud of controversy above him once again, but history suggests the Red Devil can overcome his demons
ANALYSIS
By
Jonathan Birchall
Wayne Rooney has always been bathed in the spotlight, and whether he's due praise or persecution, the Manchester United man attracts attention like few others.
Both brilliant and brash, the forward's career has been an enthralling combination of inspiration and idiocy, and it his penchant for the latter that has seen him dominate the headlines once again over the past six days.
After receiving a three-match ban for the most reckless of kicks to Montenegro's Miodrag Dzudovic a week ago - the day after his father Wayne Snr was arrested in connection with a betting scam - the striker's focus will return to the pitch for United's biggest game of the season so far, a trip down the M62 to face Liverpool at Anfield. If it is drama he craves, then Rooney's timing is exemplary.
For an Evertonian playing for the red half of Manchester, there could be no stage more likely to bring either the very best, or very worst from the 25-year-old, and with the spotlight back on the United man, he will see it as the perfect opportunity to deliver a show to silence his doubters.
Rooney has been under the media glare many times before.
Goal.com
have taken a look to see how he's responded in the past.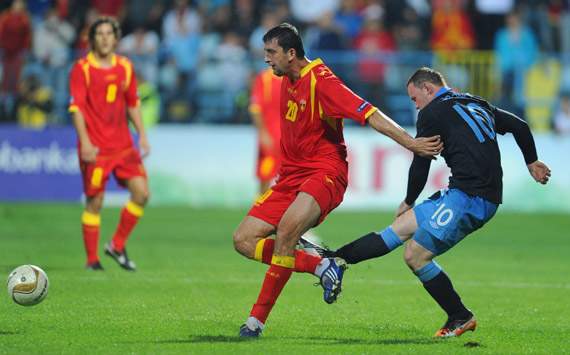 When his side are losing control of a game, Rooney abandons his own and as damaging as it may be, it is a precedent that has been set since the earliest days of the striker's international career.
At the Bernabeu in 2004, England lost 1-0 to Spain in a game that was marred by vile racist chants aimed at Ashley Cole and Shaun Wright-Phillips, but the memory of Sven Goran Eriksson substituting Rooney, with the striker looking near-certain to be sent off is, equally resonant. The then 19-year-old tore off his black armband, that was being worn in memory of Emlyn Hughes and Keith Weller, in a showing of mindless abandon that offered a worrying glimpse into what is growing into a turbulent relationship between the player and his national team.
The incident clearly had an impact on the youngster, who followed up his embarrassment in the Spanish capital with a lifeless showing on the right wing as United beat Charlton 2-0 three days later.
A lacklustre performance was to follow from Rooney after a similar furore 12 months on, when he was sent off away to Villarreal for two bookable offences, the latter coming for sarcastically applauding Danish referee Kim Milton Nielsen after being shown his first yellow. Travelling to Anfield of all places, the forward was a peripheral figure once again and was substituted late on as the north west rivals played out a 0-0 draw. A week later, Rooney was dropped as United lost at home to Blackburn.
However, after the now infamous red card at the 2006 World Cup for stamping on Ricardo Carvalho and a dismissal for an elbow on Pepe in a pre-season friendly against Porto, Rooney proved that not only was he growing up, but that his maturity could bestow performances under pressure.
With Cristiano Ronaldo having played a pivotal role in his sending off in Gelsenkirchen, many questioned how the pair's relationship would cope. They answered in breathtaking fashion, with Rooney scoring two and then pitching in a perfect cross for the Portuguese to half volley home, as United beat Fulham 5-1 in a performance that proved the pair were "best of pals", according to Sir Alex Ferguson.
It was to be against the Cottagers when Rooney next saw red, after throwing the ball away before swinging a punch at the corner flag as United lost on the banks of the Thames in March 2009, but once again, the former Toffees striker was to prove his resilience, scoring once and setting up another as the Red Devils drew 2-2 with Porto after having been brilliant for England against Ukraine. That said, a lunge from the attacker on Oleksandr Aliiev incorrectly went unpunished at Wembley.
Seven years on from his indiscretions in Madrid, after which the Telegraph's Henry Winter described Rooney as the English football family's "troubled adolescent son," there is still work to be done before the striker can be the man of the house.
An unprovoked elbow to Wigan's James McCarthy last February made that abundantly clear, but with a goal against Chelsea coming in the game immediately after that, the United forward's on-field actions, ominously for Liverpool, don't appear to linger to long in his memory.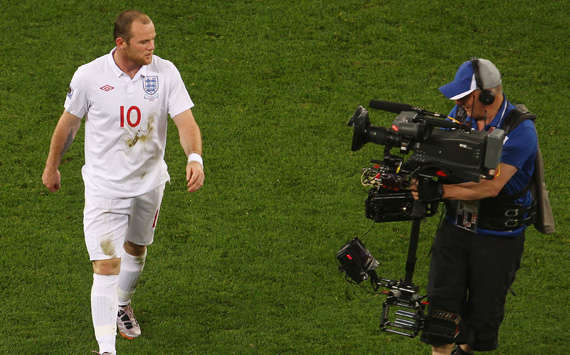 Adulthood has certainly increased Rooney's confidence off the pitch since his early interviews, where the hottest young prospect in world football was thrust in front of the cameras only to appear a shy shadow of the brazen youngster found dominating games for 90 minutes. But although now far more eloquent, Rooney occasionally reveals a less palatable, if often slightly amusing side of his personality to TV audiences.
It began in November 2009, when the striker mouthed "12 men" to a Sky Sports camera following Chelsea's 1-0 victory over Manchester United to seemingly imply that referee Martin Atkinson had been biased towards Carlo Ancelotti's side. Somewhat of a small media storm was to follow, with questions over the striker's temperament raised once more, but after a meaningless England friendly against Brazil and a 3-0 win over Everton without any goals but plenty of guile, the striker got a hat-trick away to Portsmouth.
More often than not, the former Blue's touch paper is set alight through self-frustration, with the striker hating nothing more than a poor performance by himself. Such was the case during the 2010 World Cup when Rooney, along with his England team-mates, spluttered through the group stages before being sent home in humiliating fashion by Germany.
It was in their second game where the forward's disappointment in himself mutated into an attack on his fans, as he stated "Nice to see your home fans boo you, that's loyal supporters," to an advancing cameraman following the Three Lions' insipid 0-0 draw with Algeria. The United striker followed it up with a poor performance against Slovenia, but in this instance, his sub-par showing was the cause, rather than the effect of his brief but telling rant.
That's not to say relief and joy don't yield similar reactions from Rooney, as was proved by his now infamous rant down the camera as he scored a hat-trick to inspire Sir Alex Ferguson's side to a 4-2 win at Upton Park after having been 2-0 down to West Ham last season.
Despite an immediate apology after the game, Rooney was roundly castigated by the media, and despite having delivered a monumental performance, a cloud hung over the striker once again. His response was ideal, scoring an away goal at Stamford Bridge to all but book United's place in the Champions League semi-final with a 1-0 first-leg win away to Chelsea.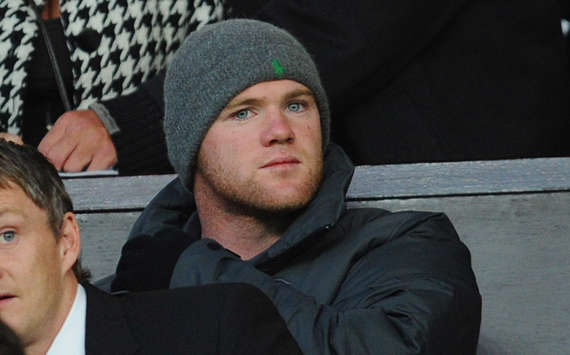 With David Beckham having left the Premier League for Real Madrid in 2003, the British tabloids sought English football's newest star to be the focus of their attentions and a year later, after Rooney had dazzled in the European Championships in Portugal, he released a statement admitting to using prostitutes as a teenager ahead of stories in
The Sun
reporting as much a month later.
It coincided with the United forward's opening days at Old Trafford, but his on-field response was to be delayed until the end of September, when he made his debut against Fenerbahce. It was to prove emphatic, as he hit a hat-trick to all but wash away a summer of embarrassing turmoil.
In 2007, further controversy, albeit more muted, came in the shape of a lawsuit from David Moyes on April 20 relating to claims made in the striker's autobiography. However, an assist against Middlesbrough a day later offered further evidence that Rooney could deal with even the most trying of outside pressures.
The forward's ability to detach off-field incidents to those on the pitch appeared at it's strongest just over 12 months ago, however, when further allegations regarding his use of prostitutes surfaced days before England's Euro 2012 qualifier away to Switzerland in the tabloid press. With questions over whether Fabio Capello should pick the striker dominating the pre-match discourse, Rooney restored the Italian's faith in him after being selected, opening the scoring with his first England goal in over 12 months as the Three Lions went on to win 3-1 at St Jakob Park.
Such discretions therefore seemed to do little to effect Rooney's on-field performances, but his decision to hand in a transfer request in October 2010, after struggling to find form following an ankle injury, destabilised the former Everton man like no incident before or since.
Daniel Harris, author of On The Road, a journey through a season, wrote of Rooney on Goal.com at the time: "A figurehead of the 'ftbllr' generation, he merrily forsook his boyhood club at the earliest available opportunity, ostensibly for two things: trophies and money." United fans had turned, but despite all indications pointing the striker to Manchester City, he would eventually stay, signing a five-year deal but the after-effects were troublingly clear on the pitch.
A goal from the penalty spot against Rangers in his first start following the saga was in no way indicative of the striker's obviously fragile confidence, as he went on his worst run of form in a United shirt as 2010 came to an end, scoring only one league goal until a 3-1 win over Aston Villa in the following February.
It was a three-month malaise that left the striker's future in doubt. Twelve months on, and Rooney must prove himself all over again.
Follow Jonathan Birchall on