EXCLUSIVE
By Rob Stewart
Liverpool
legend Ronnie Whelan believes arch-rivals
Manchester United
should be a source of inspiration rather than irritation for the Anfield club.
Whelan spoke out as the Reds prepared to host Sir Alex Ferguson's Premier League champions on Saturday for the first time since United eclipsed Liverpool by winning their 19th domestic title.
"When we were doing so well in the 1980s no one thought Man United would go on to dominate from the 1990s onwards but in that respect they have to be an inspiration to Liverpool," Whelan told
Goal.com
.
"No one at this moment in time thinks Liverpool can go on to dominate from say 2020 but hopefully there will be another sea change and we can start winning things on a regular basis again.
"What United have done over the last couple of decades under Fergie is unbelievable because they've clocked up titles and FA Cups and even a couple of European Cups and the standards they've set are what everyone else, including Liverpool, have to aspire to now."
Whelan, who won six Football League titles during his time at Anfield, is bullish about the future for Liverpool thanks to the return of Kenny Dalglish to the manager's office.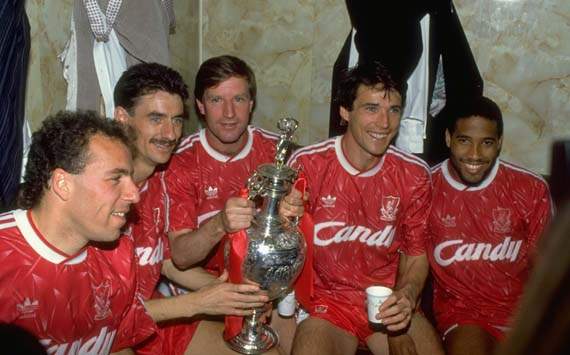 History men | Liverpool dominated in the 70s and 80s are are on their way back, says Whelan
"At last things are going in the right direction instead of being stagnant and going in the wrong direction," Whelan added.
"He has brought players in such as Luis Suarez and Stewart Downing who look good and Jose Enrique and Charlie Adam who look okay who seem to want to play and win trophies for Liverpool Football Club.
"If he can keep doing that for a couple of seasons then they will represent a greater threat to Manchester City and United because they're still a far way off but he has to build his own team now. But what he also did well was getting rid of about 14 players who were just clogging up the place at Anfield."
Whelan continued: "We'll have to wait until the end of the season to judge whether Liverpool have closed the gap because Kenny's only been back since last January and he's trying to build a team.
"The game will be a big pointer as to how close they are getting and you hope from a Liverpool point of view that there will be nothing in it.
"But the way Man United started the season shows they are kicking on as well and Liverpool have to keep plugging away and hopefully reach a level United have been at for the last few years."
Ronnie Whelan's autobiography, Walk On: My Life in Red (Simon and Schuster £18.99), is out now.